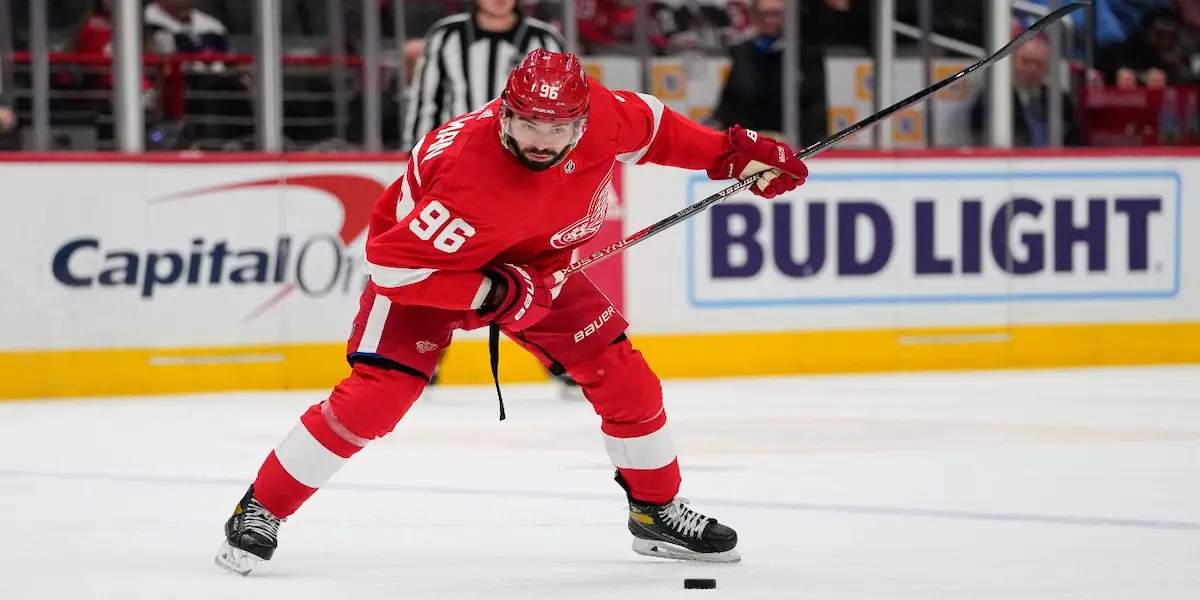 While the 2022-23 season can be considered a step forward for the Detroit Red Wings and their rebuild, there were hopes of playing meaningful games down the stretch.
The Red Wings finished with a record of 35-37-10, which is the most wins the team has had since the 2015-16 season. But, the team's inconsistencies game-to-game and the trades of core players Tyler Bertuzzi and Filip Hronek truly put into perspective how far the Red Wings are from being Stanley Cup contenders. For this exercise, I exclude skaters who played less than 25 games this season, including Elmer Soderblom and Simon Edvinsson.
Forwards
Dylan Larkin
Grade: A
For most of the season, Dylan Larkin was the team's leading scorer and the Red Wings' most valuable player. 
Whoever flanked Larkin this season immediately looked better as Larkin is a true line driver in the NHL and makes his teammates better, which is what you want from your number one center, which you'll be paying $8.7 starting next season.
In 80 games, Dylan Larkin scored 32 goals and 47 assists, which surpasses his previous career high of 73 points during the 2018-19 season. 
In the pressures of a contract season, Larkin thrived under the added pressure and was able to put together the best season of his career. Having Larkin signed for the next eight seasons gives the Red Wings clarity up the middle, which has been a weak spot in the organization. 
David Perron
Grade: B
When everyone expected Perron to stay in St. Louis, they decided to go in a different direction leading to Perron signing a two-year contract with Detroit last summer.
Perron came just as advertised this season from the standard he set in his career, 20-plus goal scorer and 50-plus points. Perron appeared in all 82 games and scored 24 goals and 56 points, good for second on the team and incredible value for $4.75 million.
An overlooked piece to a rebuilding team is quality veterans in the room, and Perron is just that, with his work ethic, leadership, and Stanley Cup pedigree. Perron will be a big piece to Detroit again next season, and I expect him to be just as productive at age 35.
Lucas Raymond
Grade: C+
There were increased expectations for Raymond's second season, given the flashes of his potential in his rookie season, finishing with 23 goals and 57 assists. But as the adrenaline of a rookie season wore off, and teams focused on him, Raymond struggled to find consistency.
In 74 games this season, Raymond scored 17 goals and 28 assists, which was still good enough for third on the Red Wings in points, but a dip in production nevertheless.
Being tasked with matching up against opposing teams' top players the past two seasons is challenging for any forward, let alone someone who just turned 21. Raymond is not the first Red Wings player in recent history to suffer the dreaded "Sophomore Slump" as Dylan Larkin struggled in his second season in the NHL.
With his talent and high-end potential, it's easy to see a path where Raymond not only bounces back next season but achieves career highs in all offensive categories.
Michael Rasmussen
Grade: A-
After his hot stretch at the end of the 2021-22 season, Michael Rasmussen has not looked back and appears to be developing into a strong middle-six contributor. Rasmussen started the year up the middle, where he still performed admirably, highlighted by his performance in the Red Wings' home opener versus Montreal.
But once the Red Wings coaching staff switched Rasmussen to the wing, his game hit another level. Rasmussen used all of his 6'6 frame to win puck battles in the corners and be the first on the forecheck, which led to more chances when he was on the ice. In 56 games played before suffering a season-ending lower-body injury, Rasmussen surpassed his career-highs in assists (19) and points (29) and was on pace to match his 15 goals from last season.
Rasmussen's loss was maybe overlooked by many as to how it would impact the Red Wings lineup. A player who can play up and down the lineup at either wing or center and is defensively responsible while bringing physicality and secondary scoring is a hot commodity in today's NHL. The 23-year-old has quickly become part of Detroit's core moving forward.
Andrew Copp
Grade: C+
The biggest free agent signing Steve Yzerman has made as Red Wing General Manager came into this season with high expectations as he was coming off of a breakout season of 21 goals and 53 points and a trip to the Eastern Conference finals. But with the adjustment to an entire season at center, an injury that lingered into the start of training camp, and less talent, Copp's production took a hit.
In 82 games, Copp recorded nine goals and 33 assists for 42 points, tied for fifth on the team. The number that stands out is nine, but Copp's shooting frequency dropped significantly, going from 183 shots last season to only 117 this year. The biggest contributor to that was his commitment to the defensive side of the game, as Copp was the first center out for the penalty kill and an important defensive zone faceoff.
But when you make over $5 million for the next four seasons, there are expectations for consistent production. Copp started to gain steam in the back half of the season, and I'd assume his offense will take a jump next season.
Joe Veleno
Grade: C-
After being on the bubble to start this season, Veleno was able to iron out a spot up the middle in the bottom six but hasn't taken that next step offensively.
In 81 games this season, Veleno scored nine goals and 11 assists, which is a slight jump up from his pace from his point pace last season, where he scored eight goals and seven assists in 66 appearances.
Veleno thrives in transition as he is one of Detroit's best skaters but hasn't been given the opportunity to play with the talent to be a threat off the rush. Veleno is a restricted free agent this summer, and I'm curious what his role looks like next season and if he can be more than a fourth-line checking center.
Pius Suter
Grade: B
After spending most of the 2021-22 season as the Red Wings' second-line center, it looked like Pius Suter could have been more of a depth piece this past season after starting the season as a healthy scratch.
But as injuries reaped through Detroit's forward core, Suter's minutes began to increase, and by the midway point, he was one of the team's most defensively reliable forwards. It could be argued that Pius Suter was the team's best penalty killer upfront, as he can easily read plays and break up passes.
When it looked like the Red Wings season was dead in February, Suter was a big piece of the team, winning seven out of eight games and finding themselves back in the playoff race. Suter is an unrestricted free agent this summer, but since Steve Yzerman decided not to move him at the trade deadline, I would be surprised if he's here next season.
Dominik Kubalik
Grade: B
A surprise signing this past summer bounced back from a tough 2021-2022 season offensively in Chicago. In 81 games, Kubalik scored 20 goals and added 25 assists, which tied for third on the Red Wings in scoring.
Kubalik came out of the gates hot this season, scoring nine goals and 22 points in his first 24 games, but significantly slowed down in December and January, which led to him finding himself lower in the lineup. But what has been impressive is that even when Kubalik isn't scoring, he still finds ways to be productive, whether winning puck battles in the corner or improving his defensive game.
While he finished the year on the top line, ideally, Kubalik would slot lower in the lineup, which could make his role interesting next season.
He is not a player without flaw, but for $2.5 million this year and the next, the Red Wings found a solid middle-six piece. 
Filip Zadina
Grade: D
After starting the year as a healthy scratch and suffering two different injuries, it seemed Zadina could never find consistency in the lineup.
In 30 games this season, Zadina scored three goals and added four assists, which is behind his pace last season. It's well-documented Zadina's struggles offensively after being a highly-touted prospect in his draft year, and there are plenty of questions about where he fits in Detroit's long-term plans.
A strength in his game is his ability to track down picks on the backcheck and turn it around back into the offensive zone.
With his size and playing style, Zadina doesn't fit the role of a typical bottom-six forward. With Elmer Soderblom, Jonatan Berggren, and Marco Kasper making their debuts and Carter Mazur and Cross Hanas not far out, it may be time to move on for both sides.
Jonatan Berggren
Grade: B
After breaking the Grand Rapids Griffins' rookie scoring record last season, Berggren finally got his shot in the NHL and never looked back. 
In 67 games, Berggren scored 15 goals and added 13 assists, all while playing almost exclusively in Detroit's bottom six. While lacking size, Berggren's puck protection and willingness to chase loose pucks into corners were noticeable early on. Berggren's playmaking ability, as we have seen in both the SHL and the AHL, was overshadowed by the fact he didn't have a finisher to play with.
It's hard not to be excited by Berggren's potential higher in the lineup and more firepower to set up on the powerplay. This year was an essential step in his development, and I expect he'll play a much more significant role next season.
Adam Erne
Grade: D+
After a rough 2021-22 campaign, expectations weren't exactly high heading into this season for Adam Erne. 
Playing up and down the lineup, Erne appeared in 61 games this season, recording eight goals and ten assists. With injuries to key forwards, Erne was a regular in Detroit's lineup the first half of the season but eventually was surpassed by Jonatan Berggren, which led to him getting waived in February when Tyler Bertuzzi returned. 
Erne can play well off the forecheck but lacks the playmaking ability to create consistent offense, leading to him slotting lower on the depth chart. He is an unrestricted free agent in the summer, and I would be surprised if he returns to Detroit.
Austin Czarnik
Grade: C
Signed on day two of free agency this past summer, Austin Czarnik has been a reliable depth forward since breaking into the NHL with the Boston Bruins back in 2016. 
Czarnik appeared in 29 NHL games this season, scoring three goals and two assists, predominantly in a fourth-line role. His 29 games are the most NHL action Czarnik has seen since his 2018-19 season with the Calgary Flames (54). Czarnik also played an additional 43 games with the Grand Rapids Griffins, where he scored 14 goals and 23 assists which were good for third in team scoring. Czarnik is signed for next season and will likely start the season in Grand Rapids, but he proved this year that he is a capable plug-in and play-forward when injuries arise.
Robby Fabbri
Grade: B-
After working hard to return from another ACL tear and make his season debut in January, Fabbri was limited to only 29 games. On the roster for next season, only Dylan Larkin and Michael Rasmussen have spent more seasons in Detroit than Robby Fabbri. 
The problem with Fabbri is not his production, as in 166 games as a Red Wing, Fabbri has 48 goals and 47 assists, which averages out to 47 points an entire season. Unfortunately, Fabbri hasn't been able to stay healthy for a whole season, 56 games being the highest total in a winged wheel.
While Fabbri is a solid middle-six scorer, his defensive game leaves something to be desired. After another injury, potential offseason additions, and prospects pushing for spots, it will be interesting to see where Fabbri slots in next season.
Defense
Moritz Seider
Grade: B
After 20 games, it looked as if Seider might also be going through a sophomore slump as he struggled to find consistency. 
But after a change in partners, Seider looked every bit of the Calder Trophy winner he was last season. In 82 games, Seider scored five goals and 37 assists, which was first among Red Wings defensemen and tied for fifth on the entire roster.
Down the stretch, Seider was playing upwards of 26 minutes a game for the Red Wings and was the team's most important player on both special teams. He just turned 21, and with another development season, it's not hard to imagine a reality where Seider earns Norris Trophy votes next season.
Jake Walman
Grade: A
Michael Rasmussen would be the team's breakout player in any other year, but after Walman's season, it is hard to find anyone on the roster more deserving.
Walman started the season on injured reserve after having off-season shoulder surgery and was shaping up to be a bottom-pair defender after a good showing for his 19-game stint last season. But quickly after making his return, it became apparent that Walman was ready to take on more responsibility.
At the end of December, Walman was moved to the top pair with Moritz Seider and never looked back. Walman's mobility and puck movement was just what the doctor ordered to help Seider regain his form. In 63 games, Walman led all Detroit defensemen in goals with nine and added nine helpers. His instincts in the offensive blueline are among the best in the entire NHL, as he can move around defenders and create space to utilize his heavy shot.
Walman is locked up for the next three seasons at $3.4 million, which is incredible value for a top-four defender.
Ben Chiarot
Grade: C-
The Red Wings' big signing on the backend came as advertised this year. Big, tough to play against, but occasionally gets lost in coverage. 
Chiarot is not at the level many old-school hockey fans think he is at. Ideally, on a playoff-contending team, he's your fourth or fifth defenseman who brings the toughness needed to go through a long run. 
While the plan out of the gate was to have Chiarot to the left of Seider, he still brought value to the lineup after that didn't pan out. In 76 games, Chiarot scored five goals and 14 assists, ranking third behind Seider and Maatta on the blue line.
Chiarot isn't worth the nearly $5 million he makes in each of the following three seasons, but he brings an element of physicality that has been severely lacking on Detroit's blueline. With the trade of Filip Hronek to Vancouver, having a guy who plays both sides in Chiarot is also beneficial in building the roster for next season.
Olli Maatta
Grade: B
Hard to argue against Olli Maatta being Detroit's biggest value signing last summer. After bouncing around the past few seasons, Maatta has found a spot on Detroit's blueline.
His steady presence matched perfectly with the offensive game of Filip Hronek, which helped the two form arguably Detroit's most consistent pair for the first half of the season. In 78 games, Maatta scored six goals and 17 assists, his highest mark since the 2017-18 season.
The Red Wings signed Maatta to a two-year extension in February, which gives the Red Wings a steady, defensive-minded defender option who can play on any pair.
Jordan Oesterle
Grade: C
Playing as the team's sixth or seventh defenseman most nights, I felt like Oestserle lived up to his role this season. Oesterle doesn't play a flashy style, but his strong skating and quick passing are something other defensemen lower in the lineup in Detroit lacked.
In 52 appearances, Oesterle scored two goals and nine assists, beating both his games played and points total from last season. Oesterle played his best hockey alongside Jake Walman before he was moved up the lineup. Having another defenseman who can play both sides down the stretch was helpful down the stretch.
Oesterle is an unrestricted free agent this summer, and being a local guy and playing a depth role well the past two seasons, I wouldn't be surprised if Oesterle was brought back on a one or two-year deal.
Robert Hagg
Grade: D
After it was announced that Mark Pysyk suffered an Achilles injury, Robert Hagg was signed to a one-year, $800,000 contract to serve as a depth option.
In 38 games, Hagg scored two goals and added five assists. Hagg plays a physical style and blocks shots frequently but struggles with moving pucks up ice and loses players in the defensive zone, leading to chances against.
Hagg spent most of the 2021-22 season with the Buffalo Sabres and moved at the deadline to the Florida Panthers for a sixth-round pick. Hagg is an unrestricted free agent this summer, and I imagine he doesn't return to Detroit.
Gustav Lindstrom
Grade: F
The 24-year-old, right-handed defenseman wrapped up his second season in the NHL but failed not only to take a step forward but also took a few steps back.
At the beginning of the 2021-22 campaign, it appeared that Lindstrom might be a long-term option on Detroit's bottom pair, as he played a simple game and had favorable defensive metrics. But ever since, Lindstrom has struggled in his own end, taking too long making decisions, often coughing up the puck in high-danger areas on the ice.
It became clear that out of Detroit's three depth defensemen (Lindstrom, Oesterle, and Hagg), Lindstrom was the least trusted by the coaching staff as he only appeared in 36 games, scoring one goal and seven assists.
This summer, Lindstrom is a restricted free agent, meaning Detroit still holds his rights. Still, with Simon Edvinsson and potentially Albert Johansson and William Wallinder needing spots next season, it would be a bit surprised if he was back.
Goalies
Ville Husso 
Grade: C
In a surprise trade on day two of the NHL Entry Draft, the Red Wings acquired the rights to Ville Husso from the St. Louis Blues, who was coming off of a breakout season. Immediately signing a three-year contract worth $4.75 million, including a modified no-trade clause, it appeared the Red Wings had found their guy.
At the start of the season, Husso was stellar and arguably Detroit's MVP, winning big games all while playing a steady style. But adjusting from a tandem workload to a full starting role is a tough transition for someone who has never done it. Dealing with a few minor injuries on top of a new role, Husso faded the last few months and struggled to keep pucks out of the net.
In 56 games, Ville Husso posted a record of 26-22-7, a goals-against average of 3.11, and a save percentage of .896. While the poor stat line will follow him through the offseason, dealing with an injury is difficult for a goalie. With a fresh start, a backup to help shoulder his workload, and likely an improved roster, I'd imagine Husso regains for next season.
Alex Nedeljkovic 
Grade: D
Heading into the season, it was expected that Nedeljkovic would split the workload 50/50 with Ville Husso until someone separated themselves as the starter. It became apparent quickly that Nedeljkovic wasn't it.
The Red Wings lost trust in Nedeljkovic's game, which led to them claiming Magnus Hellberg off of waivers, who would earn the backup job. Once Nedeljkovic was waived, he found his game in Grand Rapids, posting a record of 13-9-3, a goals-against-average of 2.71, and a save percentage of .912 on a Griffins team that struggled. Since his first two months as a Red Wing, where he posted an average save percentage of .917, he has recorded an average save percentage of .892.
Once recalled to Detroit, Nedeljkovic showed well in his six appearances and was Detroit's best goalie. He finished the season with a record of 5-7-2, a goals-against-average of 3.53, and a save percentage of .895.
Magnus Hellberg 
Grade: D
Claimed off of waivers from the Seattle Kraken in November, Hellberg was brought in to hopefully provide stability behind Ville Husso. After Alex Nedeljkovic was waived, Hellberg had a clear path to earn regular starts but failed to be consistent.
While it is hard playing with long breaks in between starts, being a backup in the NHL requires goalies to be able to handle that, especially on back-to-back games.
In 18 appearances, Hellberg had a record of 5-8-1, a goals-against-average of 3.20, and a save percentage of .888. There were a few games where Hellberg gave the Red Wings a good chance to win, but sometimes it doesn't work out. With the Red Wings likely looking for a 1B option this summer, I imagine Hellberg won't return.
The boys are back after a long break but have plenty to talk about as the playoffs are in full swing. We go series by series, looking at how teams have fared so far and who will come out on top. Thanks for listening! Please rate and review our show on your favorite listening platform. Check out our partner's website at www.insidetherink.com for all your latest hockey news.