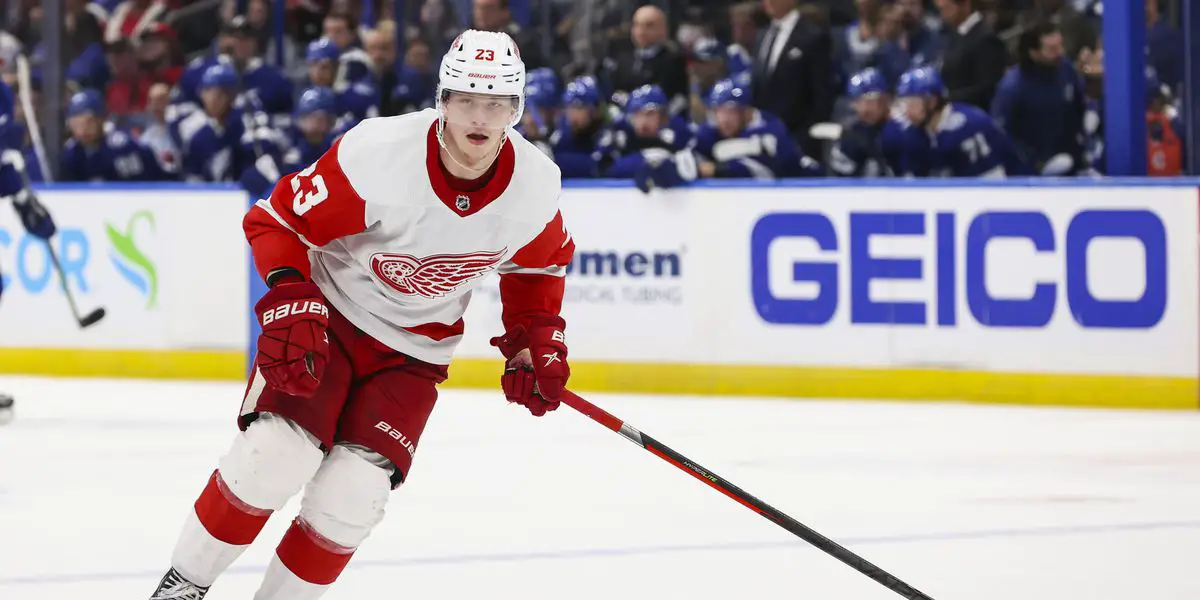 With week two of the NHL preseason nearing an end, NHL teams are only a few roster decisions away from their 23-man opening night lineups. If the Red Wings lineup from Monday night's game versus Pittsburgh and practice this week are any indication, there may be only a few more hard decisions Derek Lalonde needs to make.
Soderblom and Berggren
The two names that pop out right away are Elmer Soderblom and Jonatan Berggren, who remain in the mix after a busy free agency period. 
Starting with Soderblom, the six-foot-eight, 246-pound winger came into his first NHL training camp fresh off a breakout season in the SHL, scoring 21 goals and 33 points in 52 games with Frolunda. Soderblom has carried that confidence and has been impressive both in training camp and through the preseason. In four games, Soderblom has scored one goal and added an assist. He has played with various linemates but stood out alongside Pius Suter and Adam Erne. While Soderblom's chances of sticking with the club are slim, he has certainly made a case for himself.
Jonatan Berggren has also been impressive in training camp and preseason so far. After breaking the Grand Rapids Griffins' rookie scoring record last season with 21 goals and 43 assists in 70 games, it seemed almost likely that Berggren would crack the Red Wings' opening night roster this season. 
Berggren has seen time with various Red Wings who will likely see time in the Red Wings' top-nine, most notably Dylan Larkin and Lucas Raymond in Traverse City, which was a decision made by the management team. In Washington on Wednesday, Berggren played on the Red Wings' top line with Michael Rasmussen and Tyler Bertuzzi. With Berggren's unique skill set, he needs to play higher in the lineup with ample powerplay time to succeed. It will be a tall task to make the Red Wings, but he has been given the runway.
Top line reunited
While Lalonde said entering preseason that he wanted to see a variety of combinations up front, it looks like he may be starting the season with the Red Wings' top line last season.
The top line of Tyler Bertuzzi, Dylan Larkin, and Lucas Raymond was one of the few bright spots on the Red Wings 2021-22 roster. The trio played over 400 minutes at even strength together and generated the most consistent offense in Detroit last season, finishing with an above 50% expected goals-for percentage, according to Money Puck.
Lucas Raymond has been impressive in the back half of preseason, highlighted by a three-point performance (one goal, two assists) in Chicago.
Larkin and Bertuzzi are both coming off arguably their best NHL seasons to date. The trio could be among the league's best scoring lines with improved special teams and a more experienced Raymond.
Third-line center?
Heading into camp, it seemed Pius Suter would be given the opportunity to center the Red Wings' third line after the signing of Andrew Copp. But in the preseason, the opportunity has gone to Michael Rasmussen and Joe Veleno.
Rasmussen has seemingly carried over the momentum of his last two months of last season. He played with confidence and was able to find consistent offense. So far in the preseason, it has been the same as Rasmussen has scored one goal and added three assists, playing down the middle and net-front on the powerplay. While the allure of a six-foot-six center is tempting, a lot of Rasmussen's success came on the wing last season.
After being injured to start camp, Joe Veleno has been one of Detroit's most noticeable forwards through the preseason. Playing with more speed and confidence, Veleno has made his case in a pivotable training camp for himself, given he is one of two forwards on last year's roster not affected by waivers. Centering Filip Zadina and Dominik Kubalik give Veleno plenty of skill to work with, which he lacked in a fourth-line role last season.
Defensive pairs
The defensive pairings have been, for the most part, consistent throughout training camp and the preseason. Newcomer Ben Chiarot was identified during free agency as a natural fit alongside Moritz Seider. The 31-year-old has impressed the Red Wings' coaching staff with his physicality and work ethic since arriving in Traverse City. Seider has also impressed as he looks to improve on his Calder Trophy-winning rookie campaign. With Chiarot's stay-at-home style, Seider can jump in the rush and generate more offense from the backend, an element that was sorely lacking last season.
The second pairing of Filip Hronek and free agent signing Olli Maatta have looked like an improvement on Detroit's defensive depth of years past. Behind Moritz Seider, there were question marks on a game-to-game basis last season, including Hronek, who in previous years looked like a bonafide top-four defender. 
Hronek is a gifted offensive-defenseman with a booming shot. Still, he left a lot to be desired in his end and lacked a reliable partner to help handle the responsibility. Matta is an experienced NHLer at 28 years old and has developed into a defense-first defenseman who has posted positive metrics at five-on-five. The two seemed like a natural fit since the signing of Maatta was announced, and it looks like the pairing will be intact come opening night. 
The third pair seems to be the main point of competition on the backend, but for most training camp, it has been the same pairing of Gustav Lindstrom and Simon Edvinsson.
They are a young and inexperienced pairing, but on paper, the two defenders complement each other stylistically, with Lindstrom being more of a stay-at-home presence and Edvinsson being an active puck carrier. There is potential for this pairing to be reliable, but they have shown weaknesses at points through the preseason.
Edvinsson has shown flashes of his potential over the past few weeks with his ability to skate out of danger, transition to offense, or suppress the opposition in the neutral zone with his long reach. He has received a lot of opportunity on Detroit's powerplay, something he didn't get in Sweden last season.
While Monday night versus Pittsburgh was probably Edvinsson's best game to date, he immediately followed that up with an up-and-down performance in Washington. On multiple occasions, he lost his coverage, which led to a scoring chance. Edvinsson even was replaced by Albert Johansson on Detroit's top pair on Wednesday, who performed admirably.
He will need a strong finish against Toronto to cement a spot in the opening night lineup as he competes with the likes of Jordan Oesterle, Albert Johansson, and Robert Hagg on the left side. With Edvinsson still adjusting to the NHL game, it may be best for the 19-year-old to start the season in the AHL. While Hagg has been out the entire preseason, Derek Lalonde said we may see him return next week.
Opening night lineup projection
Bertuzzi-Larkin-Raymond
Vrana-Copp-Perron
Zadina-Veleno-Kubalik
Rasmussen-Suter-Sundqvist
Chiarot-Seider
Maatta-Hronek
Edvinsson-Lindstrom
Husso
Nedeljkovic
In this episode, we recap the World Championships, highlighting Kubalik, Seider, Mazur. Next, we take a long look at the 2023 first round and which players will be available at 9th and 17th.