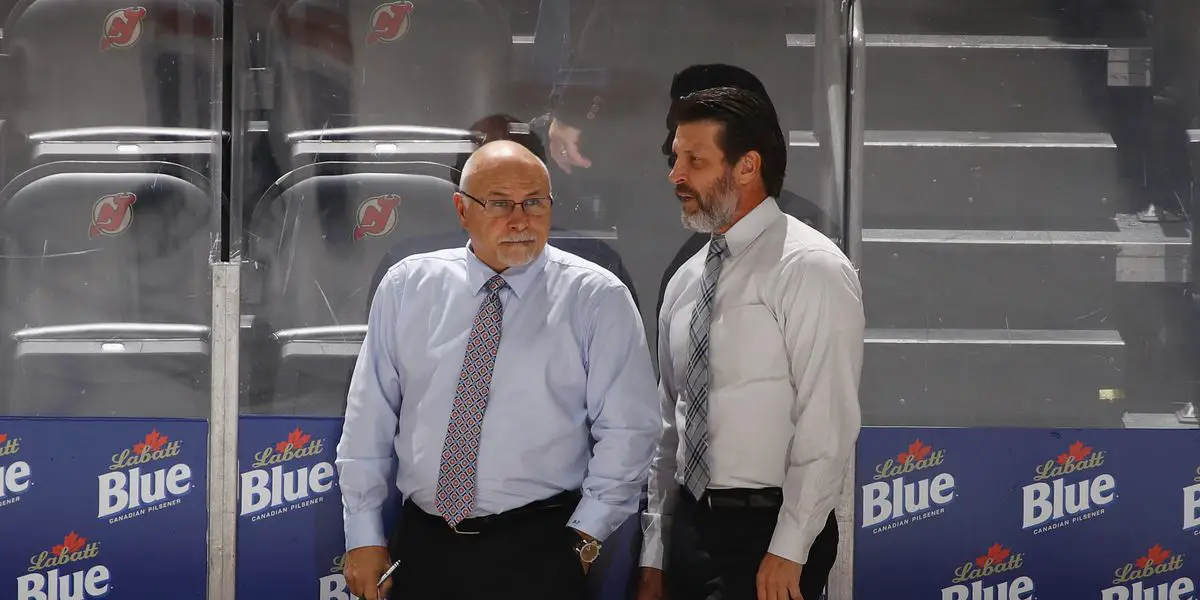 It has now been almost two weeks since the Detroit Red Wings decided to move on from long-time head coach Jeff Blashill. Now begins the search for a new bench boss, the first in Detroit since 2015, and with Steve Yzerman's management style of running a "tight ship" in terms of information, this has led to a lot of speculation about who could be in the running.
In Yzerman's end of the season press conference, he stated that he's not restricting the search to a particular style, and he hasn't put together a list of potential candidates but "a few names bouncing around in my head." With Yzerman's reach, the search could include multiple names ranging in NHL experience level; here's a list of potential candidates.
Rick Tocchet
Currently working as an analyst for TNT's NHL panel, Tocchet was most recently the head coach of the Arizona Coyotes. He spent four seasons before he and the team mutually agreed to part ways at the end of the 2020-21 season.
During his time in Arizona, aside from his first season, the Coyotes were competitive, finishing top-five in their division his last three seasons with an inexperienced roster. The Coyotes even made the playoffs in 2020, winning their play-in series versus Nashville before losing to Colorado in the first round. Even dating back to his time in Pittsburgh as an assistant coach, Tocchet has shown the ability to understand players and develop them into top performers, Phil Kessel in Pittsburgh and Jakob Chychrun in Arizona. There could be a fit with a roster full of young talent and a coach with a proven track record of developing at the NHL level.
Barry Trotz
The most recent name to be added to this list following the surprising news of the New York Islanders firing Barry Trotz.
Trotz's resume speaks for itself, coaching almost 1,200 games with Nashville spanning over 16 seasons, President's trophy in 2016 and 2017, Stanley Cup in 2018 with Washington, and back-to-back Conference Finals with the Islanders in 2020 and 2021. 
Trotz's defensive style could be exactly what Yzerman is looking for in his next head coach, as he expressed that the Red Wings' team defense wasn't good enough this season. Trotz has shown the ability to get players to buy into his system and play above their skill level, which is what a good coach does. With his resume, the Red Wings will have plenty of competition from other NHL teams to bring in Trotz.
Lane Lambert
With the firing of Barry Trotz, it seems like an easy switch to promote Lane Lambert to head coach. But if the Islanders decide to look at an external candidate, Lambert would be an intriguing option. 
Lambert has been under the Barry Trotz umbrella for the past ten seasons, including the past four seasons as an associate coach with the Islanders. Lambert has ties to Yzerman and Detroit, as he was drafted by the Red Wings 25th overall in 1983, the same draft class as Steve Yzerman. The two were also roommates during their rookie season, and with Yzerman expressing the importance of knowing a coach before interviewing them, Lambert would qualify.
Lambert will be a highly sought-after candidate as he has been interviewed for head coach openings in the past, and Barry Trotz said last season that Lambert was ready to be an NHL head coach. Returning to Detroit to coach your former team where your ex-roommate is your boss seems almost too perfect.
Paul Maurice 
Another veteran option, Paul Maurice, has been a head coach in the NHL 25 out of the past 26 seasons and is still only 55 years old. Aside from Toronto, Maurice has spent long tenures everywhere he has coached, most recently with Winnipeg. 
After 29 games with the Winnipeg Jets, Maurice this season resigned from his position as head coach, stating that he felt that the team needed a new voice. It is unsure whether or not Maurice will even be willing to return to the NHL at this point, but he could be a name of interest. Maurice has ties to Detroit, whether during his playing career playing across the river for the Windsor Spitfires or coaching the Detroit Jr. Red Wings from 1990-94.
Travis Green
Green has only had one NHL coaching job in his career, and that is in Vancouver, spanning from 2017 until early this season. Green was fired from Vancouver mid-season this past December after starting the year 8-15-2. 
While his tenure in Vancouver went sour, Green was very successful in every other league he coached. In his first year as head coach of the Portland Winterhawks in 2012-13, Green had a record of 37-8-2 and led the team to a WHL championship. In the AHL with Utica, Green had a record of 155-110-33 and would go to the Calder Cup Finals in 2014-15 before losing to Manchester.
While Vancouver only went to the playoffs once under Green, the roster was never that of a perennial contender, so it's hard to tell what Green truly is as a head coach in the NHL.
Sergei Fedorov
Fedorov is another popular name amongst the fanbase for obvious reasons. Adding another franchise legend to the organization to run the bench while Yzerman and Lidstrom handle the managerial side of the Red Wings is something out of a dream.
Fedorov has been with CSKA Moscow since the 2012-13 season, but this was his first as the head coach, where he led them all the way to win the Gagarin Cup. His aggressive style became viral on Twitter after a clip of CSKA pulling the goalie in 3-on-3 overtime to gain a man advantage and successfully win the game.
While Fedorov and Yzerman are close, the Red Wings may not feel the same as his number 91 has still yet to be retired by the organization.
Mike Vellucci
The 55-year-old Farmington, Michigan native has spent the past two seasons behind the Pittsburgh Penguins bench as an assistant coach on Mike Sullivan's staff. 
Vellucci has primarily worked with Pittsburgh's forwards and penalty kill, and both have excelled this season. Pittsburgh ranked 11th in the NHL in goals and had the league's third-best penalty kill with 269 goals and 84.4%, respectively. Detroit ranked 25th and 32nd this season in those same categories for comparison.
Vellucci's ties to Detroit don't stop at being a local. He spent thirteen seasons behind the bench of the Plymouth Whalers, where he saw plenty of success and led the team to an OHL championship in the 2006-07 season. He would coach a young Alex Nedeljkovic in Plymouth only to then meet up again in Charlotte four seasons later, where the Checkers would win the Calder Cup in the 2018-19 season.
Rikard Gronborg
Swedish-born Gronborg is a popular name amongst the Red Wings fanbase. Gronborg has spent the past three seasons coaching in Switzerland for the ZSC Lions, which is Pius Suter's former team. Gronborg led the Lions to game seven of the NL finals this season. The 53-year-old has ties to the current Red Wings Vice President of Hockey Operations, Nicklas Lidstrom, who oversaw Sweden during the 2016 World Cup of Hockey and had a hand in choosing Gronborg as head coach of the team.
Gronborg's name has been circulating amongst head coaching vacancies in the NHL for a few seasons now, most recently last season reportedly interviewing with the Buffalo Sabres. There hasn't been a European-born head coach in the NHL since 2001, but with the influx of Swedes and his connections to Detroit, Gronborg could be a fit.
Benoit Groulx
Groulx has been the head coach of the Syracuse Crunch, Tampa Bay's AHL affiliate, since the 2016-17 season. He has been instrumental in developing players such as Erik Cernak, Anthony Cirelli, and Yanni Gourde. 
The 54-year-old is someone the Red Wings would be familiar with, given that Yzerman was part of the organization's management for the first three years of Groulx's tenure. Groulx has found success at both the Major Junior level and the American Hockey league as a head coach. He spent twelve seasons as head coach of the Gatineau Olympiques, where the team made the playoffs every season and won the QMJHL league title three times with Groulx behind the bench.
Groulx interviewed with the Arizona Coyotes last season after the team moved on from Rick Tocchet but eventually lost out to current head coach Andre Tourigny. After another strong season in the AHL, Groulx will garner more attention from NHL teams looking for a new head coach.
With the Red Wings' young core, loyalty to past head coaches, and a competitive general manager, the head coaching vacancy will be a highly desired position this offseason. In his end-of-the-season press conference, Yzerman hinted that he would like to have a new head coach before the draft, so it may not be too long before we see a new bench boss in Detroit.
With five picks in the top-50 of the 2023 NHL Draft, the Red Wings are in prime position to make a trade for a top-six forward. We breakdown fits of players that are potentially on the trade market and what a potential package could look like. We also start with how Red Wings at the World Championships are performing, focusing on Dominik Kubalik, Carter Mazur, and Lucas Raymond.