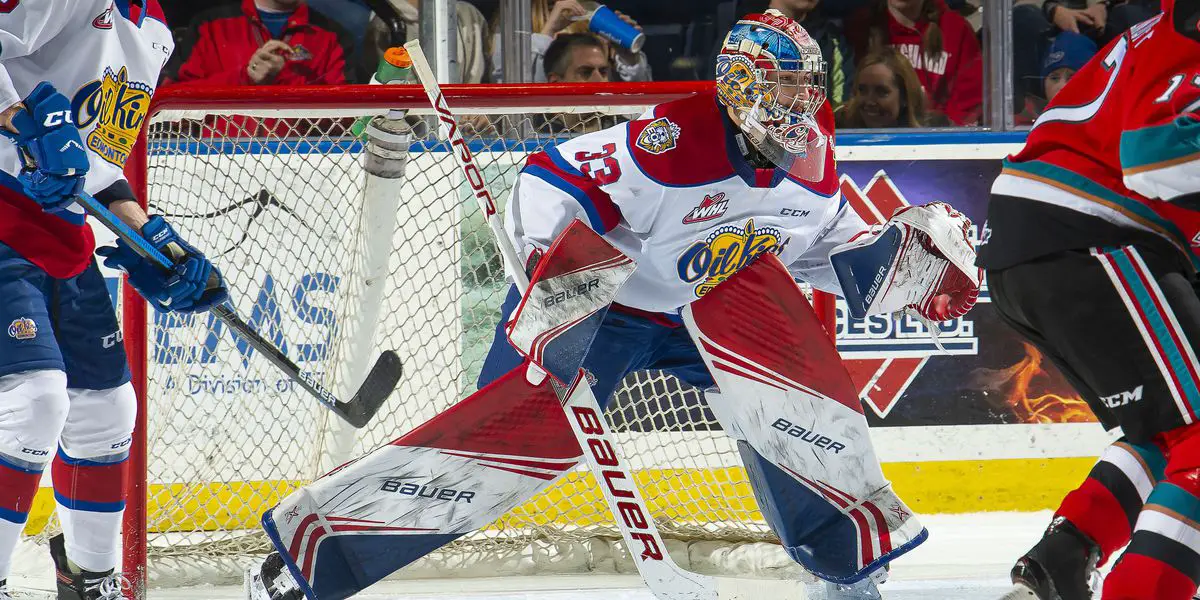 Another month has passed, and the NHL playoffs are in full swing. While we are left without Red Wings hockey, it's a good time to check in on the organization's future and how their respective seasons went or are still going.
Alex Cotton
After being traded at the beginning of the season from the Lethbridge Hurricanes to the Vancouver Giants, Cotton had a productive fourth season in the WHL. In 46 games with the Giants, Cotton had 32 points, 11 of those being goals, which is hard to do as a blueliner. Factoring in his first eight games before the trade, Cotton finished the season with 15 goals and 23 assists.
Drafted as an over-ager in the fifth round of the 2020 NHL Entry Draft, Cotton was a swing on the offensive upside as he had just led the WHL in scoring that season with 67 points. Cotton's greatest asset is his shot, which he is not afraid to use whenever he's on the ice.
Cotton was able to play in this past year's Traverse City Prospect tournament and then a few games with the Red Wings in the preseason. Cotton was one of Detroit's weaker defensemen when on the ice and looked to need more seasoning in the WHL. While his regular-season may not have been as dominant as years past, he picked up his play offensively as he helped lead the Giants to the second round and was third on the team in points with 16 points, 6 of those being goals in 12 games. Cotton will need to sign his entry-level contract this summer, or else he will become an unrestricted free agent, and with his playoff performance, he may have just earned himself a contract.
Sebastian Cossa
During the regular season, Cossa was one of the top goalies in the WHL but has found another gear in the playoffs. Cossa has been one of the best goalies in the playoffs and one of the key reasons why the Oil Kings have swept their first two rounds. In eight starts, Cossa ranks first in goals-against average (1.48), third in save percentage with five or more games played (.932), and tied for first in wins (8).
Cossa's performance will hopefully give him plenty of momentum coming into next season, when he'll likely be competing for a spot in Grand Rapids. With Brattstrom already in Grand Rapids and the possibility of goalies such as Jan Bednar and Joren van Pottelberghe being signed, there could be some competition for Cossa to earn a spot in the AHL.
Cross Hanas
Hanas's season came to an end this past Tuesday in game seven of the second round in a loss versus Seattle. After only finding the scoresheet twice in the first round, Hanas scored four goals and added three helpers in Portland's second-round defeat.
Hanas should be a welcomed injection of skill into the Grand Rapids roster in October as the team struggled to score this past season. With Jonatan Berggren possibly making the jump next season to the NHL, Hanas is primed to take on some of that role.
Albert Johansson
Last week, Johansson and his SHL club Farjestad took home the SHL title after winning in game seven versus the newest Red Wing, Pontus Andreasson.
Johansson had a strong showing this postseason; in 19 games, he scored two goals and added six assists, which was sixth amongst all SHL defensemen.
In an article from Expressen.se, Johansson confirmed after his season concluded that he intends on making the jump to North America and compete for a spot in Detroit next season.
"It's the NHL you want to play in, you want to fight for those places, but I can not stand here and say now what it will be. I would guess that I go over, then it's training camp, rookie tournament, and all that's called over there. Then you have to take it from there, but it is clear that my goal is to get into the NHL one day, but if you end up in the AHL, I do not think I will return home for it. I want to give it an honest chance and be over there, learn the culture and life over there. Grow as a person and hockey player, then you will see what it ends."
Johansson's exciting style and ability from the backend is something Detroit has severely lacked in past years, and it will be exciting to finally see Johansson in North America.
Jan Bednar
Bednar is a prospect that has become a bit lost in the shuffle with the additions of Cossa and Nedeljkovic last offseason. The 2020 4th round pick spent the previous season and a half playing in the QMJHL after spending three seasons playing in the top pro league in Czechia.
In 47 appearances this season, Bednar had a record of 28-18 and a save percentage of .912, which is a significant improvement from last season. He also appeared in one game for Czechia, where he stopped 31 of 32 shots in a 2-1 overtime loss to Germany.
Bednar and the Acadie-Bathurst Titan got swept in the second round of the QMJHL playoffs to fellow Red Wings prospect Oscar Plandowski and the Charlottetown Islanders. It wasn't for the lack of effort from Bednar, who earned Game Three's second star, stopping 32 of 34 shots.
It will be interesting to see what happens with Bednar next season as he will be turning 20 in August, meaning that he is eligible to play in the AHL. But with Cossa likely making the jump to pro and Brattstrom already on the roster, it's unlikely that the Red Wings would want such an inexperienced tandem for an already young roster.
Liam Dower Nilsson
After being drafted 134th overall in the 2021 NHL Entry draft, Dower Nilsson was described as being a "Hakan Andersson pick," as the Red Wings' Director of European Scouting pushed hard for the Swedish center to be selected.
Playing for Frolunda's J20 program Dower Nilsson had a successful season, scoring 19 goals and adding 31 assists in 34 games played, which ranked second on the team. He even earned ten games with the SHL club but failed to find the scoresheet as he was often playing 5 minutes or less a game. Dower Nilsson will likely get an increased role with the top team next season with the departures of fellow Red Wings prospects Elmer Soderblom and Theodor Niederbach on offense. Hopefully, it's not too long before we see Dower Nilsson play with his best friend, Simon Edvinsson, in Detroit.
To start, the guys wrap up the Prospect Tournament and discuss some notable players and what their seasons could look like. Next, we break down Yzerman and Lalonde's media availabilities and the start of training camp. To finish, we look at potential spots for grabs in the lineup and who could fill them.