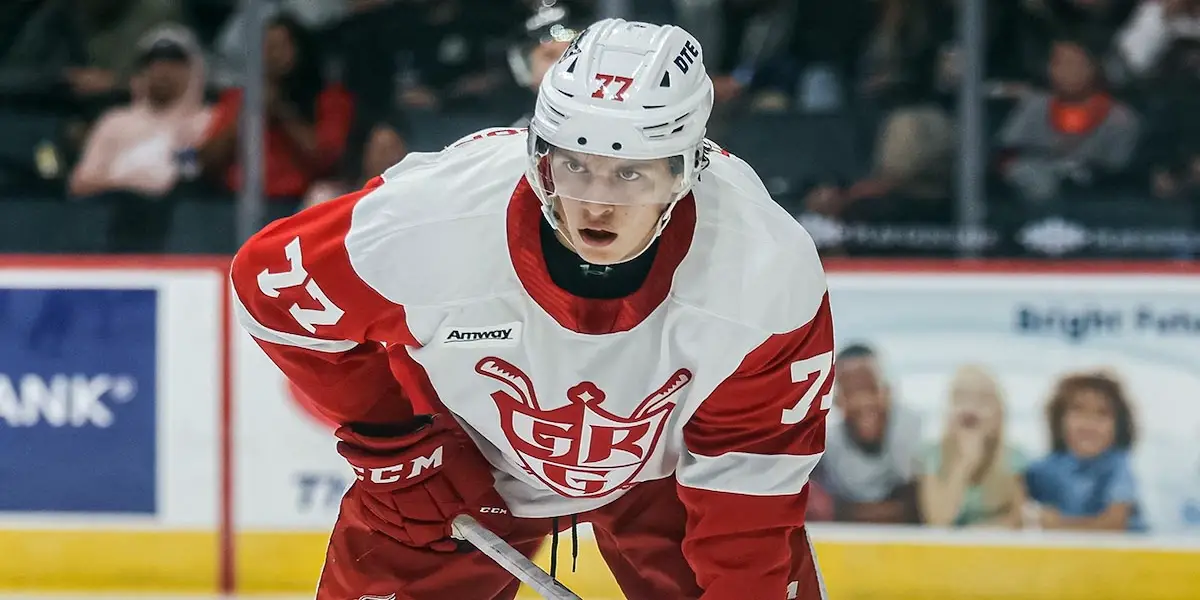 While many fans have turned their attention to the early success of the Red Wings 2022-23 season, there is still more excitement to come. With another year of development and another draft in 2022, where the Red Wings had high-value picks, Detroit has one of the deepest prospect pools in the NHL. Here's a look at five of Detroit's top prospects' seasons thus far.
Simon Edvinsson
After a rocky preseason which resulted in him being left off of Detroit's 23-man opening night roster, Edvinsson has begun to find his game in North America. In five games in the AHL thus far, Edvinsson has an empty net goal and five helpers. Edvinsson has been relied upon to be a go-to defender early on and has looked much more poised with his puck decisions. 
In this play, he stretches a pass from the corner of the Griffins' zone to find Cross Hanas streaking in the neutral zone, resulting in Kirill Tyutyayev's first professional goal. With the free agent signings of Ben Chiarot, Olli Maatta, Robert Hagg, and Mark Pysyk, there was a lot more completion on Detroit's blueline, making the decision of assigning Edvinsson to the AHL that much easier for the Red Wings.
Edvinsson displayed his high-end skill and elite skating ability through training camp and preseason but seemed to need more time before he was ready for NHL action, which is common among young defensemen. Edvinsson's play has been praised early on by head coach Ben Simon, "He can skate. He's got elite skating ability. He's got elite hockey sense. He's going to be one heck of a hockey player."
Marco Kasper
The eighth overall pick in June seemed like a natural selection for Steve Yzerman and Detroit on the draft floor in Montreal. Whether it be the lack of high-end center prospects in Detroit's system or the high-motor and two-way awareness that Marco Kasper possesses.
Kasper has taken his game to another level in his second season in the SHL, taking over a top-six center role with Rogle. In 14 SHL games, Kasper has three goals and seven assists, with an additional three goals and four assists in six Champions League appearances.
It shouldn't be long before we see Kasper make his North American debut, whether in Detroit or Grand Rapids. Although Rogle hasn't had the start they wanted, Kasper has been turning heads in Sweden, even being referred to by Aftonbladet's Mats Wennerholm as "Rogle's MVP."
Carter Mazur
Mazur has continued to build upon his strong freshman campaign and World Juniors appearance as he is now a go-to player at Denver University. The Red Wings' 70th overall pick in 2021 was named an alternate captain ahead of his sophomore season. In eight games, Mazur has scored ten goals and added two assists.
Mazur was named MVP in The Ice Breaker Tournament, which kicked off the NCAA hockey season with Air Force, the University of Maine, and the University of Norte Dame. Mazur will be heavily relied upon in all situations this season as Denver looks to take home the NCAA title for the second reason in a row. Combing the start to 2022-23 and his success last season, Mazur looks to be a quality value pick in the third round.
Sebastian Cossa
There were plenty of questions heading into Red Wings training camp about where their top goalie prospect Sebastian Cossa would play. After an up-and-down WHL season and World Juniors, many believed that maybe Cossa returning to Edmonton for another year of juniors might be ideal. The Red Wings' management team felt otherwise.
Cossa came to Traverse City this past September and looked ready to take the next step and play within the pro ranks. The only problem is that in front of the 19-year-old are two established AHL-level goalies, Jussi Olkinuora and Victor Brattstrom. With the goal of getting Cossa the most reps, he was assigned to Toledo of the ECHL, which is an unusual path for a highly-touted prospect. Through two games with the Walleye, Cossa has a record of 2-0 and a save percentage and goals-against-average of .904% and 2.50, respectively.
Ahead of making his ECHL debut, Cossa made his first professional start in the AHL, winning the game, allowing two goals, and finishing with a save percentage of .913%. Cossa was reassigned to Grand Rapids earlier this week as Victor Brattstrom was injured, allowing Cossa to showcase himself at a higher level. In his first game after being recalled, Cossa surrendered five goals on 24 shots in a 5-2 loss to the Texas Stars.
Dmitri Buchelnikov
A surprise pick in the second round of the 2022 NHL Entry Draft, Dmitri Buchelnikov has looked the part as a potential gem thus far. Playing within the ranks of SKA St. Petersburg, the 19-year-old has displayed high levels of skill paired with a lethal release.
In two games with SKA's MHL team, which is the KHL equivalent to the CHL, Buchelnikov has four goals and four assists, showing to be among the league's best. As a reward, Buchelnikov was called up to the KHL team and appeared in eight games sparingly, but he was able to score his first goal.
To give him a more appropriate amount of ice time, Buchelnikov was assigned to SKA's VHL team, their AHL equivalent. He has scored five goals and two assists in six games, playing in a top-six role. While Buchelnikov is undersized at five-foot-ten and 163 pounds, he possesses a high level of skill that can be translated to higher levels. It's unlikely Buchelnikov will make his way over to North America in the next few years, but in the meantime, he is a prospect Red Wings fans should keep an eye on.
In this episode, we recap the World Championships, highlighting Kubalik, Seider, Mazur. Next, we take a long look at the 2023 first round and which players will be available at 9th and 17th.