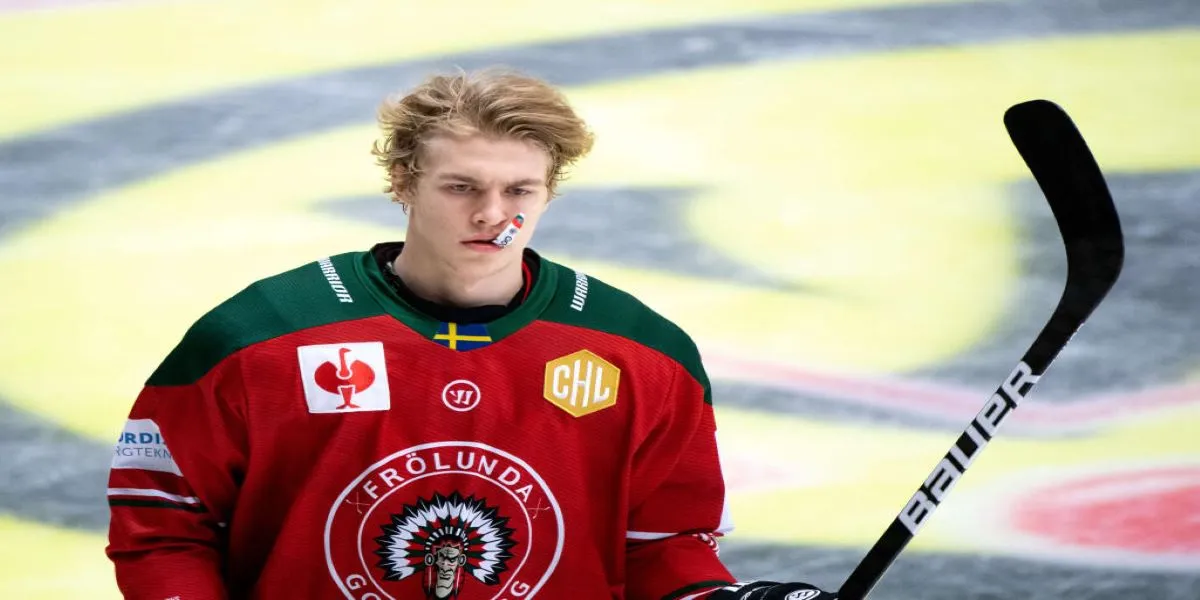 The Detroit Red Wings have several rookies who will be pushing for roster spots on the Red Wings Opening Night Roster. Over the last several drafts, the Red Wings have stockpiled a plethora of prospects who are close to making the jump to professional hockey in North America.
Here is a look at the three players who could force their way into the lineup to start next season.
Simon Edvinsson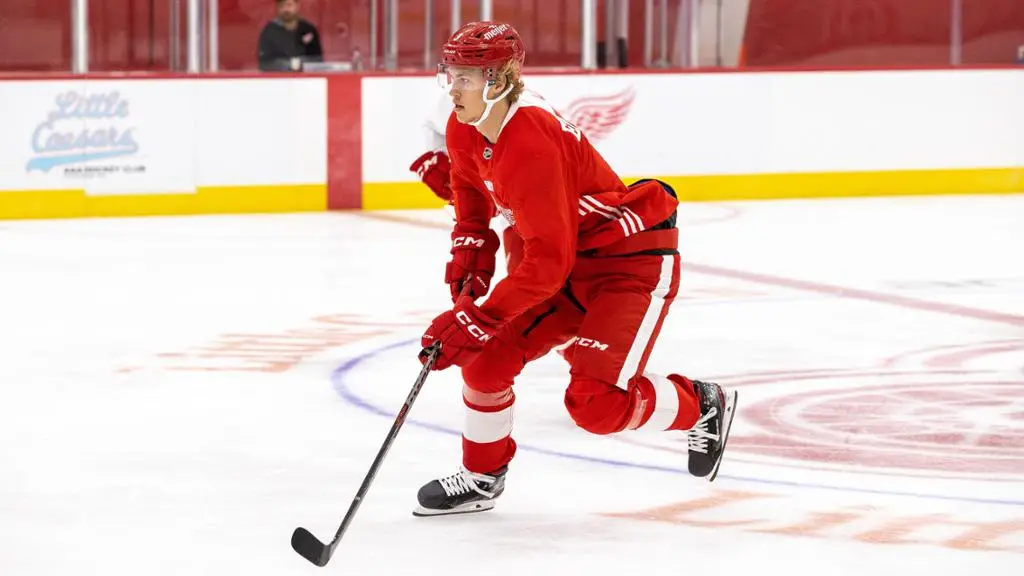 Simon Edvinsson is Detroit's top defensive prospect. Edvinsson could force his way into an already full Red Wings lineup with an excellent training camp. Edvinsson was selected 6th overall in the 2021 draft. His long reach, excellent skating, and passing remind many observers of another rookie defenseman from one year ago, Moritz Seider.
Edvinsson plays the game with patience and poise that most young defensemen don't possess. Last season, Edvinsson played for Frolunda in the SHL. It was Edvinsson's first full season in the league, and he did not disappoint. In 44 regular season games, he scored two goals, 17 assists, 19 points, and had a +13 rating. Edvinsson was tied with another Detroit prospect, William Wallinder, for the most points by a U20 player playing in the SHL.
In April, Edvinsson signed a three-year entry-level contract with Detroit. He will make the jump to North America this year with the goal of playing in the NHL. If he doesn't make the Opening Night Roster in Detroit, Edvinsson will start the year in Grand Rapids (AHL). Edvinsson will have a cap hit of $925,000 if he plays in Detroit, and he will make $80,000 if he plays in the AHL.
If he continues his play from Development Camp, Edvinsson may force Detroit to keep him on the NHL roster to start the season. If so, he will likely play top-four minutes with either Moritz Seider or Filip Hronek. Follow training camp to see how close this prospect is to make the jump to the NHL.
Jonatan Berggren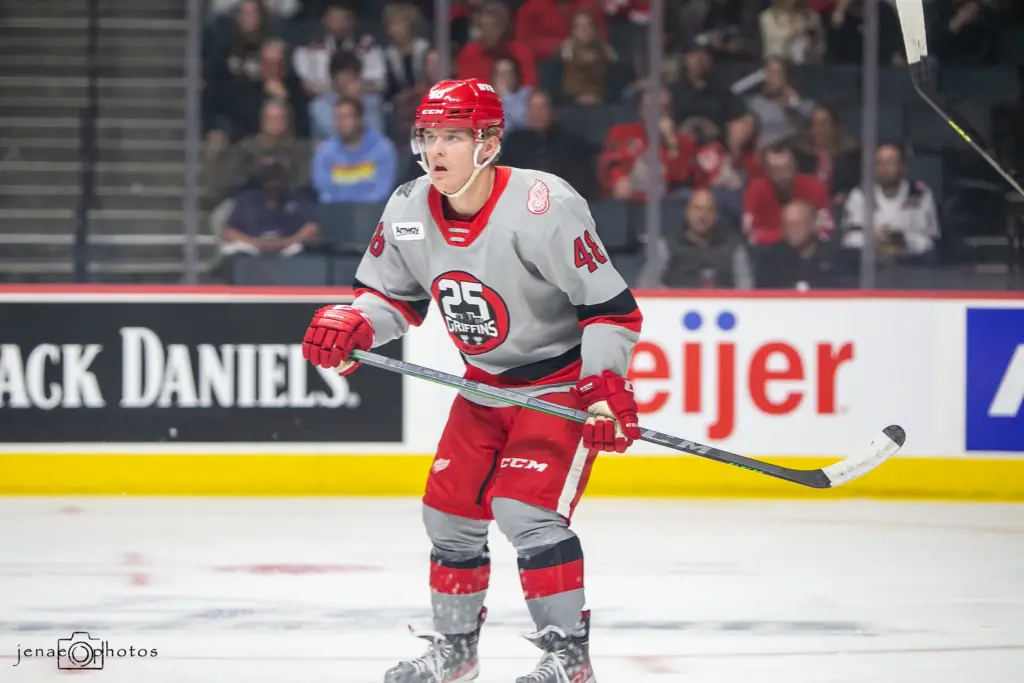 Jonatan Berggren is the top forward prospect in the Detroit organization. Detroit's numerous free agent signings this summer may prevent Berggren from making the jump to the Red Wings roster to start the year. However, an excellent training camp will likely force the Red Wings to bring him up to the NHL to start the season.
Last year, Berggren set a Grand Rapids record for points by a rookie. He also led the Griffins in scoring, scoring 64 points in 70 games. His terrific playmaking ability would be a tremendous boost to a Detroit roster that had a difficult time scoring goals last year.
Berggren will enter the second year of his three-year entry-level contract with Detroit. If he plays in the NHL, Berggren will have a cap hit of $925,000. If Berggren returns to the AHL, he will again be paid $70,000.
If Berggren does not start the year in Detroit, unlike last year, he will most likely be the first player recalled in the event of injury or a trade. Currently, the forward roster is complete, but don't count out Berggren from making an impact at the NHL level before the year is completed.
Elmer Soderblom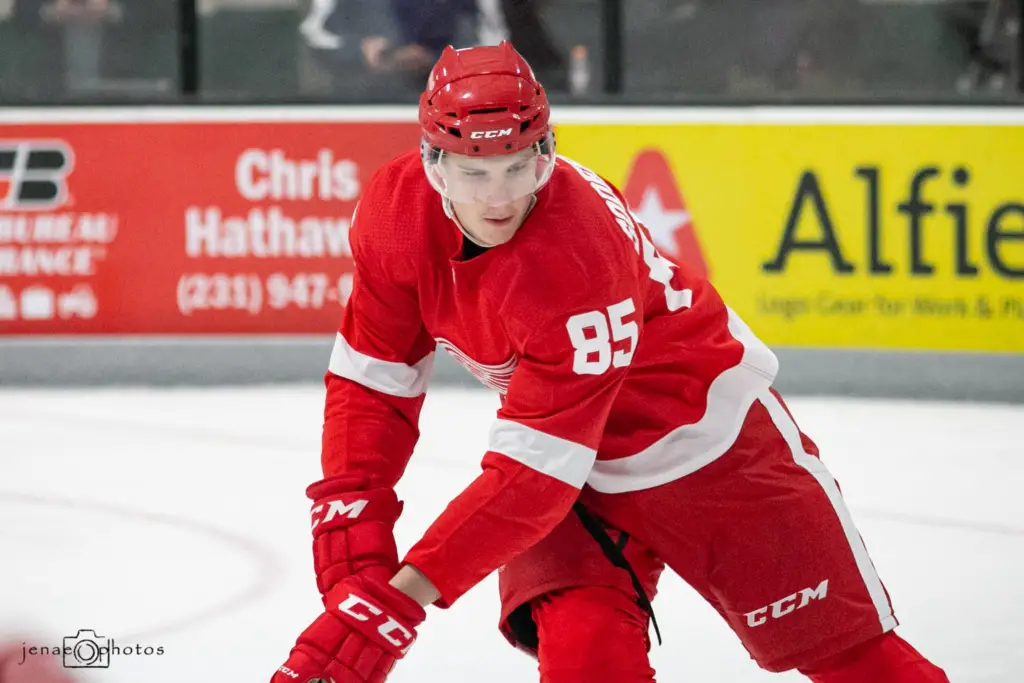 Elmer Soderblom is one of the most intriguing prospects in the Detroit organization. Originally a 6th-round draft pick from 2019, Soderblom burst onto the SHL scene while playing with Frolunda. Last year, Soderblom led all U21 players in SHL scoring. In 52 games, he scored a very impressive 21 goals and 33 points.
Soderblom has a huge (6'8″) size advantage that Detroit fans have never seen at the NHL level. With excellent reach and excellent puck possession, Soderblom can beat defensemen to the outside and create scoring chances that most players can't make.
In June, Soderblom signed his three-year entry-level contract with Detroit. He will come to training camp trying to make the Red Wings roster. In reality, like Berggren, Soderblom will most likely require at least one season playing on the smaller North American ice in Grand Rapids (AHL).
If he does make it to the NHL during his current deal, Soderblom will have a cap hit of $878,333. If he plays in the AHL, he will earn $70,000. Strong play and developing his game on the smaller North American ice will be essential when Soderblom makes the jump to the NHL. Look for Soderblom to start the year in Grand Rapids.
In this episode, we discuss the Red Wings finish to their four game roadtrip, winning in San Jose and Columbus and losing in the shootout to Anaheim. We dive deep into the games, breaking down Filip Hronek's hot start and what has been different this season. Seider and Copp finding their way, Bertuzzi and Walman return. And a look at the playoff picture in the Eastern Conference. Please rate and review our show on your favorite listening platform. Check out our partner's website at www.insidetherink.com for all your latest hockey news.