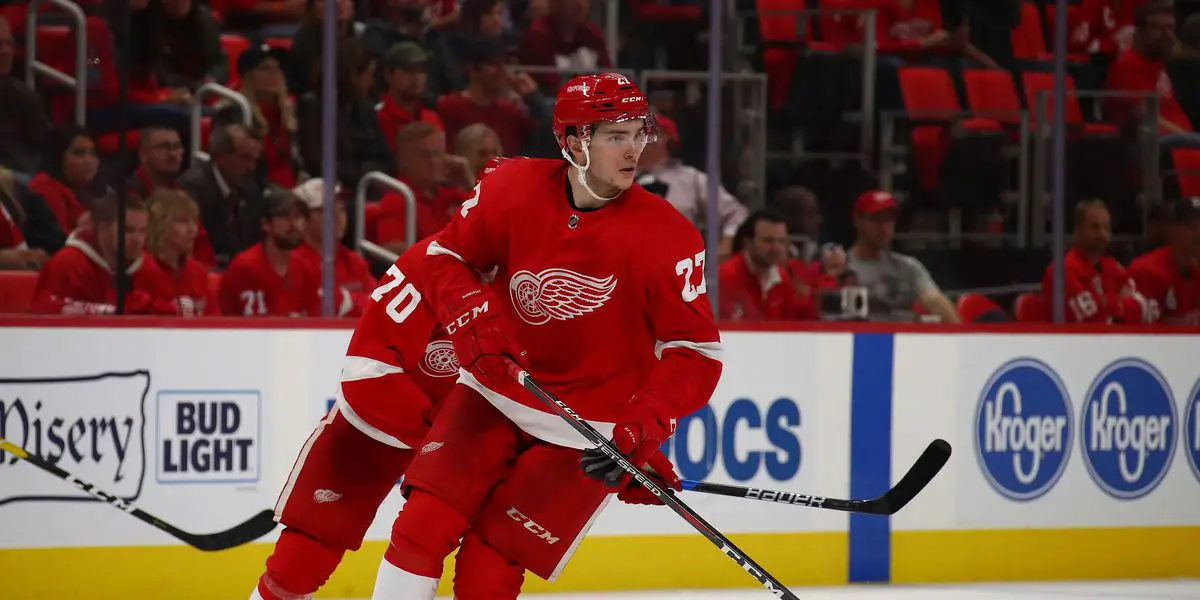 The Detroit Red Wings have been patient with their young players. Mortiz Seider played two full years outside of the NHL after being drafted. He promptly won the Calder Memorial Trophy as the NHL's top rookie. Lucas Raymond played one year in Sweden after being drafted and had an exceptional year playing on Detroit's top line last year. Jonatan Berggren set a Grand Rapids rookie record for points last year and is poised to push for an NHL job with the Red Wings in September.
Here is a look at the three current roster players who need to continue to improve by having impressive seasons this year.
Joe Veleno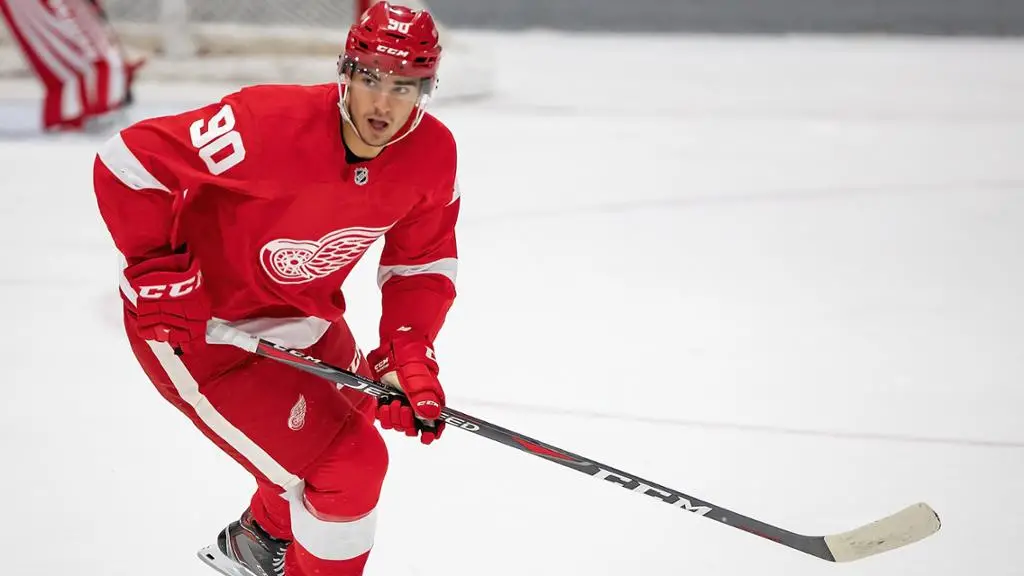 No young player on the Red Wings roster needs a big year more than Joe Veleno. At the 2018 draft, Veleno was expected to be picked just outside of the Top 10. At pick 30, and with their second first-round pick of the night, the Detroit Red Wings selected a relieved Joe Veleno.
Veleno was the first player from Quebec to be granted exceptional status. At 15, Veleno made his junior debut playing for Saint John in the QMJHL. In 62 regular season games, Veleno scored 43 points. He also collected six goals in 17 playoff games.
During Veleno's draft year, he was named captain of the Sea Dogs, and after only scoring six goals in his team's first 31 games, he was traded to Drummondville. Veleno played exceptionally well for the Voltigeurs scoring 48 points in 33 regular season games and 11 points in 10 playoff games.
After being drafted by Detroit, Veleno returned to Drummondville, where he scored 42 goals and 104 points and an incredible +63 rating in only 59 regular season games. Veleno also scored 17 points in 16 playoff games. At Christmas, Veleno represented Canada at the IIHF World Junior Championships. In five games, Veleno picked up two assists.
After playing four years of junior, Veleno was still only 19 and was permitted to play professionally outside of the NHL because of his junior status. In 2019-2020, Veleno played 53 games for Grand Rapids (AHL). He scored 11 goals, 12 assists, 23 points, and had a -25 rating. During the pandemic-shortened season in North America, Veleno was loaned to Malmo of the SHL. In 46 games, Veleno scored 11 goals and 20 points. Once the SHL season concluded, Veleno returned to North America, played four games in Grand Rapids, and made his NHL debut playing five games for Detroit.
Last year, Veleno started the year back in Grand Rapids. He bounced back and forth between the AHL and Detroit. Veleno scored six goals and ten points in 11 games with the Griffins. In 66 NHL games, he scored eight goals, seven assists, 15 points, and had a -14 rating.
Now is the time for Veleno to prove he belongs full-time in Detroit. He has now played 71 NHL games, and he needs to have a big year. Veleno is in the final year of his entry-level contract, and a big year offensively would guarantee a hefty raise for his next contract.
Michael Rasmussen
For the last two seasons, Michael Rasmussen has been viewed by many as the Red Wings player who improved the most from the previous season. That improvement needs to continue so that the Red Wings can rely on Rasmussen more on the offensive side of the puck.
When Detroit drafted Rasmussen as the 9th overall pick in the 2017 draft, he was viewed as a high-scoring power forward who could play the net-front on the power play. In three seasons playing for Tri-City (WHL), Rasmussen scored 81 goals and 157 points in 160 regular season games.
In 182 NHL regular season games, Rasmussen has only scored 26 goals and 57 points. Last season, Rasmussen established career highs in goals (15), assists (12), and points (27). More is expected of Rasmussen this season. Rasmussen will play either center or left wing in Detroit's bottom six to start the season. Improved offensive numbers will go a long way in helping Detroit push for a playoff spot next spring.
Gustav Lindstrom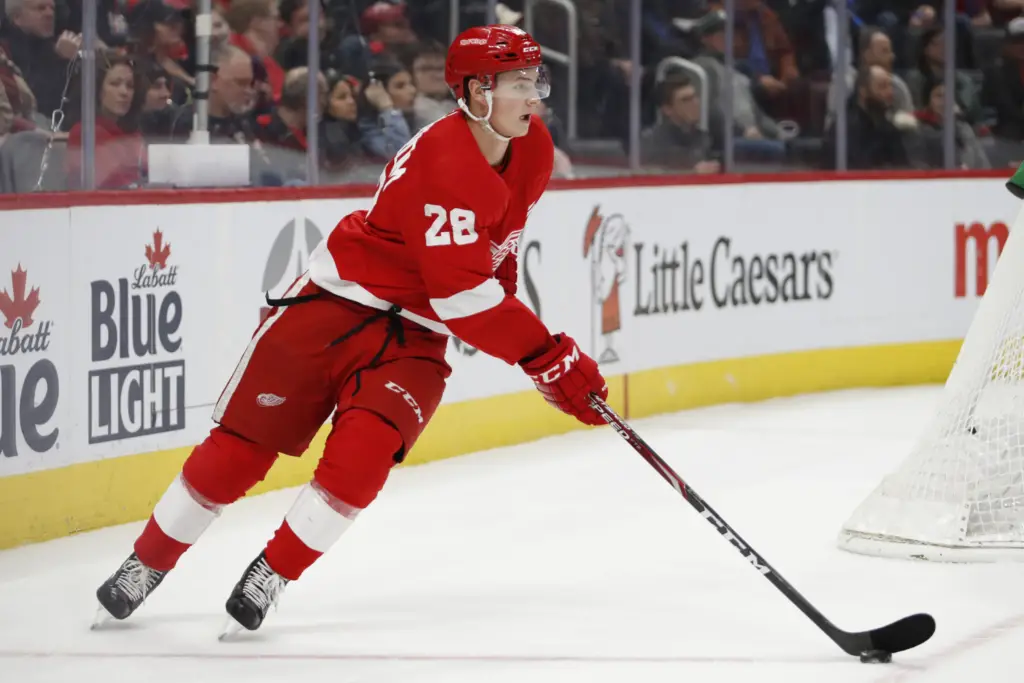 Gustav Lindstrom is no longer waiver exempt, so the 23-year-old needs to make the most of the opportunity he will be given to play an important role in Detroit's defense. The emergence of Mortiz Seider and the veteran leadership of Filip Hronek has stabilized the right side of Detroit's defense.
Lindstrom will be given every opportunity to seize the role as a third-pair defenseman with the Red Wings. Detroit signed veterans Steven Kampfer and Mark Pysyk to one-year deals. If Lindstrom cannot help fortify the defense, one of the veterans will likely bump him from the lineup.
Originally a 2nd round Detroit pick in the 2017 draft, Lindstrom should play in the bottom pairing and get some penalty-killing time. Now that Lindstrom will be given every opportunity to play a full-time role in Detroit, he needs to capitalize on the defensive facets of his game that make him an effective blueliner.
A big year from Lindstrom will help guide Detroit towards an improvement in the standings. With Lindstrom in the lineup, the Red Wings are a harder team to play against, which should translate into less goals against and more wins in the upcoming season.
After much speculation, the Red Wings signed Patrick Kane to a one-year contract. We breakdown all the details surrounding the signing, Kan's potential impact and fit, and what this does for the Red Wings moving forward. Later, we look back at the last three games following Sweden and the Red Wings currently sit third in the Atlantic Division through 20 games, with a record of 11-6-3. We highlight the performances of Alex Lyon, Shayne Gostisbehere, Lucas Raymond, and more!