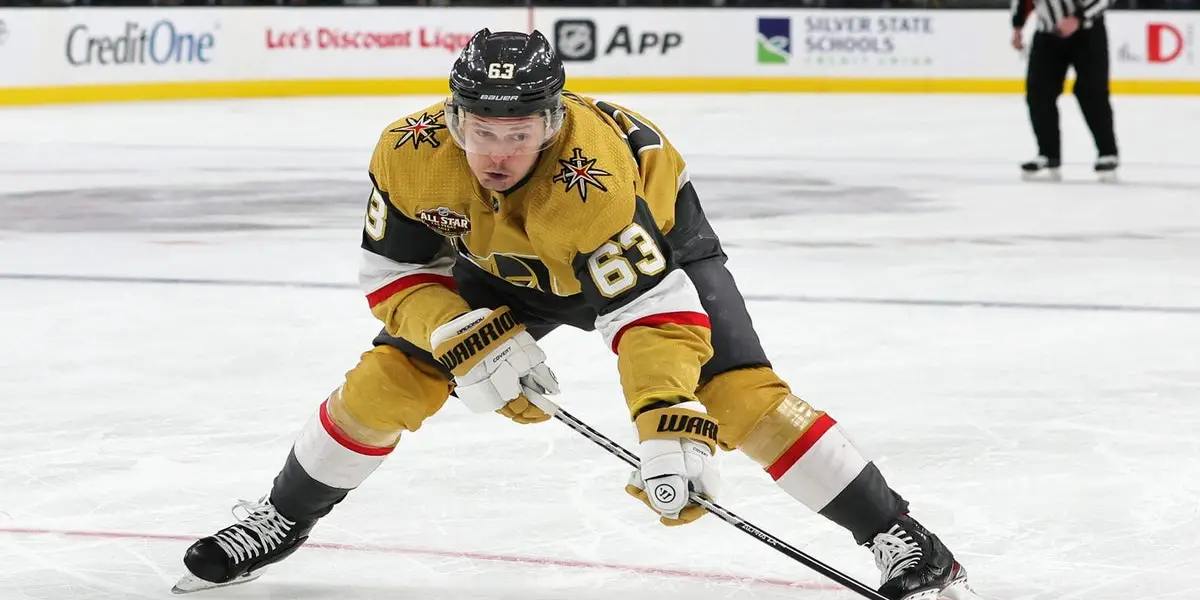 It must have been a whirlwind of a couple of days for Evgeni Dadonov on and following the trade deadline. It's been a bit of a rough season for Dadonov, especially in a couple of months leading up to this drama. Until a couple of games before the deadline, the 33-year-old winger went through a stretch of only 3 points in 21 games in which he carried a -9 rating.
Fast forward to the trade deadline, and the craziness began. In an effort to free up cap space in anticipation of the returns of Alec Martinez and Mark Stone, amongst other names, the Golden Knights thought they had traded Dadonov to the Ducks. After over 24 hours of investigation, the trade was reversed.
The reason the trade fell through was a lack of due diligence on the part of the Ottawa Senators. Dadonov had a ten-team no-trade list in his contract in Ottawa, and when they traded him to Vegas last year, they did not adequately disclose this information to the Golden Knights, and somehow they never found out about it. The way the NHL handled these no-trade lists was really outdated. Apparently, only the players' agents and the team representatives would have access to this information. No type of registry or records existed at any league office to confirm these types of things. This is something the NHL GMs and the league have begun to discuss changing moving forward because something like this just can't happen.
Why was it bad for the team?
Vegas was completely in the dark and didn't know they had any restrictions on moving their player. With all the injuries the Knights are dealing with right now, they needed to free up some cap space if they had any hopes of fielding a full roster in the regular season. They thought they found a move that freed up some space.
Not only does not relieving cap hurt them, but they are in a playoff race where every game is crucial, and how long the investigation took before sending Dadanov back to Vegas may have cost them a game. After the 20 game struggle I spoke of earlier, the two games prior to the deadline, Evgenii had turned things around and scored three goals in 2 games while looking really good up and down the ice. The trade being in limbo forced an already depleted Vegas lineup to be without a key piece in a key game, and they ended up losing 4-0 to a Jets team that is on their heels in the standings.
Why was it bad for the player?
Like I said before, Evgenii had started finding his game again and feeling good about himself. All of a sudden, he's traded. Anybody would be hurt and disappointed to be traded from a contender to a team outside the playoff picture. Now all of a sudden, you're waiting around for two days trying to figure out who you're going to play for, what state you're going to live in. These things would be so tough not to know and have people sitting around deciding for you. Now it's over, and you're sent back to the team that just decided they didn't want your services anymore. That would be so tough to get over mentally. If you aren't able to get over that and just focus on the past, it would be so hard to get through and be able to perform.
All the credit in the world to the fans, first and foremost. As they were waiting for things to transpire online and news to come out, Vegas fans rallied together on Twitter and discussion boards to say that if Dadonov was going to be returned to us, he should receive a hero's welcome. At the next home game, Evgenii's first game back, he did indeed get a roaring applaud and ovation from the crowd to start the game.
I'm sure that was a huge factor in him feeling more welcomed and putting the failed trade behind him and moving on. And move on, he did because the trade and the missed game didn't stop him from staying hot, tallying two goals and three assists in his first two games back. Credit to him for staying focused, putting it behind him, and moving forward with the team.
Even though the goal and point streaks stopped last game against Seattle, it wasn't for lack of effort, and he looked very solid once again for the record. He played two minutes more than his season average and was very active offensively, collecting four shots and creating multiple chances.
Dadonov will once again be on the top line tonight alongside Jack Eichel and Chandler Stephenson for a rematch with Seattle on the road in which anything less than two points will be a big disappointment.
Will the VGK win Game 6/7 or choke away the WCF?
–
The Vegas Fever Podcast
In this episode we review:The first 5 games of the WCF, the VGK lead 3-2We also..Discuss how closing out the Stars will go and how not closing them out will go after leading the series 3-0.Be sure to send in your questions, comments , concerns and emotional outbursts to our twitter DM'sThanks for checking us out! Please subscribe after you listen.