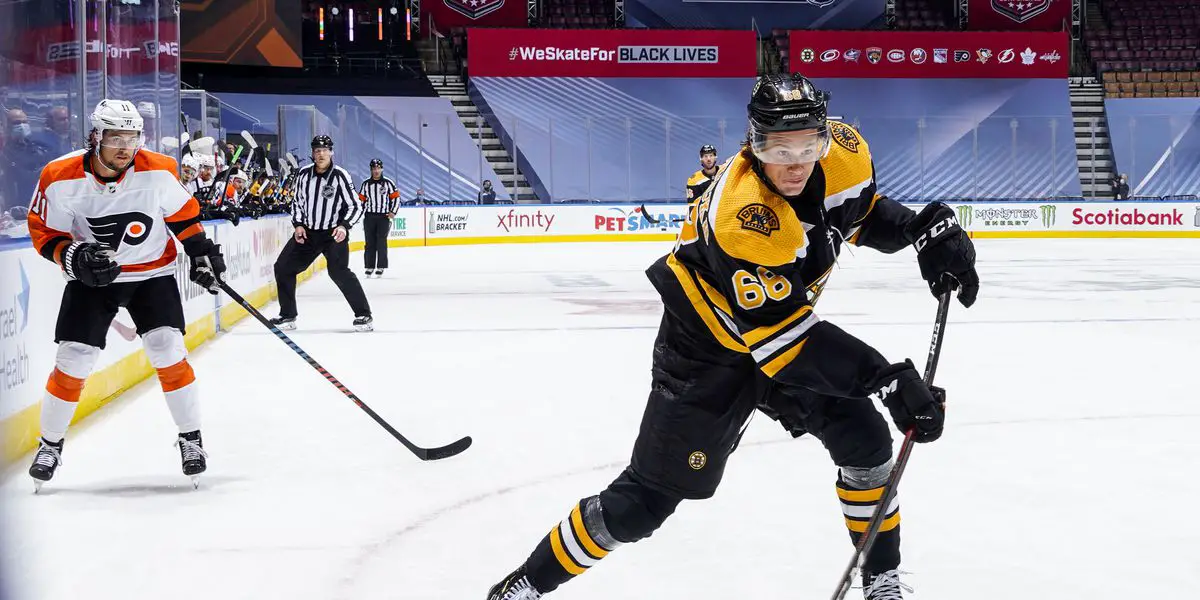 Tonight's game against the Winnipeg Jets will feature a new top-line center as Patrice Bergeron will miss his second straight game due to injury. It's not often the Bruins have been missing their top-line center over the years, as Bergeron has been a stalwart in the middle of the top line for over a decade. Last game, the Bruins promoted fourth-line center Tomas Nosek to take on top-line duties while the future Hall of Famer was sidelined. At the same time, Nosek didn't play awful, and it just looked unnatural having him up there alongside Brad Marchand and Jake Debrusk and a look Bruins fans hope to never see in the future.
Before the Minnesota Wild game, the Bruins did have a plan as to who would fill in for Bergeron as they called up Jack Studnicka from their AHL affiliate Providence Bruins. Unfortunately, Studnicka could not make it to the Xcel Energy Center in Minnesota in time, forcing Bruce Cassidy to make some adjustments last moment. Many thought Cassidy would promote the more talented and proven Charlie Coyle or Erik Haula, but Cassidy didn't want to disrupt the chemistry those two players bring to the second and third lines they anchor.
Opportunities for Both Studnicka and the Bruins
This time around, though, the Bruins will have Jack Studnicka in the building and officially named him the top-line center for tonight's game against the Jets. This is an excellent opportunity for Studnicka to prove to the coaching staff what he is capable of and what he can contribute to the team, not just in this game but also down the line as Studnicka looks to make his time on the NHL roster permanent. There is also an opportunity for the Bruins as they can use this opportunity to showcase Studnicka's skill set and abilities ahead of the trade deadline as Don Sweeney looks to begin wheeling and dealing in these coming days. Suppose Jack Studnicka shows he is finally capable of playing at the NHL level daily. In that case, this could add increased value to his market and allow Don Sweeney to obtain an excellent return before Monday.     
Can Studnicka Stay Hot?
At 23 years old, Jack Studnicka is still young and has time to grow into the player the Bruins thought he would become when they drafted him 53rd overall in the second round of the 2017 NHL draft. At 6'2″ and 196 lbs, he offers excellent size to go along with his playmaking skill set as he projects to be a top-six forward once he puts all the pieces together. Studnicka has been red hot at the AHL level as he is third on the team in assists and points with totals of 24 and 33. Studnicka has been especially hot over his last ten games as the 23-year-old has totaled 14 points that breakdown into three goals and 11 assists. Studnicka looks to bring that hot streak to Winnipeg as he suits up for the big club tonight; there are only so many opportunities the Bruins are willing to give before they decide to move on. The thought of the Bruins not having a number one center waiting in the wings once Patrice Bergeron chooses to hang up his skates is a scary situation, as shown during their most recent loss to the Minnesota Wild. Hopefully, Studnicka delivers and shows he has a bright future in Boston.   
Episode 51: Interview w/Jack Ahcan Episode 51 is back in action talking about the New York Paingers ITR bet, Can Buffalo Sabres make the playoffs? Is Vancouver in the wrong on the Boudreau treatment? Is Tocchet the right guy? Is Daryl Sutter the last Dinosaur in the NHL?YouTube: https://www.youtube.com/@insidetherinkTwitter: https://twitter.com/CueTheDuckBoatzFacebook: https://www.facebook.com/Cuetheduckboats/Thanks for listening! Please rate and review our show on your favorite listening platform. Check out our partner's website at www.insidetherink.com for all your latest hockey news. Also, catch all of the games in this year's NHL season by signing up for ESPN+ at Insidetherink.com/ESPN