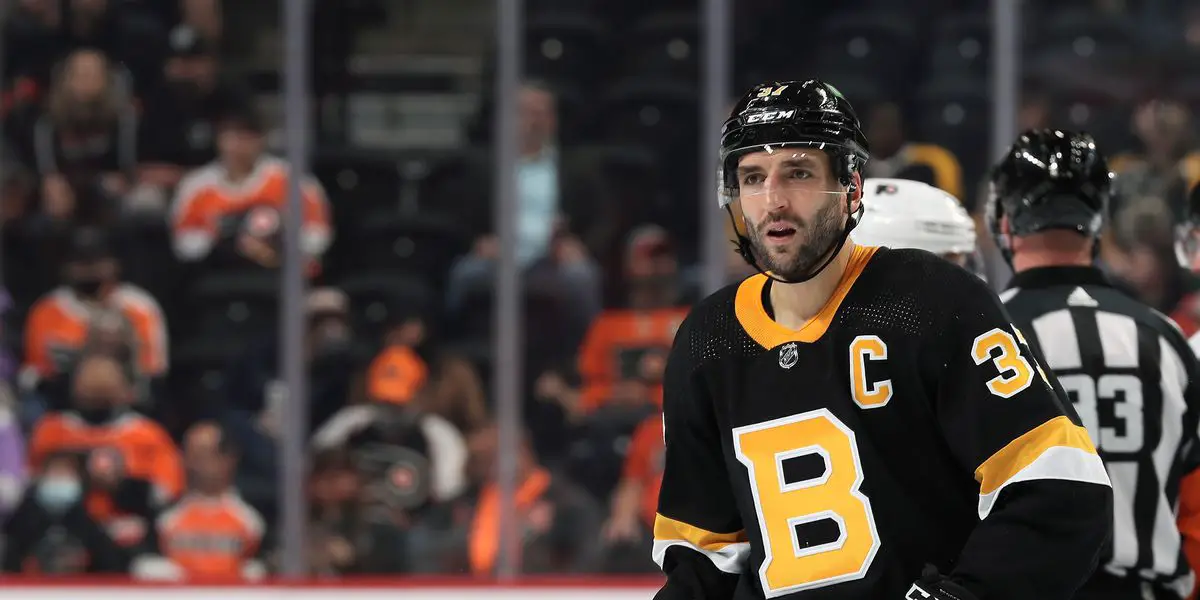 When the Bruins took on the St. Louis Blues on Tuesday night, Patrice Bergeron left his mark on the game even though the Bruins suffered a 4-2 loss. It's no secret that the Boston Bruins have had plenty of elite players suit up for the storied franchise, with Patrice Bergeron and Ray Bourque being two of the greatest to ever play in Boston. Both players have left their mark on the franchise record books and the NHL game as a whole as they both sit among the top three when it comes to games played for the Bruins, which makes sense for the two of them to share plenty of the team's records.
Both players were able to bring home the hardware during their careers as Bourque is a five-time Norris Trophy and Bergeron, a four-time Selke winner on the verge of winning his fifth this season. When it comes to elite goal-scoring abilities, each player has never been known for it, even though Bergeron has been a consistent 20-plus goal scorer. In his career, he has crossed the 30-goal threshold six times over 18 seasons, with his career-high being 32 goals. When thinking of Bergeron's skill set, you think of his dominance as an elite two-way center who constantly wins faceoffs at a high rate, excels at defense, and looks to put his teammates before himself.  
 However, Bergeron tied Bourque for a franchise record in the goal department thanks to the goal that he scored against the Blues the other night. Thanks to his quick goal that occurred just 49 seconds after the initial puck drop, Bergeron scored his ninth career opening-minute goal, tying Bourque for the most in Bruins history. With that goal, the Boston captain also joined an impressive list of active NHLers who have excelled at scoring within the first minute of play. There are currently only four active players ahead of Bergeron's nine opening minute goals as Anze Kopitar (10), Alexander Ovechkin (10), Joe Thornton (11), and Sidney Crosby (13). There is no doubt that Patrice Bergeron is heading to the Hockey Hall of Fame one day as his career nears its end, but for now, the Bruins captain shows no sign of slowing down as he conquers milestone after milestone in his 18th season in the NHL.   
Episode 51: Interview w/Jack Ahcan Episode 51 is back in action talking about the New York Paingers ITR bet, Can Buffalo Sabres make the playoffs? Is Vancouver in the wrong on the Boudreau treatment? Is Tocchet the right guy? Is Daryl Sutter the last Dinosaur in the NHL?YouTube: https://www.youtube.com/@insidetherinkTwitter: https://twitter.com/CueTheDuckBoatzFacebook: https://www.facebook.com/Cuetheduckboats/Thanks for listening! Please rate and review our show on your favorite listening platform. Check out our partner's website at www.insidetherink.com for all your latest hockey news. Also, catch all of the games in this year's NHL season by signing up for ESPN+ at Insidetherink.com/ESPN