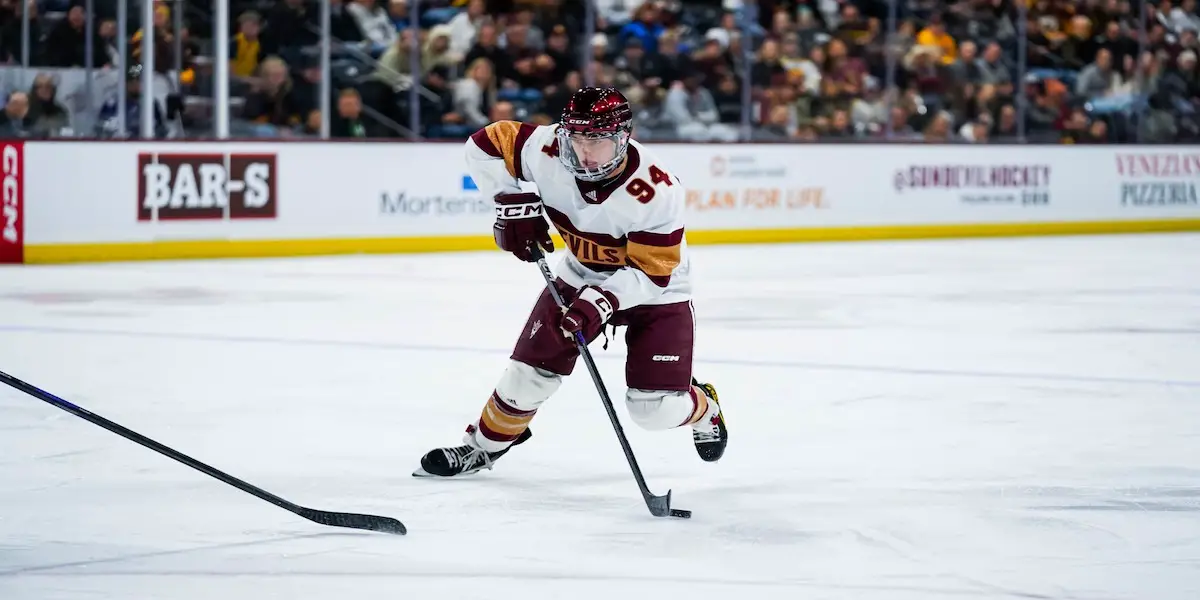 With the NCAA hockey season wrapping up and the Frozen Four tournament less than two weeks away, there has been a flurry of activity with players signing with NHL clubs. After Arizona State failed to make the playoffs, all eyes turned to the Red Wings' 54th overall pick from 2019, Robbert Mastrosimone, and whether or not he would sign his entry-level contract.
But as of now, it appears unlikely that the Red Wings will not be signing Mastrosimone.
In a recent sit down with PHNX Sports' Craig Morgan, ASU head coach Greg Powers it was revealed that Mastrosimone would likely be testing the college free-agent waters.
"He's playing the waiting game and seeing what's going to be available as a free agent. There's a lot of teams that are interested in him, but it doesn't look like Detroit is going to happen. It's just a waiting game, but he has the option to come back. It's a good option, and he's open to it."
The 22-year-old left-winger just wrapped up his first season at Arizona State, where he led the Sun Devils in points, scoring 11 goals and 31 assists in 38 games. Mastrosimone transferred from Boston University last summer, where he spent three seasons, scoring 21 goals and 29 assists in 83 games.
With an influx of recently drafted wingers such as Jonatan Berggren, Elmer Soderblom, and Cross Hanas already populating the pro ranks and may all be pushing for jobs in Detroit next season, Mastrosimone was already lower on the depth chart, which may have led to this decision.
The boys are back after a long break but have plenty to talk about as the playoffs are in full swing. We go series by series, looking at how teams have fared so far and who will come out on top. Thanks for listening! Please rate and review our show on your favorite listening platform. Check out our partner's website at www.insidetherink.com for all your latest hockey news.