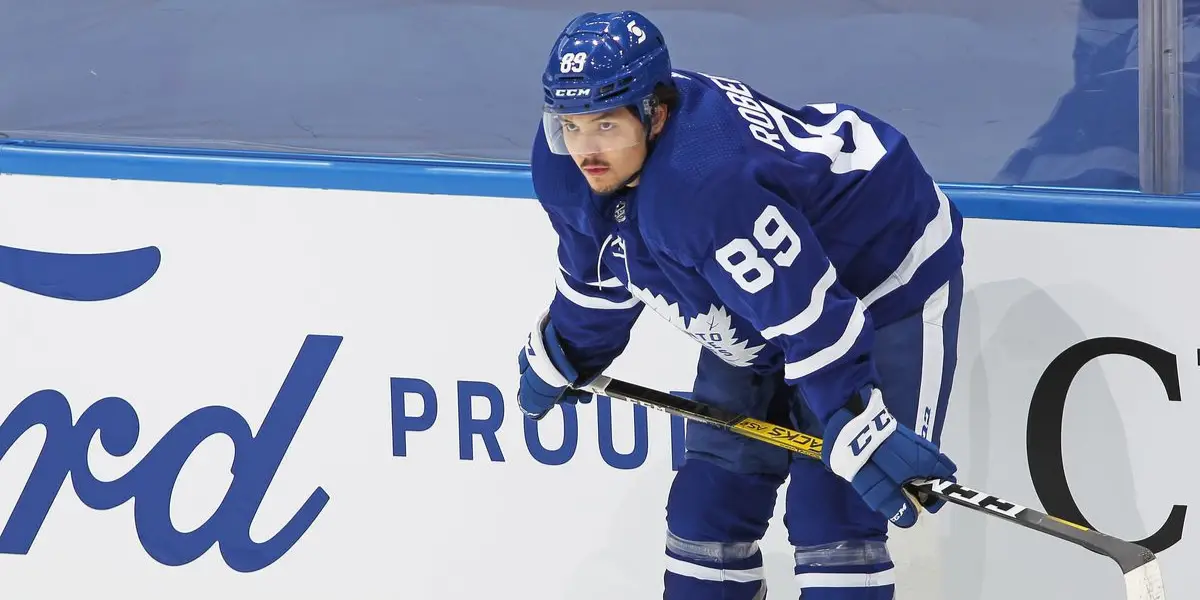 After another loss to a non-playoff team, the Leafs look to rebound as they face the surging Dallas Stars tonight. Tonight Oettinger will be resting, so the Leafs will look to capitalize on Wedgewood being between the pipes tonight for the Stars. Tonight the Leafs have two lineup changes, as Nick Robertson and Victor Mete make their season debuts, with Malgin (scratch) and Muzzin (injury) out of the lineup.

Leafs Projected Lineup
Forwards
Bunting – Matthews – Marner
Robertson – Tavares – Nylander
Engvall – Kerfoot – Järnkrok
Aston-Reese – Kämpf – Aubé-Kubel
Defense
Rielly – Brodie
Sandin – Holl
Giordano – Mete
Goalies
Samsonov
Källgren
Stars Projected Lineup
Forwards
J. Robertson – Hintz – Pavelski
Marchment – Seguin – Dellandrea
Benn – Johnston – Gurianov
Kiviranta – Faksa – Glendening
Defense
Heiskanen – Miller
Suter – Hakanpää
Lindell – Lundkvist
Goalies
Wedgewood
Oettinger
3 Things to Look Out For
1. Nick Robertson
We have talked a lot about Robertson this season, but that's bound to happen when you score 8 points in 4 preseason games. Robertson will be stepping into the lineup for his first regular season game as he looks to cement himself as an everyday NHL player. Robertson has a wicked shot and hopes to use that paired with his deceptive footwork, to create offense for the Leafs. With Malgin scratched tonight and Robertson playing, this also means that Nylander will shift back to the right wing, where he has played the most. Keep an eye out tonight as Robertson as he faces off against his brother, Jason Robertson.
2. Victor Mete
Mete is drawing into his first regular season game with the Leafs, mainly due to the recent injury of defenseman Jake Muzzin. Mete looked composed throughout the preseason, and while he didn't make the team out of camp, salary cap space becoming available brought him back to the main squad. Mete will be paired with veteran defenseman Mark Giordano tonight and looks to provide increased stability while keeping the Stars' shooters to the outside. Keep an eye out for Mete to get some time on the penalty kill tonight as he looks to build momentum in his first game with the Leafs.
3. The Fourth Line
With Wayne Simmonds up with the Leafs, this adds pressure to the Leafs' depth pieces. Although to this point, the fourth line has performed well, they will need to keep proving their spot on the team as everyday players. The line seems to understand its assignment, and I expect them to have another solid showing tonight as they use the pressure as added motivation. I think that the fourth line will combine for a goal tonight.
Predictions
This is a new segment of the pre-game articles, where each game, there will be three predictions that will be answered between our Leafs' writing team, Leafs Late Night team, and a coin flip. We will track it throughout the season to see who is the most accurate! The coin flip will always have heads as the home team and tails as the away team.
1. Who will walk away with the win tonight?
Nathan: Leafs
Josh: Leafs
Mike: Leafs
Steph: Leafs
Johnny: Leafs
Coin: Leafs
2. Who will score first? Stars or Leafs?
Nathan: Stars
Josh: Stars
Mike: Stars
Steph: Leafs
Johnny: Stars
Coin: Stars
3. Who will score more goals tonight, Nick Robertson or Jason Robertson? (Tie goes to whoever has more points)
Nathan: Nick
Josh: Jason
Mike: Jason
Steph: Jason
Johnny: Jason
Coin: Nick
Tonight the Battle of the Robertsons starts at 7:00 pm EST. The game can be watched on Sportsnet Ontario or Sportsnet 1, depending on where you are watching.
Thanks for reading! Feel free to follow me on Twitter @nathan_bondy.
Appreciation in Leafs Nation – RD2 GAME 5
–
Leafs Late Night
WELCOME BACK TO LEAFS LATE NIGHT! Presented by Inside The RinkRoscoe / Fanalyst / Galaxy Biehn / Marty From Keswick- We Didn't Want Florida- Rielly Robbed- Roscoe vs. Fanalyst: What Was The Deciding Factor?- Does The Regular Season Matter?- Leafs Nation Stays *mostly* PositiveMERCH IS AVAILABLE!JOIN OUR DISCORD!Remember to follow us on Twitter @LeafsLateNight & IG @LeafsLateNightCheck out Mike, Josh, and Nathan's articles on the Leafs + many more! insidetherink.com