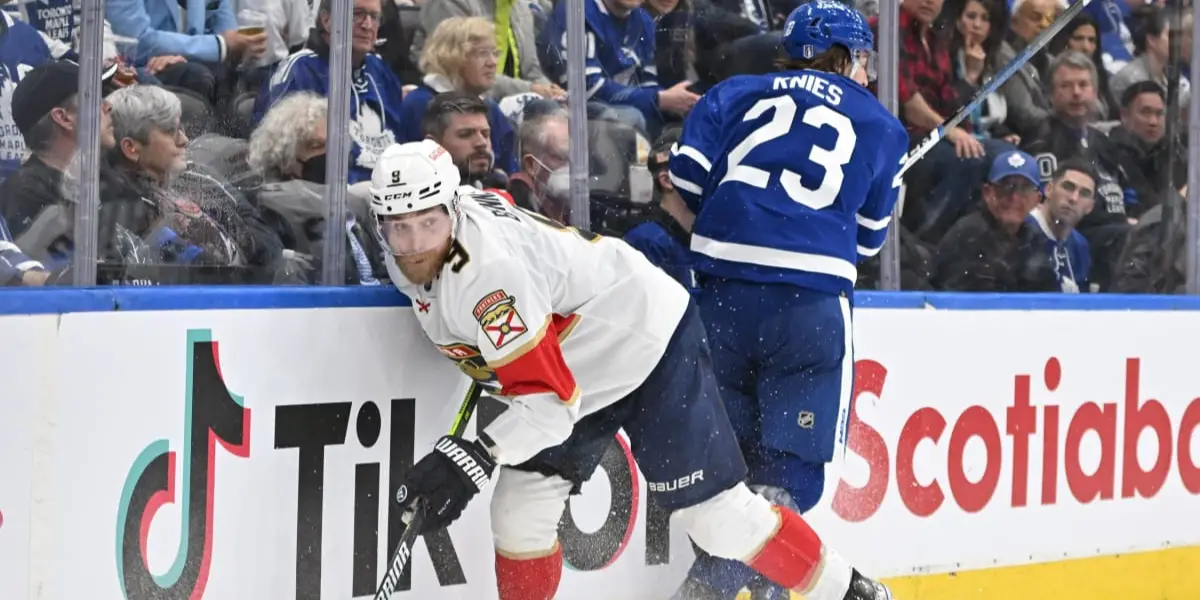 In the second game of the second round in the Stanley Cup Playoffs, Florida Panthers forward Sam Bennett would give some overly dirty play on Toronto Maple Leafs rookie Matthew Knies.
While it is debated if Sam Bennett ran Matthew Knies's head into the board or the ice, one thing is for certain, Bennett punched Knies in the back of the head. With the NHL seemingly being super concerned about any sort of hits to the head, the Department of Player Safety absolutely must take action against this sort of contact.
If you are the Toronto Maple Leafs, you have to be frustrated, you are down 2-0 in the series, and the rookie that has provided you a ton of offense in the series is now injured. There was no call originally made on the play that should've been a two-minute minor at the minimum; if you're Sheldon Keefe, you have to be upset with the refereeing during the playoffs.
As we hockey fans know, the Department of player safety loves to spin the wheel when it comes to handing out suspensions. There hasn't been a more egregious officiating and supplemental discipline that has been handed out or happened in the league basically ever.
Ron MacLean, a sportscaster, would go out of his way to defend this play by Bennett, claiming that "every team needs a Sam Bennett in the playoffs." This cannot be further from the truth; this is nearly supporting the intent to injure players who play in the National Hockey League Stanley Cup Playoffs. As a fan, consumer, and a person who has the privilege to share their thoughts on the game of hockey, this absolutely cannot be the message sent to the league and to fans.
After this play, where Knies had his head punched and slammed by Bennett, he would be ruled out of the rest of the game. This absolutely will not sit well with the Toronto Maple Leafs, and if the Department of Player Safety chooses to do nothing about it, the Leafs will avenge the possible loss of Matthew Knies. The Department of Player Safety absolutely must hand out, by minimum, a fine to Sam Bennett. However, the known track record of the Department of Player Safety, Sam Bennett, will be free from supplementary discipline.
WELCOME BACK TO LEAFS LATE NIGHT! Presented by Inside The RinkRoscoe / Galaxy Biehn – Dubas Out?!?- Remember All The Good Times We Shared- I Don't Love Our Options- Matthews Next Deal?- Keefe's Fate- AI MascotsSPORTS! IS FUNMERCH IS AVAILABLE!JOIN OUR DISCORD!Remember to follow us on Twitter @LeafsLateNight & IG @LeafsLateNightCheck out Mike, Josh, and Nathan's articles on the Leafs + many more! insidetherink.com