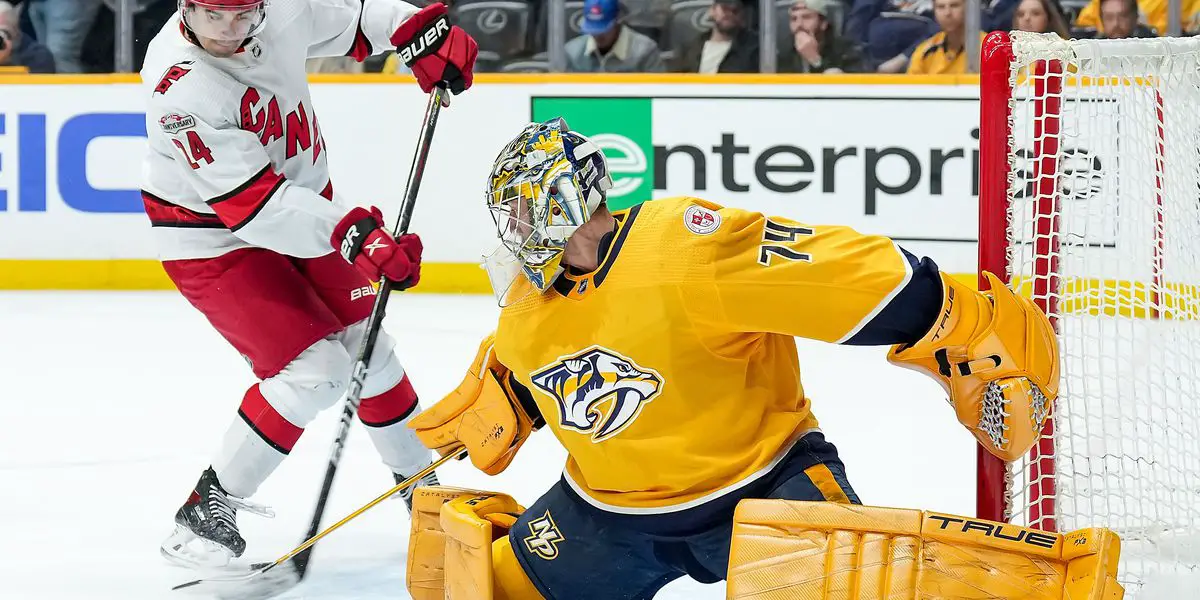 For much of the season, the Nashville Predators were an afterthought when it came to this year's Stanley Cup playoffs.
The team played mediocre and inconsistent hockey throughout the year, and because of that, they were on the outside looking in when it came to getting one of the eight spots for the postseason. Playing that kind of hockey will often do that to teams.
Believe it or not, the Predators have turned around their season to a degree. As of this writing (Sunday, April 9), the Predators are 40-31-8 with 88 points and are now just three points out of the second wild-card spot, which is currently being held by the Winnipeg Jets.
While the team is getting strong play from Roman Josi, Matt Duchene, Tommy Novak, and Cody Glass, there is one player that stands out above the rest when it comes to the Predators. That player would be goaltender Juuse Saros.
Saros, 27, was a Vezina Trophy finalist last season as one of the league's top goaltenders when he went 38-25-0-3 with a 2.64 goals-against average, a .918 save percentage, and four shutouts. We are not sure if he will be a Vezina Trophy finalist again this season, but there is no doubt that he has had another strong year in goal for his hockey club.
Saros is currently 31-23-0-7 with a 2.70 goals-against average, a .918 save percentage, and two shutouts. Because the team he plays behind is currently 27th in the league in shots allowed per game (33.3), those numbers are quite good.
Saros gives his team a chance to win every game. He has started 62 games this season and has won 31 of them, which should say a lot because the team he plays behind does not give him a lot of help.
Saros also steals a lot of games for his hockey club. He stole a big win on Thursday night, April 6th, when he had a 33-save shutout over the Carolina Hurricanes, and he got a big win over the league's best Boston Bruins back on March 28th when he stopped 35 of 36 shots.
Speaking of stopping pucks, that is something that Saros does a lot of. Saros is ahead of leading Vezina Trophy candidate Linus Ullmark of the Boston Bruins in Goals Saved Above Expected, and despite facing an average of about 33 shots per game, Saros has stopped close to 92 percent of them.
This is big for a team like the Predators because the team does not score a lot of goals. The Predators are 28th in the league in goals scored, and when Saros is in goal, they average 2.60 per game, which means that Saros has to be close to perfect every night to help his team win games.
The Predators have three games left this season with tilts against the Calgary Flames (Monday, April 10th), Minnesota Wild (Thursday, April 13th), and the Colorado Avalanche (Friday, April 14th). They may not end up making the playoffs, but there is no doubt that Saros will be doing more than his part in these games to try and give them a chance to play for hockey's Holy Grail.
The boys are back after a long break but have plenty to talk about as the playoffs are in full swing. We go series by series, looking at how teams have fared so far and who will come out on top. Thanks for listening! Please rate and review our show on your favorite listening platform. Check out our partner's website at www.insidetherink.com for all your latest hockey news.