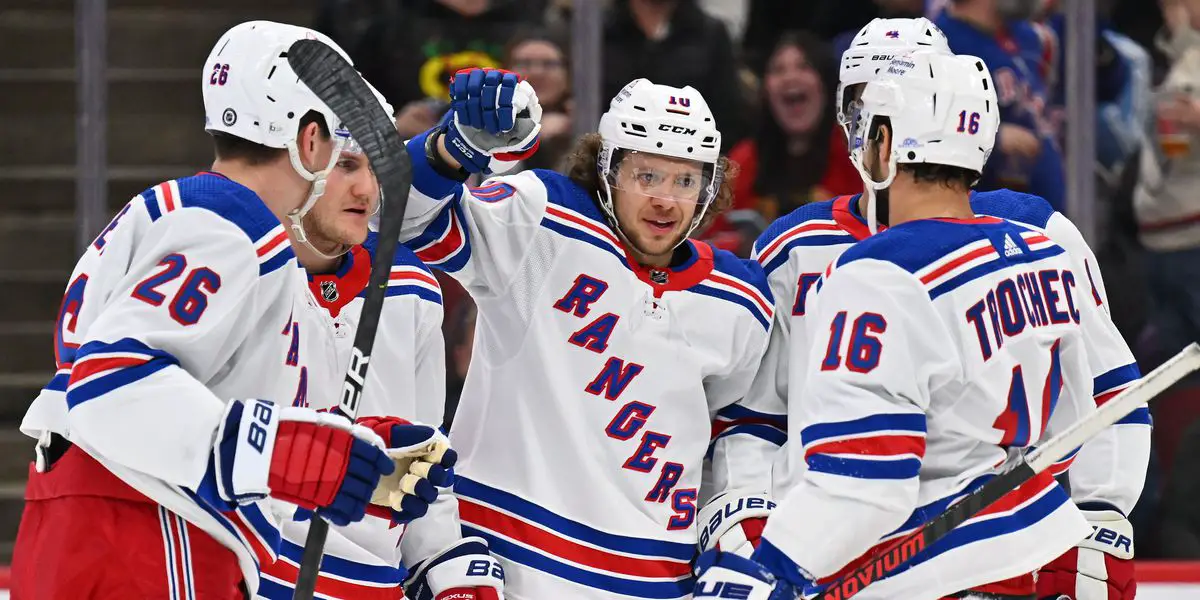 Seven Goals. Seven wins in a row. The impetus to go with the "seventh heaven" headline was strong, but an underrated quote from a classic Seinfeld bit felt proper. Either way, the NY Rangers got some revenge and imposed their will on an inferior Blackhawks team with a 7-1 victory. So, let's break it down.
THAT'S GOOD!
SPREADING THE WEALTH. 
It turns out that goals are fun! However, what made it more encouraging was that seven different Rangers each got a tally. Even in their successful phases, the Rangers can be top-heavy in their scoring distribution. So, while it's great when Mika Zibanejad gets a hat trick or Kreider has two power-play goals for team success, it's even more meaningful when everyone gets involved.  
Last night included goals for the "kids" (Chytil, Kakko, Kravtsov), a defenseman (Trouba), and a first for a 4th liner (Brodzinski, off the body, but who cares!). All in addition to your vets (Panarin and Trocheck) finding the back of the net.
Six of the seven goals were even strength, which is also a very good sign. Of course, it was against a team that is struggling mightily, but this is what teams are SUPPOSED to do when faced with these matchups, and it's great to see the Rangers finally come through in that regard.
THE "KIDS"
The night was somewhat clouded by the Chytil injury (hopefully, he's okay). It's extra upsetting because "Playoff Chytil" has been unlocked this year, and all the young talent is starting to cook around him. The Kid Line (sorry, Kaapo, it will probably stick for at least this season) is really starting to hum again in all aspects. First, Lafreniere made a deft play to kick-stop the puck and sent it to Chytil for a goal. Then later, Laf began a beautiful tic-tac-toe passing play that Kakko one-timed into the net.
Also, an excellent sign for the future was Kravtsov's breakaway goal off a beautiful Panarin feed (please play them together, Gallant!). Kravy seems to be getting more comfortable with each game.
Hopefully, Chytill isn't out too long because it's clear with time and consistency, the emergence of our first-round picks will be the elixir that takes us to the next level.
THAT'S BAD!
CHYTIL INJURY
This was the only major blemish on the night. Perhaps it wasn't a vicious shot, but a late and unnecessary hit by Lafferty in the 2nd period made Chytil fall awkwardly and left the game. No penalty was called, and he didn't return. It didn't matter for this game, as the Rangers ran away from Chicago, but it could potentially hinder Chytil's rhythm again. It's been an unfortunate subplot to his career that an injury crops up that stops his progress short whenever he seems to get going offensively.  
CAN I GO NOW?
Gallant and the Rangers still need to figure out how to snap out of these slow starts. Last night's game was the 2nd night of a back-to-back, but these malaises happen every game, so you can't blame it on that. Luckily, Chicago is a mess right now, so it didn't bite them, but it's a consistent negative aspect of NY's game that needs to be remedied.
When your team scores seven goals, there will be little chatter about the goalie. However, Igor somewhat quietly had 29 saves last night, and the only goal went off his defenseman's stick. There were phases early in the first and second periods when Igor had to make critical saves that prevented Chicago from getting any true life. Don't look now, but Shesterkin's save % is slowly creeping back up among the league leaders.
That had to feel good for Trouba to score that goal after all the crap he's endured due to the hit against Chicago last game. He also decided not to take the high road by offering Athanasiou the puck afterward. Usually, I'm not too fond of pettiness in life, but I will allow it here in this case. Carry on, Jacob.
One more Trouba note. It's hard to quantify these things, but the Rangers have won seven games in a row since Trouba's helmet throw. (Unintentional Rhyme Alert). You can never tell what truly motivates these turnarounds. However, we dish out so much blame when the vibes are bad, so there needs to be credit given when there is a positive ripple effect after a show of emotion like that from your captain.
It got lost with all the goals, but Ryan Lindgren had a very nice breakup of a 2-on-1 at 0-0 right before Chytil's goal. The outcome may have turned out the same, but it was a big moment at the time.
This streak is impressive, but these next two games on the slate (before a short holiday break) are essential division games. Tuesday at Pittsburgh, followed by Thursday at home against the Isles. The Rangers have battled their way back into a preferred spot; however, two bad games here would put a considerable dent in the vibes and the standings. I want to see this team continue to ascend and find at least one win here to keep this train rolling.
In this week's episode we discuss the new rumors regarding the Rangers coaching situation. Then go on to the fun stuff discussing the impact Tkachuck's play will make on the game, Rangers players and more. Thanks for listening! Please rate and review our show on your favorite listening platform. Check out our partner's website at www.insidetherink.com for all your latest hockey news.