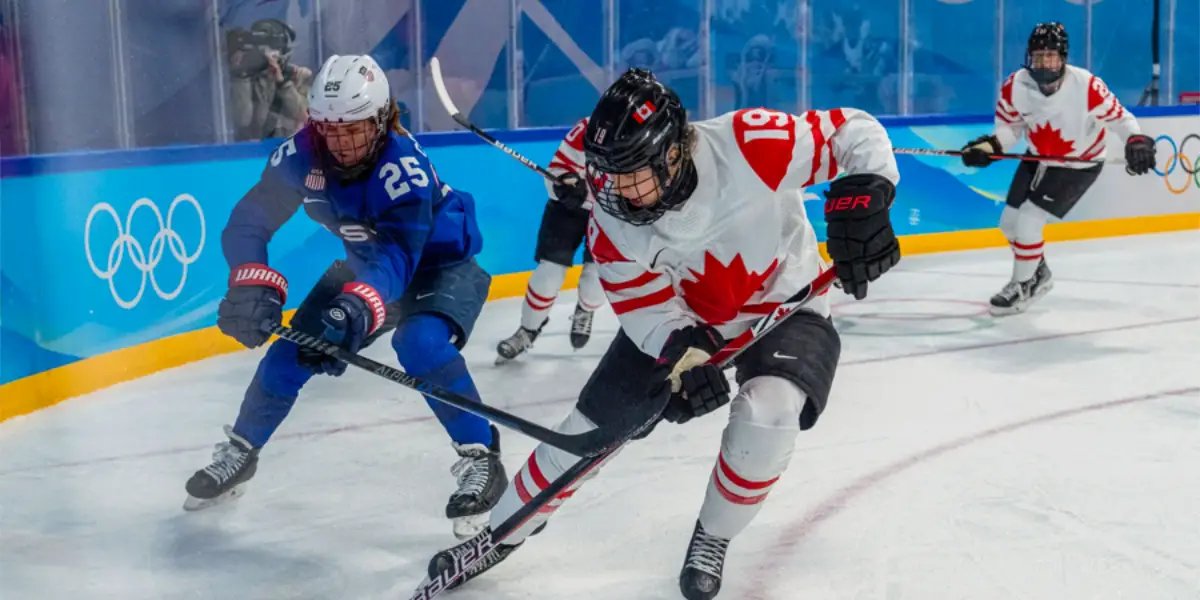 If you have watched any women's hockey on the international level, you know that all the announcers love to talk about is the men related to the women's hockey players. Sometimes this is from a lack of knowledge of the women's game and sometimes from a lack of caring or sometimes from a want to draw in the male hockey fan who doesn't know of the Women's hockey, or WoHo as it is known to the fans. This style of commentating shines a light on how under-covered, and under-reported WoHo as a whole is. While many places, such as Inside The Rink, cover the women's game, this isn't true for the vast majority of hockey media. Many people and a lot of the established hockey media only show up for women's hockey when things go wrong, and there's drama, like the PWPHA and the PHF talks, or when it is Olympic time, and that's all people watch.
This announcing style also shines a light on the underbelly of hockey that isn't talked about as much. This sport is almost based on nepotism. Hockey is an incredibly expensive sport to play and even more costly to put in the time and money needed in training to become an elite player. There is even a feature on elite prospects that shows which player is related to whom. The fact that this exists shows how insular the sport is. While acknowledging this is important, it doesn't tell the whole story. Sometimes having family members who play is the only reason that girls start playing hockey at all. There is some to be gained from men's hockey fans recognizing names and crossing over to being women's hockey fans, and there still is more to be done.
Circling back to earlier, the way that the Women's game is called shows such a clear pro-male bias, almost to the point of ignoring the stories of the women. This is in no way a slight on the truly wonderful, hardworking, and incredibly talented people, especially Erica Ayala, who even called games at the 2022 Olympics and brought some change. The people I am talking about are those who are used to talking about Men's hockey. A common theme is, using this as an example, 'Knight to Compher, Comphers brother JT plays in the NHL for the Colorado Avalanche. Did you know that JT had 24 points in his sophomore season with Michigan.' both ignoring that Jesse Compher was the one with the puck, had 29 points in 26 games with Boston University, and probably just scored.
While the example in the paragraph before this one was purely hypothetical, this situation arises so much more often than is truly necessary. Think about how many times you've heard Cammi Granato mentioned without either her brother Don Granato or her husband, Ray Fererro, compared to the number of times you've heard about the men without the mention of Cammi. There are so many more examples of this unintentional bias that I could point out.
Does this boil down to the fact that the Men's players are more interesting? Absolutely not. There is a reason Men's hockey players have a reputation for being boring, one of the Puck Personalties questions to get the player to show more personality was what is your favorite cut of french fry. This boils down to the underreporting of the Women's game. Women's hockey is often overlooked and ignored by traditional hockey media.
Now I thought that it might be interesting to flip the idea of the men's player always being drawn into the conversation by playing a fun game of you've heard of [blank] but have you heard of [blank] and then gushing about my favorite thing to talk about, Women's hockey.
But before getting to this game, we need to talk about the 2018 Danish national team. There were four different sets of siblings between the men's team and the women's team, and this fascinating tidbit of trivia leads us into our first comparison,
You've heard of Frederik Andersen from the Carolina Hurricanes, but have you heard of Amalie Andersen? She is currently bouncing between playing for the University of Maine Black Bears and the Danish National team. She's a really good defensive player for Maine but not a high point-getter.
You've heard of Darnell Nurse, but have you heard of Sarah Nurse? While this might be a bit of a stretch with Sarah both being Darnell's cousin and Sarah, at least in my opinion is probably more well known, I thought it needed to be included. We all know Sarah Nurse; she's won all the things, gold, gold, and more gold, all for Canada. Nurse, Sarah, that is, is playing for the Toronto hub of the PWHPA, as most national players tend to be for the United States and Canada at least. In seven games at the Olympics, Sarah had 18 total points.
You've heard of Phil Kessel, but have you heard of Amanda Kessel? Truly a classic duo of siblings playing hockey is the Kessel duo. Some might claim, usually in a fit of irony, that Phil Kessel is one of the best to play the game of the current era, Phil Kessel, as talented as he might be, has nothing on his sister Amanda. Amanda Kessel was part of the 2018 USA women's national team, where she one point on the path to gold. She is a three-time world championship winner and a three-time NCAA division one champion with the University of Minnesota. She is currently playing in the PWHPA with New Hampshire.
You've heard of Alex Newhook, but have you heard of Abby Newhook? Back with another Colorado Avalanche duo is the Newhook siblings. Abby is currently playing for Boston College, which is a true staple in women's hockey to the point where I have heard my hockey coach yell, I don't see any of you have a scholarship to Boston College, so go out and play. If that doesn't say anything about how good she is, this definitely does. In 34 games as a freshman with Boston, she had 32 points.
You've heard of Mason Marchment, but have you heard of Kennedy Marchment? While yes, Mason and Kennedy are cousins, Kennedy does have a brother who plays or at least used to play pro hockey, but Mason is the better known. Kennedy Marchment recently inked a new contract with the Connecticut Whale, one of the first two-year contracts in the PHF. She is an incredibly skilled player with 33 points in 20 games for the Whale last season.
Honorable Mentions: There are so so so many more duos or even trios in the NHL and pro women's hockey. I thought that I should throw out some names to spark thoughts.
Emma Vlasic is the sister of Alex Vlasic, who is a player for Chicago, and both of them are cousins with Marc-Edward Vlasic of the San Jose Sharks. That I know of, they have no connection with the pickle brand.
The sibling pair of Bill Ruggiero and Angela Ruggiero played in a game together for the Tulsa Oilers of the CHL, becoming the first brother-sister duo to play on the same team in pro hockey in North America.
Manon Rheaume, the first and so far only woman to play in the NHL, has a son, also a goalie, who played for Team USA at the world juniors in 2017. He played for Notre Dame for a while and is now with Michigan State. If he plays in the NHL, they could become the first Mother-Son duo in the NHL.
Jade Iginla is the daughter of Jarome Iginla. She played for the gold-winning team Canada at the Women's U18 worlds, where she had three points in three games before getting injured. She has committed to play for Brown University in the fall.
Not related, but dating are Nico Sturm of the cup-winning Colorado Avalanche and Taylor Turnqvist of the Minnesota Whitecaps and formerly of the cup-winning Boston Pride. Not necessarily the same thing, but for a while, she was the more decorated half of the relationship.