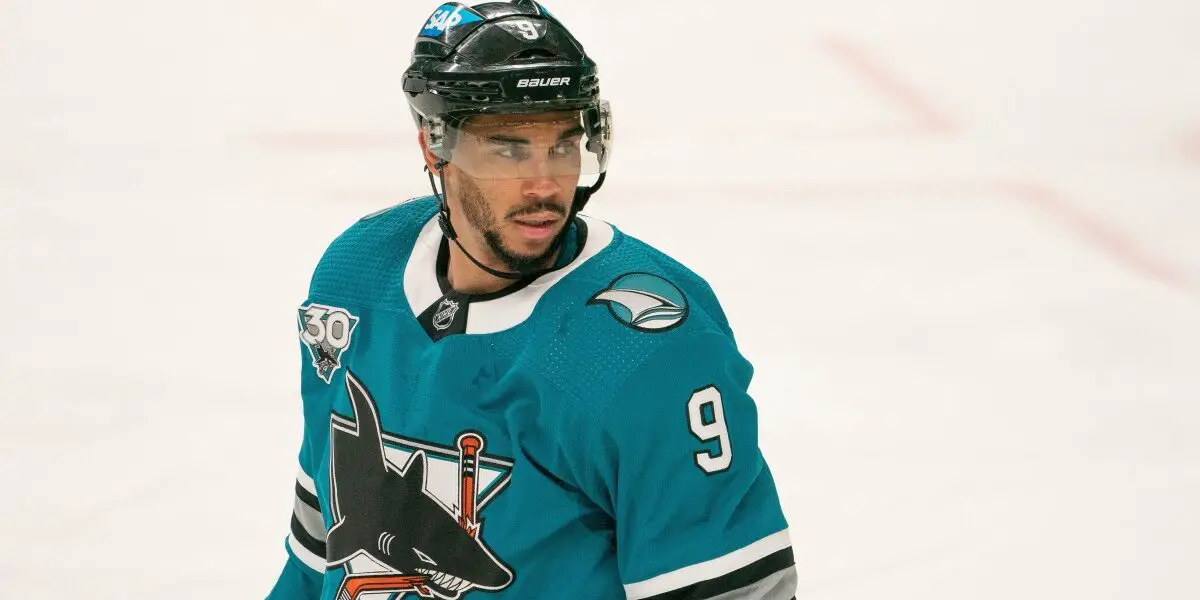 In what seems like a neverending saga, forward Evander Kane is in search of a new organization to call home. After nothing but turbulence throughout the first half of the 2021-22 season, the San Jose Sharks terminated his contract, making the 30-year-old forward a free agent. Of course, a newly announced investigation involving a border crossing on December 29th dampers the prospect of an immediate addition. However, the consistent 20-plus goal-scorer is out there for the taking if a team is willing to absorb the risk.
At first, it appeared that Kane and the Edmonton Oilers came to a contract agreement, but that has not come to fruition. Although the Oilers still seem like the favored destination, other teams are at least kicking the tires on signing Kane, getting an idea of the asking price. In some reports, the Florida Panthers are an organization that may show some interest. The question is, should they even consider bringing Evander Kane into the fold.
Kane provides the offensive firepower that some teams might need, looking solely at the hockey player. In every season, Kane played more than 50 games since 2015-16, he has recorded 20 or more goals, reaching the 30-mark in 2018-19. Although it's hard to argue that no contending team would want to add that sort of production, scoring is not a glaring need for Florida at the moment. Sitting in second place among all NHL teams in goals-scored, the Panthers have recorded 142 goals so far this season with a goal-differential of +34. With limited cap space and a likely buyer's mentality heading into the trade deadline, Florida is better served to allocate that money to other assets.
Unfortunately, when it comes to Evander Kane, focussing just on the on-ice product is impossible. The NHL's investigation into a border-crossing is just the latest in a laundry list of off-ice issues surrounding him. In just this past year alone, Kane has been investigated for domestic assault, betting on NHL games, crossing the border while in COVID protocol, and using a fake vaccine card. Yes, some franchisees may be willing to absorb the risk, but why would the Panthers. Florida is currently firing on all cylinders with nothing but positivity throughout the locker room. Though there's no guarantee, bringing in a player in a situation such as Kane's comes with the potential of disrupting that. The Panthers do not want to bring in any distractions to what has been a phenomenal first half of the season for a team with Stanley Cup aspirations.
The only reason Florida would pursue a player like Evander Kane at this juncture is to keep him out of the hands of their in-state rival Tampa Bay Lightning. A team battling with them for first place in the Atlantic Division and a team Florida will likely have to get through to make the Stanley Cup Finals. Luckily, reports surfaced stating that Tampa is not considering bringing him in, eliminating that worry from Florida's mind.
Already an incredibly talented team, the Panthers will certainly look for opportunities to get even better for the final stretch of the season. The trade deadline should allow for opportunities to do so, especially when upgrading the blueline. For various reasons, signing Kane to a contract makes little sense, even if the team felt they could use more offensive punch in the playoffs.