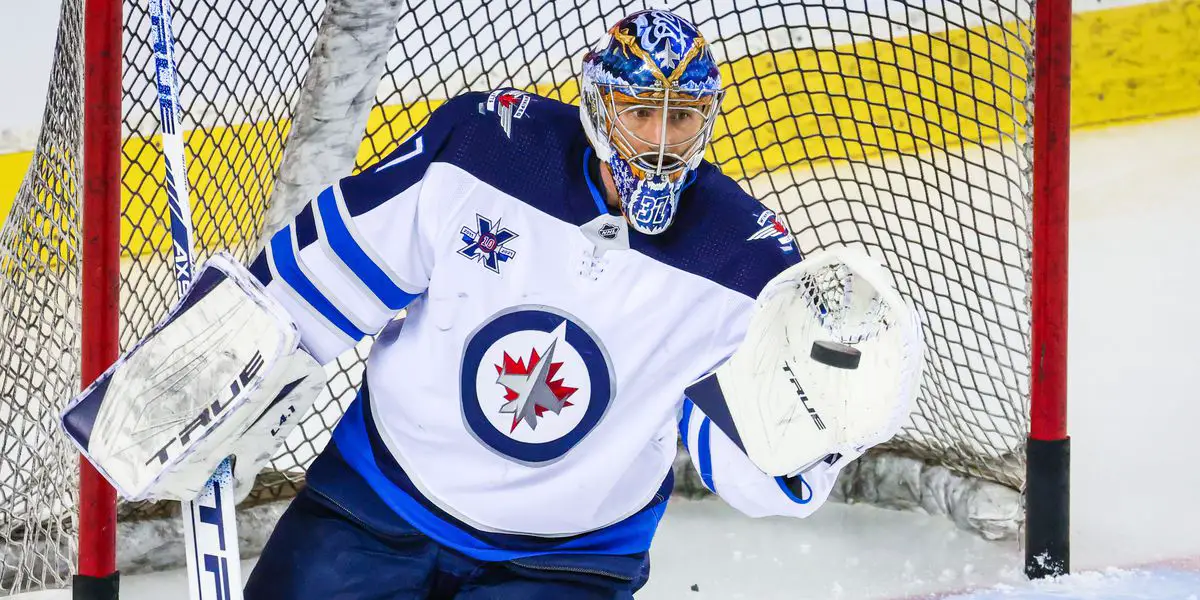 The Pittsburgh Penguins goaltending position is certainly the team's question of the offseason. With current starting goaltender Tristan Jarry set to hit unrestricted free agency this July, and no blue-chip prospects ready to take the reins just yet. When thinking about who the Pittsburgh Penguins 2023-24 starting goaltender will be, it can lead to some fun conversations about what management can do at the position. 
When browsing through free agency, the list of names available for goaltender's this summer isn't exactly deep. For a team that's in desperate need of a clear-cut, number one starting goaltender, it may be best for the Penguins to acquire one in a trade. The goaltending options via trade aren't exactly great either, but there is one who's simply not like the others. 
Winnipeg Jets starting goaltender Connor Hellebuyck is by far the best goaltender on the market. Although I'm sure Jets management would prefer to keep the 30-year-old goaltender, Hellebuyck himself has said he's not interested in a rebuild at his end-of-season media availability. With the veteran set to hit free agency in the summer of 2024, Connor Hellebuyck could force the franchise to move him to a contending roster. 
When making a trade like this, it's not going to come easy. The current Jets starter is a former Vezina Trophy winner after having a dominant 2019-20 season. Fast forward to this season, Connor Hellebuyck certainly didn't slow down as he continued his strong career in Winnipeg. After playing in sixty-four games for the Jets last season, Hellebuyck had a 2.49 goals against average and a .920 save percentage, placing himself as a finalist for this season's Vezina Trophy in 2022-23.
Obviously, when acquiring a player of this caliber it's going to cost a lot. After reaching out to some who follow the Winnipeg Jets much closer than I do, the common return seemed to be a high draft pick, a top-tier prospect, and a younger National Hockey League player. When looking at the Penguins trade chips, this trade could actually be worked out, but it would definitely be quite the haul. It's hard to imagine the Penguins being able to keep 2022 first-round pick Owen Pickering in a trade like this, along with this year's first-rounder, which is fourteenth overall. 
When you're in a situation like the Penguins are, anytime you can add a highly talented and proven piece to help the present group, you do it. According to moneypuck.com Connor Hellebuyck had a 30.1 goals saved above expected in 2022-23, the third highest league-wide only behind Isles Ilya Sorokin and Bruins Linus Ullmark. 
Compare that to the goaltending the Penguins got last season, Casey DeSmith had a 2.9 goals saved above expected, and Tristan Jarry was in the negatives with a -2.8 goals saved above expected per moneypuck.com. Obviously, numbers aren't everything, and the 2022-23 Penguins struggled defensively at times, but that's quite the difference between what Connor Hellebuyck did last season and what the Penguins goaltending duo gave the team in 2022-23. 
Injuries are another thing that has to be taken into consideration, and with that, there might not be a better situation than the Penguins adding Connor Hellebuyck. Since the 2017-18 season, the 30-year-old goaltender has played in over sixty games a season four times, and his performances were consistent. When you can add a goaltender who's usually healthy and gives you consistent, high-quality play, you make it work and add that to your roster. 
When it comes to the contract status of Connor Hellebuyck, I'd have no issue with extending the veteran goaltender. At the age of 30 years old, I think it's a really good fit with this aging Penguins core. The stars here in Pittsburgh aren't getting any younger, and the goal is still to win. Adding Connor Hellebuyck for the rest of Sidney Crosby's, Evgeni Malkin's, and Kris Letang's careers, gives you the best chance at a fourth Stanley Cup. 
Goaltending is arguably the most important position in the sport, and we're definitely seeing that in this year's playoffs. What Florida Panthers goaltender Sergei Bobrovsky is doing has been incredible. It's been a while since we've seen a goaltender steal a series for the black and gold. With Connor Hellebuyck's extension likely being a big number and Jake Guentzel still due for a raise, I can see how some may hesitate adding Connor, but think about what the core did in 2022-23 and imagine that with a top-tier goaltender. That's not even mentioning all the minor tweaks as well coming to the group, so include those, and this team could be closer to contending than many would've believed. 
Playing conservatively won't get this team anywhere, and adding a short fill-in brings quite the risk. I think it's time Penguins management pays the price, adding another core piece to this group that comes at a position of need. As much as I love Tristan Jarry, the consistency and level of play from Connor Hellebuyck would be a nice upgrade for the remainder of the Sidney Crosby era if the two sides can reach an agreement and bring the 30-year-old to Pittsburgh.
Thanks for reading, for more hockey content, follow me on Twitter at ITD_Anselmo!