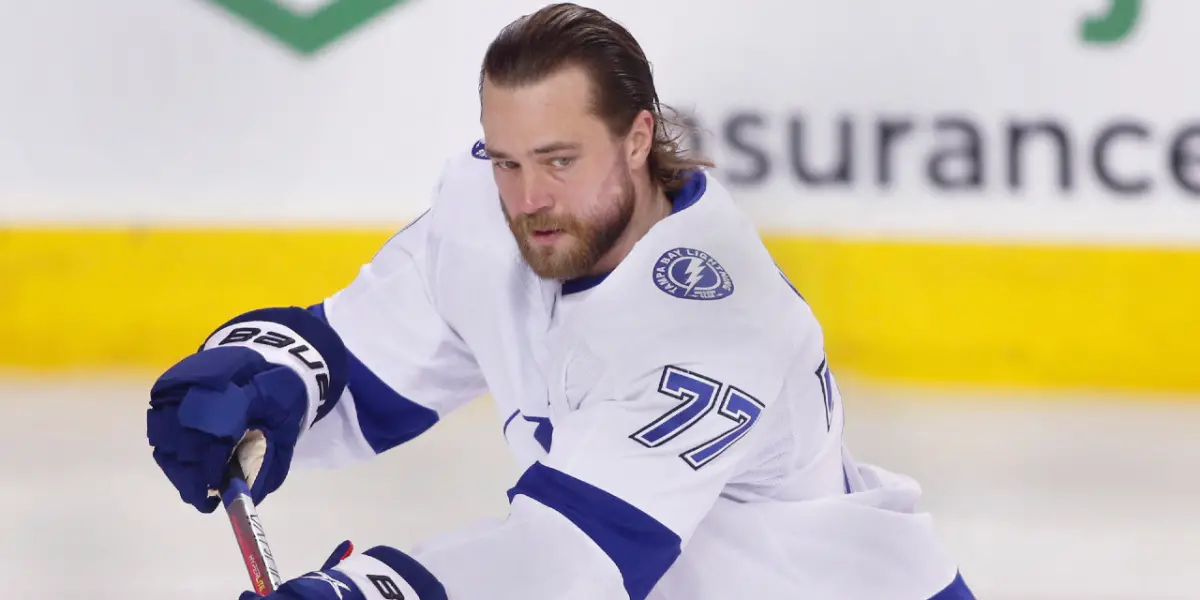 The Stanley Cup Playoffs are a war of attrition; teams quite literally grind each other down in the hopes of being the last team standing with the Stanley Cup hoisted high above their heads. Not many teams know this better than the Tampa Bay Lightning. They have played in the last three Stanley Cup Finals and emerged victorious in two. Well, the grinding down has started early for Tampa Bay, and they will have to make some roster changes heading into Game 2 of their first-round series with the Toronto Maple Leafs.
Game 1 was an anger-filled, hard-hitting, penalty-filled affair which should surprise no one as these two are Atlantic Division rivals and played a 7-game series just last year. The animosity is already there, showing its ugly face in Game 1. There were cheap shots, tussles before and after whistles, big hits, and plenty of injuries to go around, with the Lightning catching the brunt of the injuries.
The most significant injury concern for Tampa Bay is Victor Hedman, an alternate captain for the team and the anchor of their defense. It is not believed that Hedman had any nagging injuries coming into the postseason. Still, he exited Game 1 shortly after the second period started after logging only 6:35 minutes of ice time, and the Swede did not return to the game. It is not known what happened to Hedman, and the Lightning did not shed any light on the matter either. We do know that Hedman was seen after the game without any crutches, boots, or arm slings, so that could be a good sign. He did not practice with the team on Wednesday but did, however, take part in today's morning skate per Chris Johnston.
If Hedman cannot play, it is a huge loss (literally and figuratively, the guy is 6'6″) for the Lightning and one that will be very tough to overcome against a high-powered Leaf's offense that will be looking to bounce back from an ugly Game 1 defeat. Hedman averaged around 23 minutes of ice time for Tampa Bay this season, and I would be remiss if I did not remind you he won the Conn Smythe back in 2020 when the Lightning hoisted their first of back-to-back Stanley Cups. He is a key part of this team both on and off the ice; such a player is not easily replaceable. If Hedman cannot go, expect Haydn Fleury to step in and try to do his best Hedman impression.
Unfortunately for Tampa Bay, Hedman was not the only player who was injured in Game 1. Another defenseman, Erik Cernak, was knocked out of the game by a vicious headshot from known agitator Michael Bunting. Bunting was given a match penalty for the play and has since been suspended three games, he may be a bigger loss to the Leafs than Cernak for the Lightning, but that's another story and one that is up for debate. However, one thing that isn't up for debate is that Bunting did deserve all three games despite what Leafs fans on Twitter may try to tell you, but I'm sure the suspension doesn't make Cernak or Tampa Bay feel any better. Finally, as mentioned above, Cernak has already been ruled out of tonight's contest, and my guess is he is most likely in the concussion protocol and will miss a few games. Right-shot veteran defenseman Zach Bogosian will most likely slide in for Cernak, and Bogosian is no stranger to the playoffs. So this swap-out feels like a wash to me.
It doesn't stop there either for Tampa Bay, as another defenseman, Ian Cole was injured while blocking a shot, but he is expected to play in Game 2. There was some doubt about Cole after he was notably absent from practice on Wednesday, but it sounds like it was just a maintenance day for the veteran after he was forced to log a lot of minutes in Game 1 as the injuries piled up on the Lightning blue-line. Forward Mikey Eyssimont was not as fortunate, and he was visibly woozy after taking a massive but clean hit from Toronto defenseman Jake McCabe. Eyssimont, like Cernak, has already been ruled out for Game 2, but like Hedman, Eyssimont was present at this morning's skate. He may have dodged the concussion bullet and could return as soon as Game 3.
When it comes to replacing Eyssimont, this is where Tampa Bay may have some good news, as it sounds like rugged forward Tanner Jeannot is potentially ready to make his playoff debut. Jeannot was spotted at the team practice on Wednesday in Eyssimont's spot on the third line, sounds like a good sign to me. Jeannot was Tampa's big trade deadline acquisition, and they paid a hefty price for the Canadian power forward. If he does indeed play, he may provide enough of a jolt for the Lightning to survive all these injuries.
The boys are back after a long break but have plenty to talk about as the playoffs are in full swing. We go series by series, looking at how teams have fared so far and who will come out on top. Thanks for listening! Please rate and review our show on your favorite listening platform. Check out our partner's website at www.insidetherink.com for all your latest hockey news.