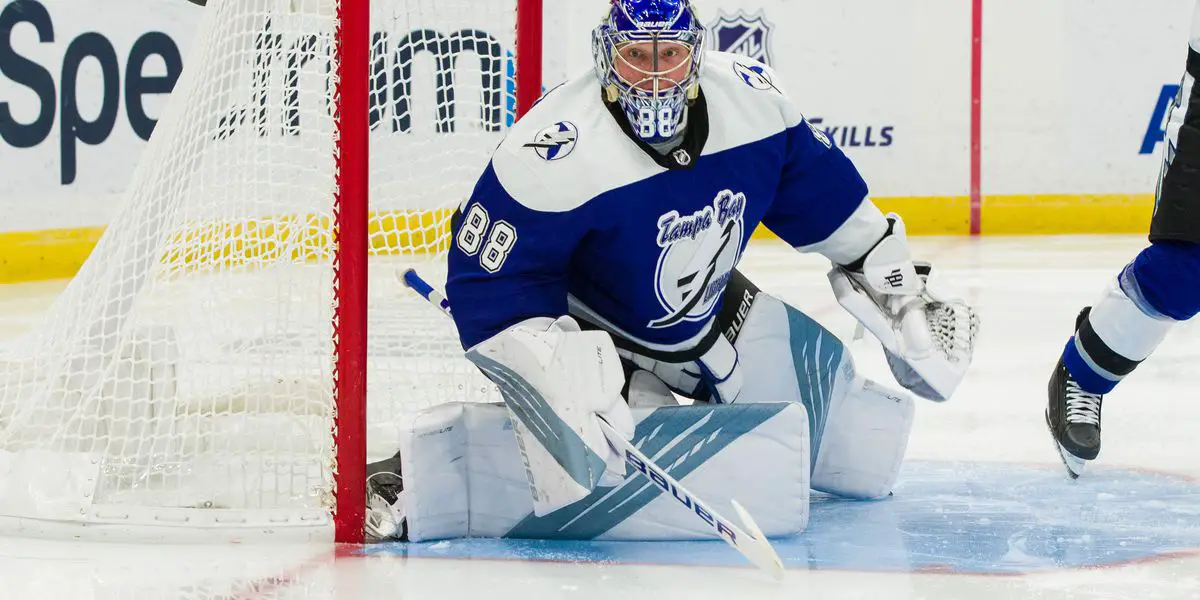 With the playoffs in their early stages, it's hard to say a goaltender has to be better. That's especially true when the series is tied, and both goalies have been shaky.
In saying that, the Tampa Bay Lightning need much more out of Andrei Vasilevskiy. He can play better than fans have seen most of this season. The numbers bear this out, as he's allowed three or more goals in 20 regular seasons and two playoff games dating back to the beginning of 2023. That doesn't include the games he started in October, November, and December of 2022, which I'm sure weren't all dazzling performances.
Now that the Lightning's postseason series against the Toronto Maple Leafs is two games in, there are a few things that stand out to the point that it can be said that the Lightning need a few stolen games from their starting netminder if they have any hopes of advancing past the first round.
First, the Lightning are without two of their top four defensemen in, Victor Hedman and Erik Cernak, after both left Game 1 early with injuries. If that's not bad enough, they only had one of their top four minute munchers from last year available for Game 2, as Ryan McDonagh was traded to the Nashville Predators for two minor leaguers this past offseason.
Another move that could backfire in the playoffs is general manager Julien Brisebois trading away young defenseman Cal Foote and five draft picks to the Predators for physical forward Tanner Jeannot.
Yes, the Lightning needed a physical presence on their team. However, was it worth depleting their defensive depth and using two young, inexperienced rookies in the pressure-packed postseason?
Both Nick Perbix and Darren Raddysh have played reasonably well early in this series, but what happens when they inevitably start making youthful mistakes? It's not like Haydn Fleury is a better option, though he was forced to play in Thursday night's Game 2 because Hedman couldn't go with an undisclosed injury.
This brings me to my main point. If Vasilevskiy can steal a few games by allowing two or fewer goals, the offense should be able to pot a couple of goals. If that happens, the Lightning have a chance to win this series.
Will they?
Nobody can predict that, as several things factor into which team prevails in the end. Injuries and defensive play are key, but the goaltender usually decides the game come playoff time.
Ilya Samsonov and Joseph Woll have played well for the Maple Leafs during the regular season. Each has little NHL playoff experience, though. In fact, Samsonov is 2-7 in his brief playoff career. Woll, meanwhile, has only one period of playoff hockey under his belt.
Vasilevskiy, on the other hand, has played every minute of the playoffs since 2018-19'. He has won two Stanley Cups and been to three straight Cup finals. He even made history by recording a shutout in six straight series, spanning the 2020 and 2021 postseasons. He also won 11 straight series from 2020 through 2022.
Can the Lightning win this series? While unknown, Vasilevskiy can give his team a fighting chance by stealing a few games.
The boys are back after a long break but have plenty to talk about as the playoffs are in full swing. We go series by series, looking at how teams have fared so far and who will come out on top. Thanks for listening! Please rate and review our show on your favorite listening platform. Check out our partner's website at www.insidetherink.com for all your latest hockey news.