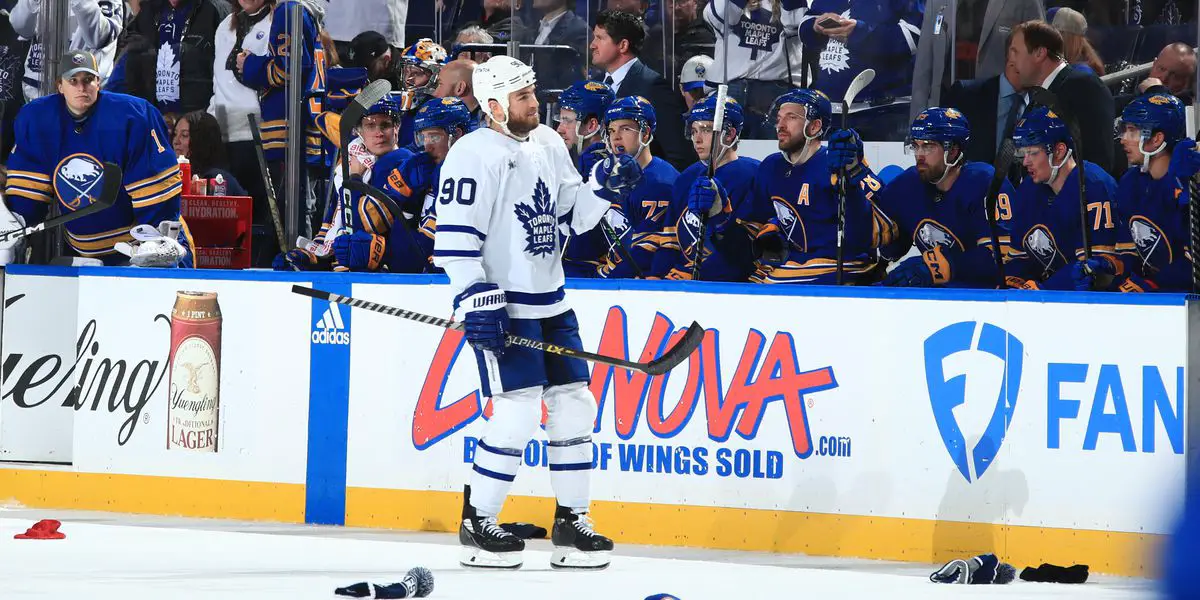 Maple Leafs General Manager Kyle Dubas decided to make significant changes to the roster prior to the 2023 trade deadline. After making a splash by acquiring forwards Ryan O'Reilly and Noel Acciari from St.Louis, Kyle then went out and brought in defenseman Jake McCabe and forward Sam Lafferty from the Chicago Blackhawks.
After making not one, but two impactful trades, the 37-year-old Leafs General Manager wasn't finished. Kyle Dubas then brought in veteran defenseman Luke Schenn from Vancouver and acquired offensive-defenseman Erik Gustafsson in a huge trade with the Capitals. The trade with Washington also saw 22-year-old defenseman Rasmus Sandin going the other way. Although it sucks to lose Rasmus, the Leafs got back a 2023 1st-Round pick along with Erik Gustafsson. 
Before the acquisitions, a large portion of the Maple Leafs fan base has been calling for Kyle Dubas to add some "toughness" and "grit" for years. After routinely adding more skill-based profiles in seasons prior, the Maple Leafs General Manager surprised many by adding not one but multiple players who play with a bit of an edge. The blue and white finally look like they have the sandpaper needed to make a deep run this spring.
Although I think the majority of what was added, this trade deadline was a success for the Maple Leafs. There's no denying it was quite the gamble for the 37-year-old General Manager. With the trade deadline now past, the "new" Leafs must find their new identity quickly as we ride into the postseason. My only concern is that the Maple Leafs went from a team relying on speed and possession to drive their success, but that will see at least minimal changes as Kyle Dubas added a lot more "physical" profiles to the roster. 
I'm sure Head Coach Sheldon Keefe will find a way to make good use of Kyle's additions. However, the blue and white can't afford to waste any time. With the playoffs on the horizon, finding your new identity will be significant. I think this team's new roster is much closer to winning the Stanley Cup, but they will need to come together quickly. 
With the surplus of defensemen on the Maple Leafs roster, I will be straight up with this and say that I would have preferred to add another forward. However, after closely monitoring the Toronto Marlies this season and the Maple Leafs prospect pool, some internal competition may work out better in the long term. Some options to potentially keep an eye on as we slowly approach the playoffs would be Pontus Holmberg, Alex Steeves, and Nick Abruzzese with the Marlies. As for prospects, I'd expect Matthew Knies, who plays with the University of Minnesota, to make the most impact if given a shot. 
At the end of the day, Kyle Dubas got his guys, and this Maple Leafs team looks really good. I was a big believer in Kyle Dubas needing to make this roster "tougher to play against," and he certainly delivered. It might be hard to see the results right away, but once the group returns to Toronto and has the needed practice time, I fully expect the Toronto Maple Leafs to be a force to play against. I truly believe if this team can get a healthy Matt Murray long-term and find some additional scoring from the left wing, this team is making a deep run. 
Thanks for reading! For more Leafs content, follow me on Twitter at ITR_Anselmo.
WELCOME BACK TO LEAFS LATE NIGHT! Presented by Inside The RinkRoscoe / Galaxy Biehn – Dubas Out?!?- Remember All The Good Times We Shared- I Don't Love Our Options- Matthews Next Deal?- Keefe's Fate- AI MascotsSPORTS! IS FUNMERCH IS AVAILABLE!JOIN OUR DISCORD!Remember to follow us on Twitter @LeafsLateNight & IG @LeafsLateNightCheck out Mike, Josh, and Nathan's articles on the Leafs + many more! insidetherink.com