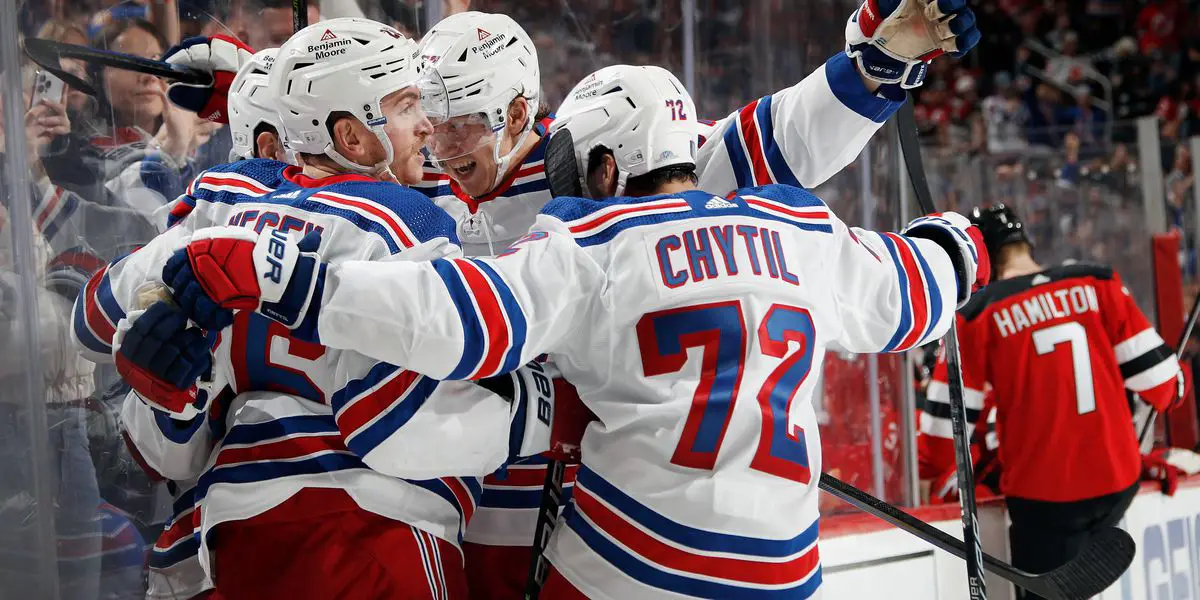 When you combined this Rangers roster coming off last year's deep playoff run with the additions of Tarasenko and Kane, the trajectory for this team looked off the charts. However, the term "on paper" only goes so far; the real question is how it would look on the ice, especially against a Devils team whose style seems to neutralize the Blueshirts' strengths.  
These first two games have shown that this team is not only living up to how they look on paper but have exceeded those expectations by jumping off the page!
The Rangers dominate Game Two by an identical score of 5-1. The details of such might look very familiar from Game One, but I swear I didn't copy and paste.
Let's look at the good, the bad (there was bad?), and everything in between.
THAT'S GOOD

!
CHRIS KREIDER
Last game, we grouped everyone into one category cause there were so many contributors no one deserved to be singled out. However, we should start to.
Chris Kreider has been an absolute monster in front of the net, adding two more power play-deflected goals last night to give him an amazing four for the series. Of course, I expect the Devils to address this at some point. Still, for now, it has clearly given the Rangers a monstrous edge on special teams and arguably is the main reason they have a significant series lead.
No heavy analysis is needed. Chris Kreider had a good season this year, but the fifty-two goal CK has shown up, and that is a fantastic thing for the Rangers. Even if the Devils start focusing on him more now, all that will do is give more space to the Mikas of the world, and I would take that trade in a heartbeat.
PATRICK KANE
Shockingly, even after a terrific team effort in Game One, there was a lot of online discourse about Kane being a "ghost." (Some fans don't know what to do with themselves if they are not complaining about SOMETHING.)
I'm not saying he was super engaged, but people were already starting to write his epitaph. Well, they might want to hold off on the requiem.
To be fair, Kane mentioned how he was unhappy with his play in Game One, and it showed he took that to heart. He was an absolute master on the power play. You could see the gears in his head turning as he surveyed the Devils' PK like a hunter deciding his next prey. Kane helped create both of Kreider's goals by creating the perfect lane and pass.
That would have been enough to sing his praises, but his goal that made it 4-1 in the third (which essentially ended this game) was a highlight that epitomizes his HOF career.
He harassed two Devils in the neutral zone to command the puck and then skated in all alone to befuddle a helpless Vanacek with a beautiful move and backhand goal.  
If the Rangers get anything close to this version of Kane, this team will go very far.
VLADIMIR TARASENKO
Like last game, we can make categories for many other players (Kakko, Fox, etc.), but praise needs to be heaped again on another newcomer in Vladdy.  
The dude is simply a playoff-scoring machine and tallied the Rangers' first goal for the second night in a row. I've always admired his game, but for some reason, I saw him as a sparkplug with just one great trick in his blistering shot. The truth is, he's also strong as hell with a fantastic hockey IQ. Everything we could have hoped for, and now my hope is we find a way to extend him (whatever happens from now on), but that's a story for another day.
SPECIAL TEAMS AND DEFENSE
Okay, this is a section where you can go back to the Game One recap and re-read cause it was essentially the same effort. Yes, they gave up the one PP goal on a bad clear by Goodrow. Yet it was really the only blemish on another stellar night.
If both units continue to play like this, it will give us a massive edge, even if we're having an off night at even strength.
THAT'S BAD
We talked about the one blemish but really, no notes. As far as hockey goes, there's rarely PRISTINE perfection, so there will always be nitpicks. However, overall, it's as perfect a performance as you can hope for.
CAN I GO NOW?
BEST GOAL: PATRICK KANE
No contest here. We discussed it above; from a pure skill level, it could be a candidate for our best goal of the playoffs. Hopefully, there will be many competitors to come.
BIGGEST GOAL: VLADIMIR TARASENKO
He lost this award to Lindgren in Game One, but he gets it here. As stated, on both nights, he scored the Rangers' first goal, and while that will always loom large, last night was more significant. The way the Rangers played in that second period, you could make a case we were going to take the lead anyway, BUT you never know. Vlad's goal not only tied the score but seemed to settle the Rangers and sparked them to dominate play the rest of the way.
WORST OPPOSING GOAL: ERIK HAULA
As I said yesterday, let there only be one candidate a night for this award, and I'll be happy. A failed clear led to this goal, and that was one bad habit I wanted the Rangers to shed coming into the playoffs. However, this is the exception in the first two games, not the rule, so I will let it go.
MVP OF THE NIGHT: CHRIS KREIDER
Again, this could go to a few people, but his presence on the power play can't be overstated. Anyone who thinks he's just a pylon that's in the right place at the right time isn't paying attention. He's an absolute weapon and a force for this team. Any way you slice it, four goals in two games in the playoffs is a bonkers stat. MVP stuff.
UNSUNG HERO(S): KID LINE
This award may seem silly because they are mentioned quite often, and Kakko got a goal last night, but it still needs to be pointed out. Their line has been active, effective, and chippy. The perfect poster child for this is Lafreniere. Kakko and Chytil have shown up on the score sheet, but Laffy has been engaged and in the middle of many scraps and dustups. That can't be ALL we get from him, but it's a great sign for things to come, as it's what propelled him in last year's postseason. I'm getting the same vibe. I'm calling them "unsung" because all the chatter (rightfully so) has been about Kreider, Fox, Kane, etc. Yet Kakko and Chytil have five points between them already, and Laf has been extremely active. Can you imagine if they become, um, sung!
BEST NON-GOAL MOMENT: BRADEN SCHNEIDER'S FIGHT
To be fair, his fight with McLeod was a fair, pretty even tilt. Plus, the game was in hand at that point. Still, I'm a big fan of the kid in all facets. Anyone worried when we lost the Reaves of the world shouldn't be. It's not just Baby Trouba, but he's a great example that we won't back down and can bring it when needed. Devils are a finesse team. If this is the path they wish to go down, the Rangers will not mind at all.
In this weeks episode it's good all vibes with the Rangers being first in the NHL. We discuss Mika, Trouba, the NHL and more.Thanks for listening! Please rate and review our show on your favorite listening platform. Check out our partner's website at www.insidetherink.com for all your latest hockey news.