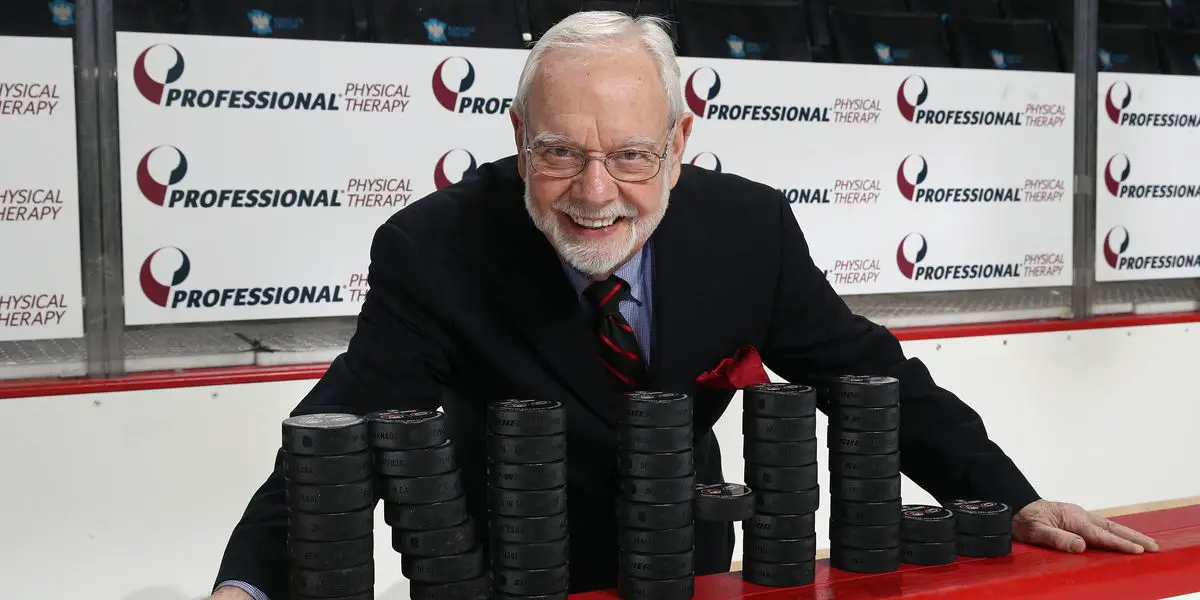 I want to preface this by saying that the man known as "The Maven", Stan Fischler, has been a good friend of mine for over 20 years.
Not only is he a friend, he is a wonderful mentor to not only me but many others in the hockey industry. I actually interned for Stan in the summers of 2001, 2002, and 2003, one of my life's greatest experiences.
If you are reading this and do not know who Stan Fischler is, let me tell you that he personifies hockey. He has written more than 90 books on our favorite sport, has covered the game for multiple outlets both as a writer and as a broadcaster, had his own newsletter, and despite being 90 years old, he is still going strong covering the game for the "Bible of Hockey", The Hockey News.
Stan has also won several awards for his outstanding coverage of the sport. He has won the Lester Patrick Award, and he was inducted into the U.S. Hockey Hall of Fame two years ago, in addition to winning eight New York Emmy awards.
The Maven was also honored by the New York Islanders earlier this season when they named their press level after him. Stan explained to the Islanders' website writer, Cory Wright, that he was absolutely ecstatic about the honor.
"To have my name on the press box is roughly equivalent to something like having a little banner for me," Fischler said. "In my personal journalistic life, this is the crown jewel."
Even with all of his numerous accomplishments and dedication to the sport, he has yet to be inducted into the Hockey Hall of Fame. The fact that this has yet to happen is astonishing.
Every year, the Professional Hockey Writers' Association gives out the Elmer Ferguson Memorial Award, which is "an accolade presented to a print newspaper columnist or reporter in recognition of their achievements covering the game of ice hockey". It is remarkable that Fischler has yet to win this award, considering that he has been writing about the game for 69 years. Yes, you read that number right.
For whatever reason, the fact that he is not in the Hall of Fame does not seem to bother Stan. He said as much to ESPN's Greg Wyshynski a few years ago.
"The Toronto thing is a very simple one for me. It's the punchline for a good joke. This has been going on for at least 30 years — various attempts to nominate me, and it hasn't happened.
"So if they don't think I belong … if I want to get onto the subway at Times Square, my MetroCard works whether I'm in that Hall of Fame or not. I don't have to be in the Hall of Fame if I want to play paddleball in Riverside Park. It doesn't stop me from breathing. They have a right to nominate who they want. But if they don't want me, then they don't want me. It's the last thing on my mind to sulk about".
While Stan may not mind that he is not in the Hockey Hall of Fame, I certainly mind and care deeply about this. He deserves to be in, and it would be nice to see the Professional Hockey Writers' Association step up and do the right thing.
There is no time like the present.
In this weeks episode we have on Drew Way to discuss analytics, defensive problems, the human element and more.Thanks for listening! Please rate and review our show on your favorite listening platform. Check out our partner's website at www.insidetherink.com for all your latest hockey news.