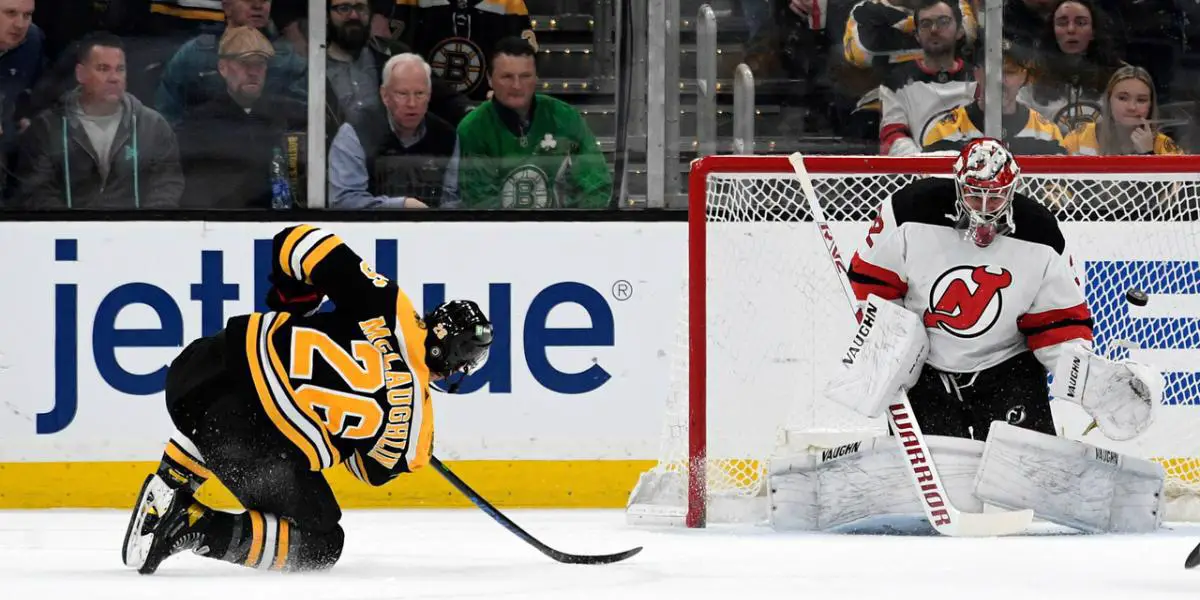 There's no secret about Don Sweeney and how he likes to retool Boston's prospect pool. In the years since Sweeney took over as the general manager of the Boston Bruins, he has looked repeatedly to the college ranks, whether it be in the draft or signing NCAA free agents once their season comes to an end. Sweeney has hit in the draft, with the most recent picks being Charlie McAvoy in 2016 and Jeremy Swayman in 2017, as they both have become key contributing members of the roster. It's not often that you find three possible hidden gems in the NCAA free-agent class that look like promising contributors now and down the line. For Don Sweeney and the Bruins, that just might be the case as Marc McLaughlin, Brandon Bussi, and Georgii Merkulov all look poised to contribute moving forward now that they are in the Bruins organization.
McLaughlin
The 22-year-old Billerica, MA native has been living any kid's childhood dream as he plays for his hometown team. After playing his college career at Boston College, the former eagle signed an entry-level contract (ELC) with the Bruins and has not disappointed. The versatile forward has shown his ability to play both center and right-wing for the Bruins as they have been dealing with injuries (David Pastrnak) and healthy scratches (Trent Frederic).
It only took the hometown hero one game to score his first career game as his friends, family, and former Boston College Hockey teammates looked on in support. Since scoring his first career goal in his first game, McLaughlin has three goals in eight games as a critical depth piece for the Bruins. He has embodied the next-man-up mantra as he helps keep the injury-riddled Bruins afloat, bouncing between the second and fourth lines doing whatever head coach Bruce Cassidy and his teammates ask of him.
Bussi
On March 30th, the Bruins and Don Sweeney announced the newest addition to their goalie room with the signing of Brandon Bussi to a one-year entry-level contract for the 2022-2023 season. Bussi joined the Providence Bruins for the remainder of this season on an ATO to avoid burning his one-year ELC. At 6-foot-5, the towering Western Michigan University Bronco has impressed in his first three starts for Providence which have all resulted in wins. Bussi took home AHL Player of the Week honors with his first two impressive starts as he continues to build on his stellar start to his Bruins career.
The 23-year-old Bussi has plenty of experience at the college level as he appeared in 77 career games posting a 46-25-5 record with a 2.61 GAA and a .910 save percentage. Only time will tell if Bussi can make an impact at the NHL level, but if he can continue to stay hot and build upon each start proving himself, the Bruins may have their young duo of the future with him and Swayman.
Merkulov
One of the best promising signings Don Sweeney made was bringing the talented goal scorer from Ohio State University to Boston. Georgii Merkulov was coming off a year in which he led OSU in scoring with 20 goals and 14 assists for 34 points and a plus 18 rating. The Ryazan, Russia native, wasted no time breaking into the AHL as he recorded two assists and finished the night with the shootout-winning goal in his first game.
The Bruins will have plenty of time to evaluate Merkulov as the 21-year-old signed a three-year ELC on April 9th that begins next season. In the meantime, just like Bussi, Merkulov will be playing for Providence for the remainder of the season on an ATO. For a team that needs young forwards who can produce at the NHL level on affordable contracts to balance the cap moving forward, Sweeney may have found his guy with Merkulov.
The boys are back after a long break but have plenty to talk about as the playoffs are in full swing. We go series by series, looking at how teams have fared so far and who will come out on top. Thanks for listening! Please rate and review our show on your favorite listening platform. Check out our partner's website at www.insidetherink.com for all your latest hockey news.