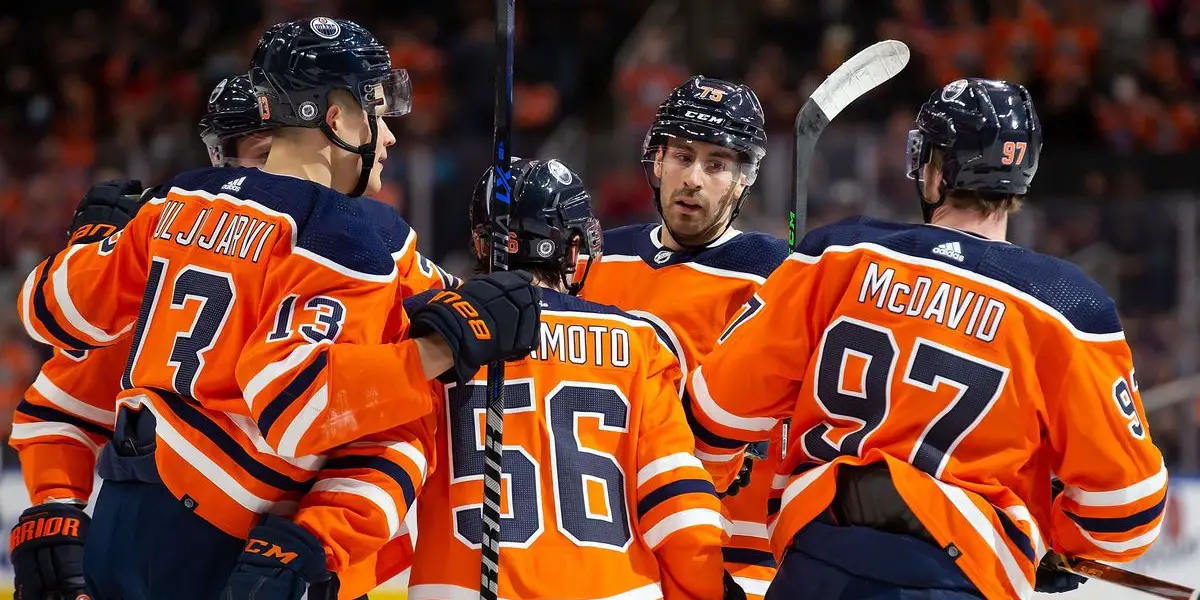 No, Connor McDavid and Leon Draisaitl will not be on this list. The whole world already knows what they're getting out of the two faces of the franchise. As high as Oilers fans felt and still feel about their team's recent run to the Conference Finals, it also comes with much higher expectations with just a month away from Game 1 of the regular season. As godly and immortal as the two superstars were, they will also need contributions from their teammates if another deep run is in the cards. Here, I'm looking at ten Oilers players that fans should pay the closest attention to game in and game out. A full 82 games worth of Jay Woodcroft and Dave Manson as the bench bosses is just another reason to inspect THESE Oilers.
Evander Kane – Signing with Edmonton as the first half of the 2021/22 season was coming to a close, he wasn't welcomed with open arms by some Oilers faithful at first. With stories about him being a locker room issue, there was serious doubt as to whether he could turn things around for a team that, at one point, really didn't need another low point. The acquisition reeked of desperation at the time, given that the Oilers went from having a dream October and November to a nightmare December and January. He finished the regular season with 39 points in 43 games, led the playoffs in goals with 13, and was a major factor in turning Edmonton's season around. GM Ken Holland lucked out boldly when he wasn't willing to give the money and term that Kane initially wanted and when other teams weren't, he ultimately returned to the Oil. A skilled top-six forward who can also provide an on-ice edge. There have been no crazy stories about him since he became an Oiler. If he can continue limiting the off-ice drama, he's the exact type of player McDavid needs on his line. Last season, he also benefited from not dealing with regular season fatigue. If he proves to make that just a mindset, around 40 goals, and around 80 points should not be impossible for him in this circumstance and in a full season.
Jesse Puljujarvi – THE BISON KING! A lot of Oilers fans will never be ready to part with JP. Puljujarvi's supporters (admittedly myself included) will bring up his strong defensive play and ability to create and take away scoring chances with his size. His detractors will point to the fact he doesn't produce as many points as a former fourth overall pick should, 36 being his highest point total in the NHL thus far. That point is certainly valid, but I still don't see it as a bad thing to have him contribute in a third-line role, especially if the team decides to have Ryan Nugent-Hopkins as the 3C. He avoided arbitration and was re-signed for just one year at $3M as an RFA but could still possibly be moved either for cap space or to get out of the polarizing atmosphere he's under. I hope he stays, but I don't deny that he'll have to bury more scoring chances this time around.
Tyson Barrie – A PP specialist on the blue line that has been demoted to a third pairing role, with Evan Bouchard's development ahead of schedule. Before the start of the third round against the Avalanche, he joked about Cale Makar's development being the reason he was traded out of Colorado. I believe this is his last season as an Oiler, but history seems to be repeating itself a little bit. While $4.5M is too much for a current #5 or #6 defenseman, he can still be a useful piece on the second unit PP. In my Ryan Murray article last week, I mentioned that his play without the puck was getting a tad better under Woodcroft and Manson. That will have to continue from Games 1 – 82 and then carry over into the playoffs.
Evan Bouchard – Speaking of Bouchard, drafted 10th overall by the Oilers in 2018. He is becoming the right shooting puck mover that this team's blue line has been craving for years. Fans were screaming (or typing angrily on Twitter) about him never being on the first unit PP. And yet, despite the limited PP minutes, he put up 43 points in 81 games last season. The PP minutes are likely to increase this season, and how he develops further will be vital to the team's long-term success.
Darnell Nurse – The $9.5M man keeps the streak of Oilers defensemen to watch on the list at three in a row. No, he is not worth the big contract that he was given and will now start making. Yes, he is still a pretty good defenseman. If playing a full 82 game season, he's probably a good bet to put up 40-45 points. Also, note that he, Connor, and Leon, are a tight trio. As much as you may sometimes dislike his play or his contract, he is still a leader on the team, and camaraderie is integral to the overall team's success. Nor can you ask more from someone who played an entire postseason with a torn hip flexor. Still, here's hoping this new contract is not another Shawn Horcoff scenario.
Warren Foegele – Traded to Edmonton for defenseman Ethan Bear in the hopes that he would help improve the bottom six scoring, which we all see every year is a major factor for a Stanley Cup winning team. Then head coach Dave Tippett ran things in a way that saw McDavid and Draisaitl make EVERY PLAY while the rest of the roster just sat and watched for the most part. After the coaching change, we saw a more balanced effort from the 20-man group. Foegele's play improved but was not contributing in the playoffs. Like Puljujarvi and Barrie, it's rumored that he could be a trade candidate for cap space. If not, he must show that last season was only new team jitters.
Philip Broberg – Drafted 8th overall in 2019, called up for 23 regular season games and one playoff game last season, Holland has stated that Broberg would have to play his way off the roster in training camp to not be a full-time regular; also mentioning the importance of having players on ELC's "Take their slice of the pie" in a salary cap league. He's slotted on the third pairing with Tyson Barrie and will more likely switch spots with Ryan Murray when Woodcroft and Manson utilize the 11-7 system. He could see himself in a future second pairing role with solid development.
Stuart Skinner – Remember when we were collectively losing our minds over the on/off play of Mike Smith and Mikko Koskinen between the pipes? Ah, good times. Skinner started 13 NHL games last season, going 7-6 with a 2.62 GAA, .913 SV%, and one SO. He's slotted as the backup or 1B this season, and we wait for the time he's ready to be the future #1 we've been expecting since his draft year that also came after his Ed Chynoweth Cup win.
Jack Campbell – Moving on to the other goalie on the team, the new 1A. Campbell gave solid play for the Maple Leafs in the first half of last season before injury and inconsistency got to him. He's not a franchise goaltender, nor can you fault him too much for being out-goalied by two actual franchise goalies in his last two playoff appearances. I have questioned giving him a five-year term when, as mentioned above, the team is looking to Skinner as their eventual main guy. But being a Final Four team with a 40-year-old out of his prime as their starter showed that this team was just a decent goalie away from being a legitimate NHL threat. Baring none of what plagued Campbell's second half of 2021/2022, he could perhaps be that decent goalie. Anything can happen in playoff hockey. You don't need THE goalie, you need A goalie.
Cody Ceci – Even the most hardcore analytics fans will admit that Ceci's play as a defenseman has improved since his time with the Senators. Despite some of Holland's shortcomings with cap management, this signing turned out to be a winner. Ceci even showed sound play in last year's playoffs when he was on the top pairing with Nurse. He looks to have filled the gaping hole that Adam Larsson left. Can he continue putting his past fancy stats demons behind him?
The boys are back after a long break but have plenty to talk about as the playoffs are in full swing. We go series by series, looking at how teams have fared so far and who will come out on top. Thanks for listening! Please rate and review our show on your favorite listening platform. Check out our partner's website at www.insidetherink.com for all your latest hockey news.