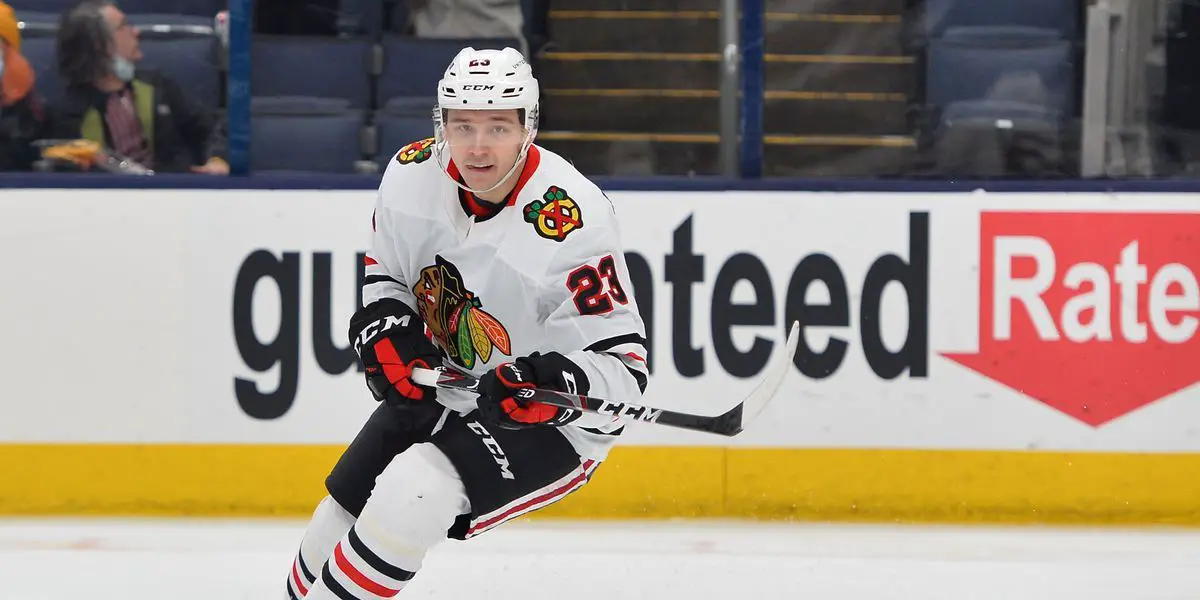 If you have yet to tune in to the Chicago Blackhawks this season, you have missed out on the beat show in the Windy City! The Blackhawks have been absolute must-watch tv since the puck dropped on opening night. The start of the season has been a pleasant surprise as the Blackhawks were thrown to the curb by everyone, including myself. Still, Luke Richardson has changed this organization significantly in the short time he's been behind the bench. The Blackhawks never quit attitude has them in the playoff picture; it's still super early in the season, and this could change significantly in a short time.
AA is an electric factory.
Andreas Athanasiou's speed is out of This world, and he's finally found some finish to his game. For years Blackhawks fans have watched Athanasiou blow by the Hawks defenseman to shovel the puck wife or right in the beautiful logo on the center of the goalie's chest. Not anymore; instead the first few games, he was wearing the gorgeous Blackhawks logo and putting it wide left and right on breakaways, but a switch has since been switched, and AA has been putting the puck in the next. It started with AA getting a penalty shot versus (of course) his old squad, the Detroit Redwings. He would take his time weaving back and forth before firing the puck five-hole for his first as a Chicago Blackhawk. Kane and AA have also slowly formed a connection that is starting to be a force that teams should be afraid of. Andreas Athanasiou's skill level was front and center when the Blackhawks faced off versus Marc-André Fleury and the Minnesota Wild. AA would walk Mathew Dumba before firing a backhand into the cookie jar.
Dumba will have nightmares about this play as he will be forced to watch this on highlight reels for the rest of his life. Is this the goal of the year already?
Alex Stalock is a heart attack in the crease.
Stalock has been impressive after just playing one NHL game in the previous two seasons. He is aggressive that is generous. Take a Fleury but times his aggressive play by ten, and you may get to Stalock's level. With that said, you can bet that Stalock will be out past the top of his crease, and he's not afraid to flop around like a fish out of water. So far, it has worked out fantastic for him and the Blackhawks, as Stalock has posted a save percentage of .914. Unfortunately, this has led to him being caught out of the net, leaving a wide-open net for the opposing team. Stalock LOVES to play the puck, and this not usually helps out the defenseman, but now and then, things go wrong, and Stalock will find himself in a mad scramble to get back to his net. Will Stalock continue to play above his career averages, or will he come back to the usual standard he has set throughout his career?
Hate him or love him, Max Domi is entertainment at its finest
In under ten games, Max Domi has covered the bingo board already. He's scoring game winners dishing out sweet passes, and pumping players for touching Patrick Kane. Kane got hit by Jost from behind in the game versus the Buffalo Sabers, and Domi's wires crossed, and he had nothing in his mind but to turn Jost's face into goop. You can even see Patrick Kane attempting (and failing epically) to hold Domi back, but Domi wasn't going to be stopped. The camera even caught Kane saying, "I tried holding him back." (at least that's my best attempt at lip reading) Kane would skate over and give Domi a dap-up in the box after the scrap.
On top of that, Domi has four goals and three assists through his first nine games in Chicago. Including an overtime-winning goal where Domi would ignore Patrick Kane and fire a wrist shot far side off the post and in to take home a win. Kyle Davidson should be able to flip Domi for a first-round pick if this play continues. Of course, that's if the Blackhawks don't continue to win and battle for the playoffs.
Kurashev is a part of the future.
After the Blackhawks chose to send down Reichel and Vlasic, it left just Kurashev as far as young "prospects" went at the NHL level for the Blackhawks. Before this season, he had flashes that showed the potential that Kurashev has, but lack of consistent play would be his downfall.
He would go utterly invisible at a time and look disengaged in the middle of the game, and this has not been the case this season. Kurashev has brought a consistent game in every aspect of the game. Kurashev has not only been good but the best player on the ice at times for Chicago. His soft, smooth hands and above-average speed have driven the play when he's on the ice. Kurashev has two goals and four assists. He is a negative four, but he was in a more grinder third-line role before the Tyler Johnson injury. Kurashev will get a great look on the second line with Toews. Expect him to capitalize on this opportunity and continue his breakout season. It wouldn't be surprising to see Kurashev break the fifty-point mark and even scratch the sixty spot.
Not to mention Toews is BACK.
There isn't much to say, but the Captian is back! After a horrendous pre-season, Toews has found his old form and has been fantastic. Through the first nine games, Toews already has five goals after only scoring 12 last season. Toews is still a top defensive player, now, he has had his fair share of turnovers (one that's cost the Blackhawks a point), but Toews has been far and away better than the previous rendition. The eye test says Toews is back and is here to stay, and I fully expect Toews to shatter his stats from last season. It won't be surprising if Toews hits the sixty to the seventy-point range.
Showtime
Patrick Kane. Not much you have to say here his nickname is "ShowTime" for a reason. Patrick Kane has been and always will be worth the price of admission. The most electrifying player to ever wear a Blackhawks jersey. Patrick Kane alone makes the Blackhawks a must-watch team.
It's been a fun start to the season. Will the winning ways continue, or will the tank finally begin? Either way, fans should be packing out the United Center this year!
Season 2 Episode 10: Is Patrick Kane The Greatest Blackhawks Player Of All Time
–
Cue The Dagger
In this episode, we discuss if Patrick Kane is the greatest Blackhawks player of all-time, Lukas Reichel's one NHL game, and his unbelievable shootout goal. We also break down Seattle's chances of making the playoffs, is hitting and fighting making a comeback? and much more NHL news and topics  #Blackhawks #ALLCAPS #NHL #SeaKraken #LetsGoBuffalo