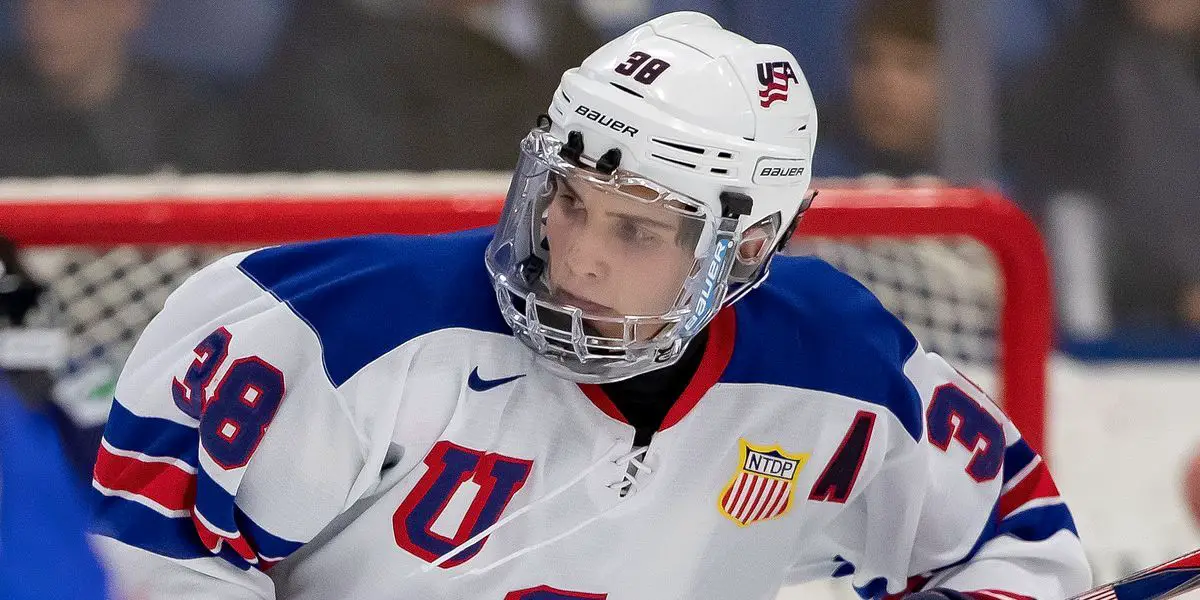 There has been a lot of buzz around the Chicago Blackhawks' upgraded prospect system. Guys like Frank Nazar, Kevin Korchinski, and Lukas Reichel have been getting the most hype and love, but there is a prospect that plays just 96 miles away from 1901 W Madison St, which Blackhawks fans should keep an eye on. Landon Slaggert.
Slaggert was born just to the east in South Bend, Indiana but Slaggert is a "Home Town" kid playing his youth hockey for the Chicago Mission AAA team. In the final season for the Mission, Slaggert would play in 20 games and score eight goals and 12 assists, finishing at a point per game. After that, Slaggert joined the US National Development Program. Slaggert would play for the USNTDP from 2018-2020 before returning home to play for Fighting Irish.
During his freshman season, Slaggert would prove his game could be effective at the college level. In 25 games, he would score eight goals and 14 assists for 22 points. Even though Slaggert puts up good point totals, his game is not flashy or "super skilled" but a game that is built on competing to get to the tough areas and using his physicality to win battles. Slaggert took a significant jump during his sophomore season with Notre Dame. However, the stats don't show the whole story. In 40 games, Slaggert would score 12 goals and 14 assists. His penalty minutes would take a big jump, going from just ten the previous season to 39. His game took a huge step away from the puck, both in the defensive and offensive zones. Slaggert started to find the quiet spots in the offensive zone when he was not crashing the net. Slaggert's development was noticed by more than just his coaches at Notre Dame as Slaggert was named Assistant Captain for Team USA at the recently played U-20 World Juniors tournament. Team USA was ultimately disappointed missing out on a medal (Manly due to other Blackhawks prospect Drew Commessoo turning down the invite to focus on his training for the upcoming season at Boston University, leaving Team USA with a weak spot in goal). Still, Slaggert was a bright spot for the Red, White, and Blue.
Slaggert played in all five USA games putting up a stat line of two goals and four assists, just over a point per game. Slaggert was on the top line for the USA. Slaggert proved that his game is perfect for playing along with more skilled players such as Bordeleau and Mazur.
Slaggert projects to be a third-line player at the NHL level. However, what should excite Blackhawks fans about Slaggert is that his game is the type of game you can pair with two skilled players on a top line, and he will produce. In addition, Slaggert could be a faster, more skilled, and overall better Brian Bickel from 2013.
Blackhawks fans might not have to wait too long before Slaggert make his way to Chicago/Rockford. Following his Junior season, Slaggert could choose to go pro and join the Blackhawks/Rockford for the last few weeks of the season. Now, Slaggert could decide to return for his senior season, and this would be a surprising move. However, Slaggert is ready to take the next step in his development and should take the jump following his season with the Fighting Irish.
Slaggert is one of many prospects for the Blackhawks and their fans to be excited about, and he is just a short hour-and-a-half drive if any fans want to watch him play in person.
Season 2 Episode 10: Is Patrick Kane The Greatest Blackhawks Player Of All Time
–
Cue The Dagger
In this episode, we discuss if Patrick Kane is the greatest Blackhawks player of all-time, Lukas Reichel's one NHL game, and his unbelievable shootout goal. We also break down Seattle's chances of making the playoffs, is hitting and fighting making a comeback? and much more NHL news and topics  #Blackhawks #ALLCAPS #NHL #SeaKraken #LetsGoBuffalo