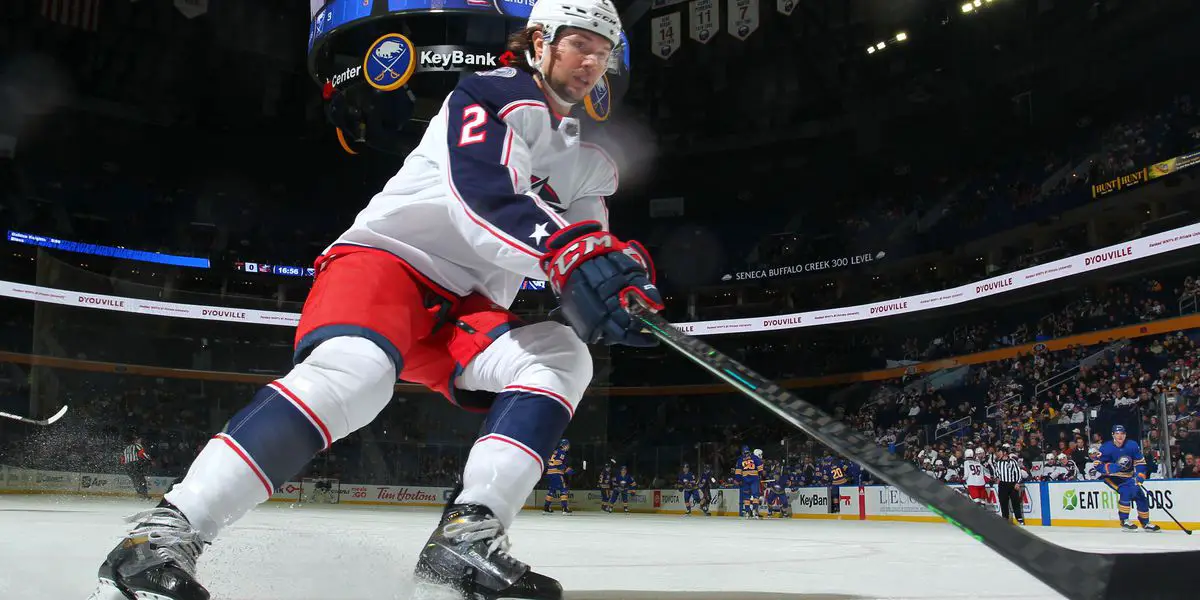 Zach Werenski, Vladislav Gavrikov, and perhaps Jake Bean give the Columbus Blue Jackets a set left side of the defense. The Blue Jackets have many more questions on the right side, starting with who will partner with Werenski on the top line. Will it be Andrew Peeke again?
This past week the Columbus Blue Jackets signed defensemen Andrew Peeke to a three-year $8.25 million ($2.75 million AAV) reasonable contract. In signing Peeke, the Blue Jackets locked down right-shot defensemen that when the contract expires, will take him into free agency.
Last season, Andrew Peeke was pressed into service on the Blue Jackets' top defensive line. While Peeke was sometimes inconsistent, having been put on the top line. However, Andrew Peeke did show at times he can become a shut-down defenseman in time.
Andrew Peeke will not give a lot of offensive production; he had two goals, 13 assists, with 15 points last season. The Blue Jackets do not need offense from Peeke if he is on the top line with Zach Werenski who provides steady, solid defense and can help on the penalty kill.
Analytics aside, Peeke actually passes the eye test. His defense improved as the season moved along last season to the point he was out on the ice on the penalty kill and did an alright job. So is analytics wrong in this case? Perhaps, or perhaps Andrew Peeke is playing above his projection.
The Columbus Blue Jackets have amassed some very good defensive prospects. Corson Ceulemans and David Jiricek (both right-shot defensemen) both project as top six players. It is doubtful that either Ceulemans or Jiricek will play in Columbus this season.
There is a high likelihood that this will be Andrew Peek's last season on the Blue Jackets top line or close to last season on the line, which is good for the future of the Blue Jackets. Once either or both Corson Ceulemans or David Jiricek are ready, Peeke will slide down, which will create better depth.
In all this was a smart signing by the Blue Jackets in the short term.
The boys squeak in an episode before Jake heads off to Florida. They touch on the Bruins' recent milestones, especially Bergerons 1000 points. They head over to the metro to see can Pittsburgh and Washington turn things around before heading out west to take Shane Wright and the Seattle Krakheads.Thanks for listening! Please rate and review our show on your favorite listening platform. Check out our partner's website at www.insidetherink.com for all your latest hockey news.