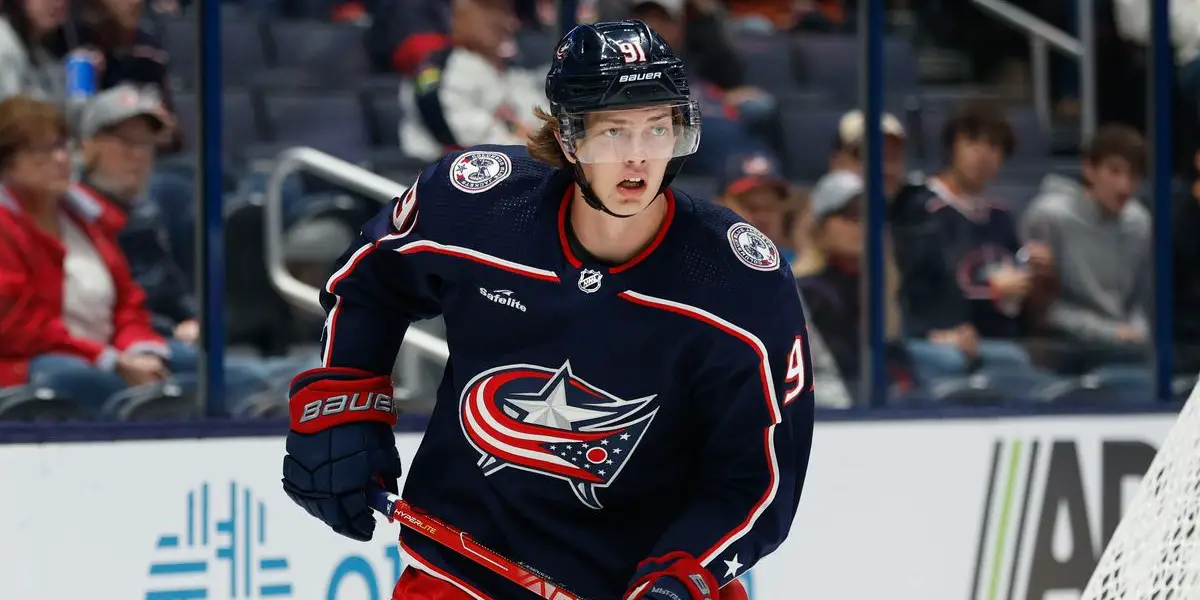 In this rookie season, Kent Johnson has lived up to his projections for the Columbus Blue Jackets. Johnson has scored 13 goals and 18 assists with 31 points to date, making him one of the top NHL rookies. The offensive numbers do not tell the whole story. Johnson has cleaned up his play defensively and is rounding into a very good bordering on elite two-way forward.
Kent Johnson has cemented himself as a or perhaps the cornerstone of the Blue Jackets rebuild. It has and is becoming clearer with each passing game the Blue Jackets would be wise to sign Johnson to an extension this offseason and not a bridge deal. This contract should be longer and allow the Blue Jackets to nail down the long-term cap hit.
Johnson is on a superstar trajectory. Due to his elite ability, the Blue Jackets need to get ahead of the curve and sign Johnson to a deal for around eight years at about an $6.5-7M cap hit before Johnson fully develops and the numbers climb. There is little doubt Johnson will be among the NHL elite very soon. That number is based on the fact Johnson plays on the wing and not a premium center position.
Kent Johnson is a player a franchise wins championships with, and he is simply that talented. Tuesday night, the Blue Jackets took a 4-0 lead over the Pittsburg Penguins only to lose 5-4 in OT. After the game, Kent Johnson was the most outspoken and ticked-off player being interviewed. This is a good sign of the young Johnson's leadership and that the Blue Jackets are not tanking. They simply do not have the players (largely due to injury) to compete, game in and game out.
Some may argue Johnson has only played one full season, and the Blue Jackets really do not need to overreact, fine. But with a player like Johnson, who is absolutely a cornerstone of the team's future, a future that projects him as a superstar, it would be a wise move to get ahead of the player before he hits his projections and the numbers go through the roof. Other team, such as the New Jersey Devils, have locked up their young players at longer, cheaper deal, so it is not a stretch the Blue Jackets should as well.
The boys are back after a long break but have plenty to talk about as the playoffs are in full swing. We go series by series, looking at how teams have fared so far and who will come out on top. Thanks for listening! Please rate and review our show on your favorite listening platform. Check out our partner's website at www.insidetherink.com for all your latest hockey news.