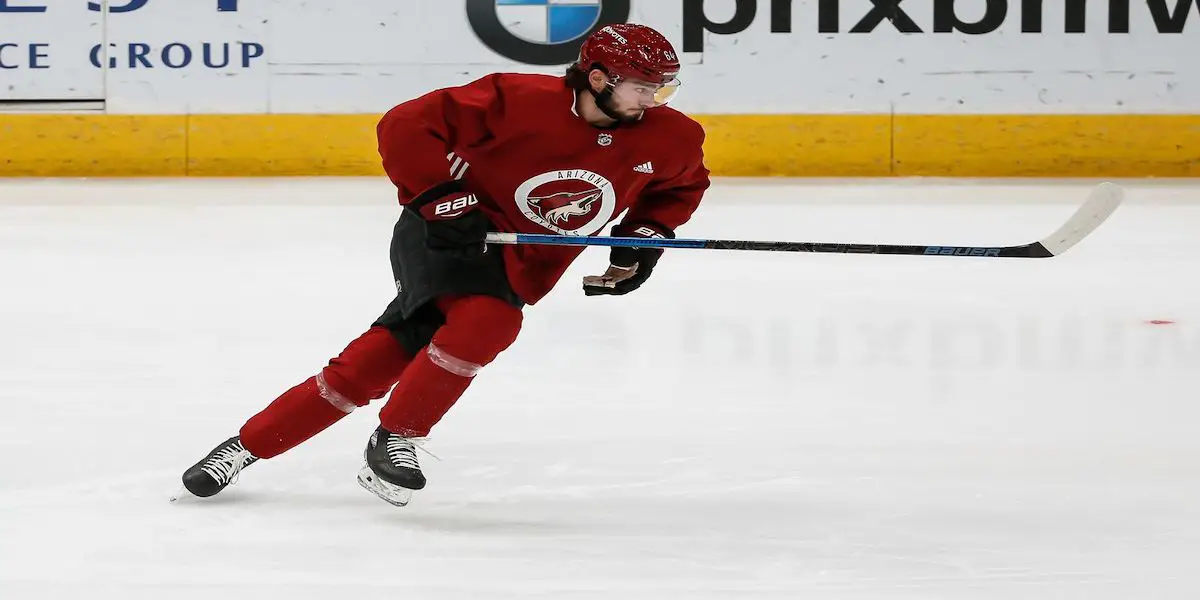 On the second day of the 2018 NHL draft, the Arizona Coyotes made NHL history by drafting British-born forward Liam Kirk. Kirk had spent the last six years within the Sheffield Steelers organization. The Steelers play in the EIHL, or Elite Ice Hockey League, the highest professional hockey level in the United Kingdom. Following the 7th round draft selection, Kirk became the first-born and trained player ever drafted out of England. He scored nine goals and 16 points in 52 games during the 2017-18 season for the Steelers, the third-highest point total ever in that league from an under-19 player.
Since the draft, Kirk has experienced a rocky development path. Following the 2017 season, Kirk spent the next two years with the Peterborough Petes of the Ontario Hockey League. In 110 games, he scored 47 goals and 97 points, a respectable output for a player experiencing his first North American ice. Kirk's season was turned upside down the following year, as was the rest of the hockey world. Covid-19 disrupted the 2020-21 season, and Kirk had to find a new home with the OHL canceling its season. He started the season with Hanhals IF of the Swedish third division. In 12 games, Kirk had five goals and ten points. While not eye-popping numbers, Kirk ended the season with his former team, the Sheffield Steelers, during the 2020-21 EIHL Champion Series. During the series, he played 14 games and scored ten goals and 20 points. Those numbers resulted in Kirk being 6th for the entire EIHL. Given the worldwide situation, there is not much more the Coyotes could hope for.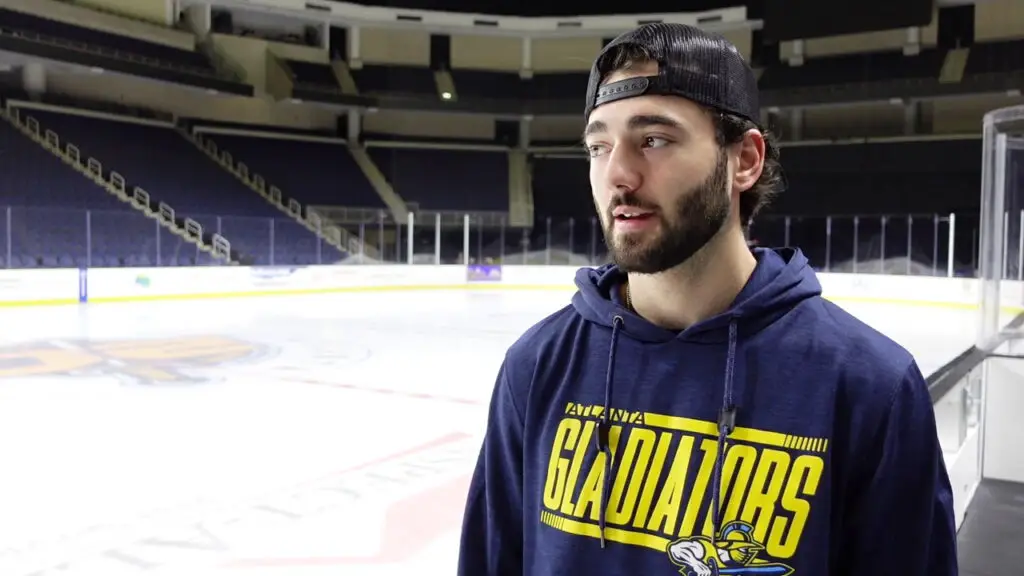 Last year, Kirk was expected to play an important role on the Tucson Roadrunners, the Coyotes AHL affiliate. Just eight games into the season, Kirk suffered a season-ending knee injury, adding yet another setback to his development. Kirk was on pace for a solid season after scoring one goal and three points in his eight games, on pace for a respectable 26-point season. Following two years of disrupted development, Kirk entered the year in a precarious position. He started the year as a healthy scratch, playing only one game before being sent down to the Atlanta Gladiators of the East Coast Hockey League (ECHL) to give him more playing time. While many would view a demotion to the ECHL as a negative for his career, the opportunity to play a top-six role with the Gladiators would provide Kirk with valuable playing time and responsibility. The Roadrunners added several high-end veteran forwards, and Kirk saw himself being pushed down the line-up. During his stint in Atlanta, Kirk showed why the Coyotes drafted him. In 15 games, Kirk scored five goals and had 11 points.
Assuming his offense continued, it wouldn't be a shock to see Kirk see himself back on the Roadrunners roster, as injuries would surely mount during the long AHL season. Then, in late December, Kirk was loaned to Jukurit of the top Finnish league, Liiga. While the loan surprised many, it makes sense given Kirk's rollercoaster of a development path. Liiga provides Kirk with an opportunity to play games close to AHL quality while being close to home. Kirk has already established himself as an important player for Jukurit. In eight games, he has scored one goal and five points. Jukurit is coached by former Coyote Olli Jokinen and should have a deep playoff run later this year. Jokinen has prided himself on developing young players; in the two years he has coached in Jukurit, his team has an average age of under 25. Last year his team finished 2nd in Liiga and made it to the third round. All in all, I think Kirk's loan will be a positive move for his development. 
For Coyote's fans hoping to know more about Kirk and his style of play, I interviewed Atlanta Gladiator's Digital Content Coordinator Bryan Brandonisio. Bryan was generous enough to answer several questions for me relating to Kirk, his style of play, personality, and future outlook. Thank you to Bryan for his help, and I look forward to working with him again in the future.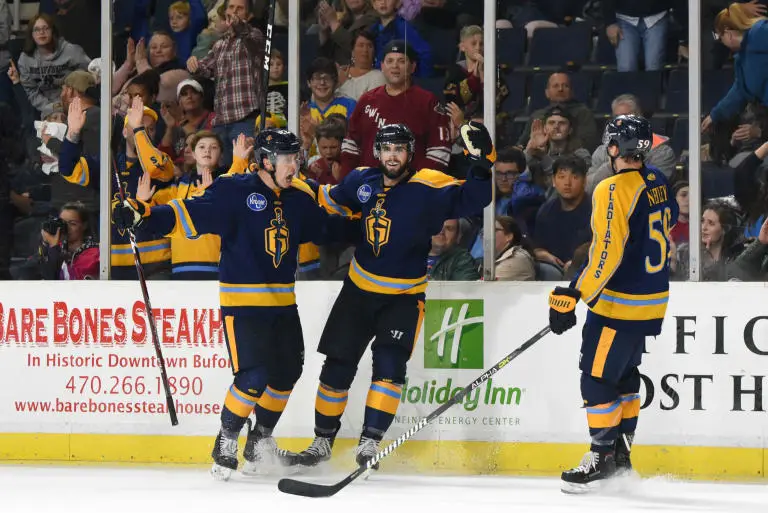 1. In terms of play style, how would you define Liam Kirk's game?
Liam Kirk plays with finesse and impact. He's a patient player with good hands and a smart shot that immediately made a great impression on our fans. He was a difference-maker for the Gladiators almost immediately, scoring two goals in his second game in Atlanta and netting the shootout-winning goal the next night.    
2. Kind of a follow-up, what are his strengths and weaknesses? Things he needs to improve on etc.
Strength-wise, he does a great job of moving the puck and creating space for himself and his teammates. It seems like he's always in the exact right spot to field a pass and skates with the puck to spots that help extend the play. I didn't get the impression that he's a very physical player, but when you score as often as he did, you don't really need to be!  
3. Has Kirk's previous knee injury held him back at all this season?
I wouldn't say it has. He skates hard after every puck and doesn't shy away from playing in the dirty areas. 
4. What can Coyotes fans expect out of Kirk in the community? 
Some players are super excited to be part of the community, others not so much. I get the feeling he's really willing to go into the community, but I would love to have it confirmed!
Kirk is a very humble guy who appreciates our fans and our booster club here!  
5. What are your thoughts on his loan to Jukurit? 
I think it's a great opportunity for him to prove that he can bring his style of play to any level of the game and succeed in doing so. In his time with us, he had 11 points (5 goals -6 assists) in 15 games, and it looks like he's continuing that trend in Finland with having points in all but one of the games he's played so far.  
6. How can fans tune in to Atlanta games? 
Fans can watch the Atlanta Gladiators on FloSports, listen along on mixlr, or follow our play-by-play on @atlgladiators Twitter!
The boys are back after a long break but have plenty to talk about as the playoffs are in full swing. We go series by series, looking at how teams have fared so far and who will come out on top. Thanks for listening! Please rate and review our show on your favorite listening platform. Check out our partner's website at www.insidetherink.com for all your latest hockey news.