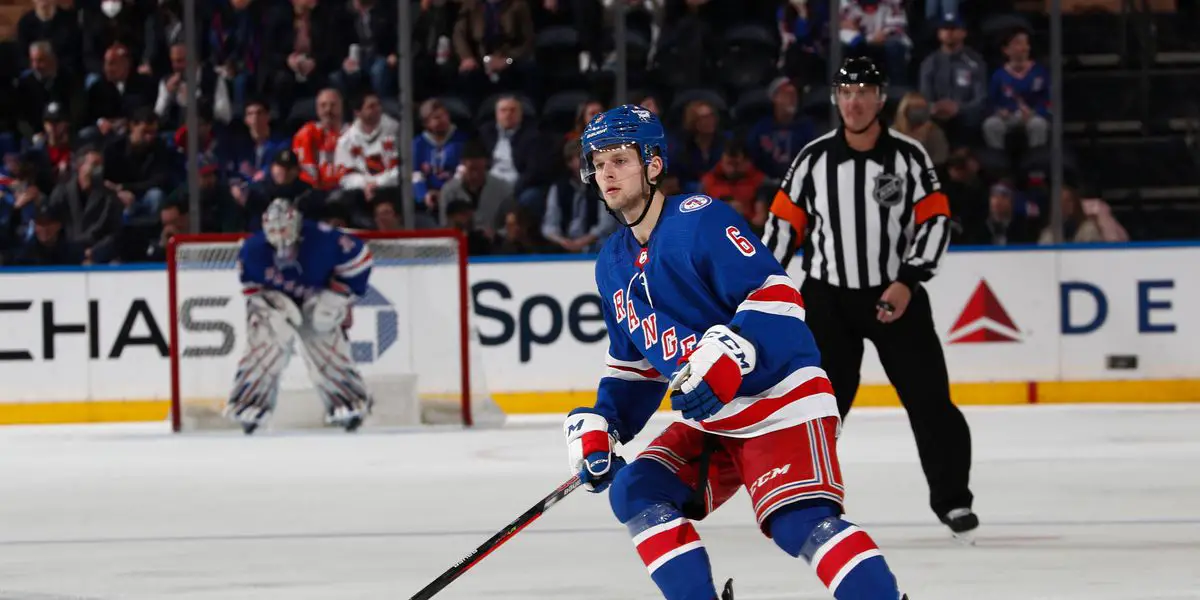 So, Rangers fans finally got that rookie defense pair they've been clamoring for since Patrick Nemeth was signed to his three-year $2.5 million contract. Regardless of your opinions of Nemeth or the copious number of charts that brand the ten-year Swedish veteran as Undesirable Number 1 amongst Rangers fans, the benefits of a Zac Jones/Braden Schneider pairing stretch wide and far beyond this season.

The two-game sample size is small but extremely encouraging. After only playing 27 minutes together, their expected goals for 60 min (3.28) and expected goals against per 60 min (1.09) are encouraging. If some underlying analytics don't do it for you, then the eye test should. Anyone who watched either of the last two games could quickly tell that these two belong in the NHL and are beginning to develop chemistry. They played together in Hartford, but Schneider was mostly paired with Matthew Robertson.

It seems Gallant is beginning to trust them too. Late in the 3rd period, during a tie game against the Boston Bruins Tuesday night, two offsetting penalties resulted in a four-on-four, and Gallant chose to send out the rookie pair. Now, Jacob Trouba was one of the penalized players in the box, so his options were limited, to begin with, but the fact that he chose to send them out there together at a pivotal point in the game is a good initial sign. In case you were wondering, the Rangers won the ensuing faceoff. Schneider passed the puck to Jones, who entered the offensive zone and circled the net, almost setting up what would have been the game-winning goal. These two are not just playing shy and conservative as some rookies do. They're beginning to implement their skill, and it's exciting.

This pair isn't just important to this year's New York Rangers success; they could be pivotal cogs on the roster for the next two seasons. The apparent reasoning is that they are good, but having two players on rookie contracts perform at high levels is worth their weight in gold. Looking ahead to next season (2022-2023), the Rangers have roughly $ 9.6 million in cap space (per CapFriendly). Assuming Jones and Schneider survive the trade deadline and stick, the entire defense is locked up next season with three players on rookie contracts.

However, the offense is different, with Kaapo Kakko, Sammy Blais, and Julien Gauthier being restricted free agents after this season. Ryan Strome, Kevin Rooney, and Greg McKegg are all unrestricted free agents. Regardless of your opinions on any of those players, they'll leave a lot of slots to fill with only $9.6 million. More space can be added if Nemeth is jettisoned out of town, and Filip Chytil's future is tenuous at best. So, moves can be made to create a little more space but not much.

We've seen this in every sport; a team with a number of rookies or young players overperforming on entry-level contracts can lead teams to championships. This allows the team to balance out the rest of the roster. The Seattle Seahawks with a young Russell Wilson on his rookie contract come to mind. We just witnessed it with Patrick Mahomes winning a super bowl before he signed his huge ticket, and we're going to see the same thing happen with the Cincinnati Bengals, who have approximately $50 million in cap space for this upcoming season with young superstars like Joe Burrow and Ja'Marr Chase outperforming their contracts. The Tampa Bay Rays seem to do this every three years or so and then trade their youngsters and reload.

With so many players to resign during the next two off-seasons, it's pivotal that the Rangers get young players like Jones and Schneider to outperform their rookie contracts. The sky is the limit if Alexis Lafreniere and Kaapo Kakko begin to reach their potential during this time period as well.
This week we have on the Legend himself, Bill Pidto. We discuss the broadcast, the Rangers 2nd half and do our own fastest 150 seconds on a podcast.Thanks for listening! Please rate and review our show on your favorite listening platform. Check out our partner's website at www.insidetherink.com for all your latest hockey news.