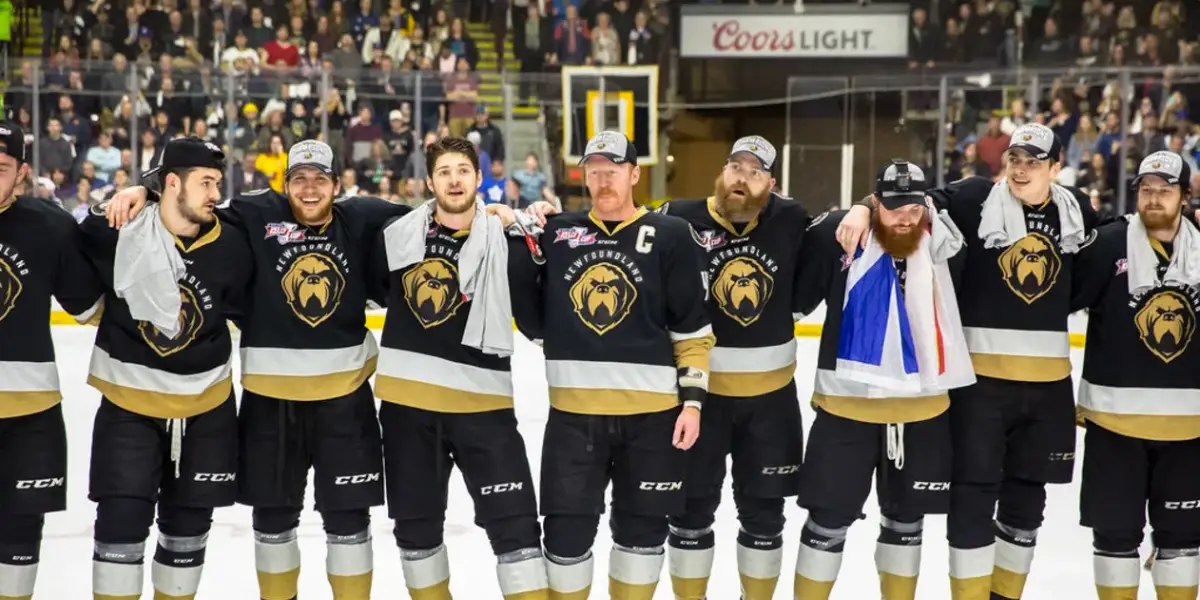 Todd Skirving of the Newfoundland Growlers, an affiliate of the Toronto Marlies and Toronto Maple Leafs, has one of his best ECHL seasons. Still, the man many call 'the unofficial mayor' of St. John's, Newfoundland, has had his off-ice challenges.
However, as he's known to do, Skiving has taken the high road. "This season, I am honored to announce my collaboration with super-fan Paul Loder, Brendan, and Niall Hickey at The Newfoundland Embassy, and Caitlin Noseworthy at Saltwater Designs. Together we plan to raise awareness for men's health issues and prostate cancer", Skirving announce on social media just before Christmas 2022. 
The shirts cost $30 Canadian, with proceeds donated to The Newfoundland and Labrador Prostate Cancer Support Groups (NLPCSG) in honor of Skirving's Dad, Rod Skirving, battling prostate cancer. "I look forward to seeing you all rock 'the Skirvy' down at the Mary Brown's Centre, around town and from away. Together we can make a difference in the lives of those dealing with men's health issues", Skirving posted.  
But Skirving has been helping those in need for a long time. "Each season, I take part in Movember for November. https://twitter.com/ECHL/status/1601306470338859008?s=20 I always grow my mustache in support of men's health issues such as prostate cancer, testicular cancer, and men's suicide," he stated in a promotional video. But then things turned personal. https://twitter.com/TeamGushue/status/1593266325408948224?s=20
"Just over a month ago, this all hit closer to home. On September 8, my dad was diagnosed with prostate cancer. He is in good spirits and his beginning stages of treatment," Skirving said as he introduced the fundraising initiative. 
When we spoke last with Skirving, he said his dad was now "…doing much better". The family will know more on March 30, he shared. 
The Thunder Bay native also helps inspire the youth in his new home province of Newfoundland. Todd's Teammates, a program designed to encourage school-age children to spread positivity within their community by doing good deeds, volunteering, or just being a good friend/classmate/teammate, has been widespread.   
While Skirving is always one of the first to put his hand up to help, the team's community outreach is part of what makes this ECHL franchise a local treasure. "Our team has been working hard to secure some great promotions for the final two months of our regular season. We have partnered with some amazing community groups and corporate sponsors to add special event nights to our promo calendar", Kenny O'Leary shared. O'Leary, VP of Business Operations with the Newfoundland Growlers, proudly offered a glimpse of the schedule for March and April. Fri., March 10, is Pride Night in support of Quadrangle. From the website: "$5 from every ticket purchased helps support Quadrangles's mission of creating a community center for 2SLGBTQIA+ individuals and organizations, a space that is a resource for building community resilience and connection, and that provides supports for existing and future initiatives of our 2SLGBTQIA+ community." 
The next night, Sat., March 11, the Growlers partnered with Epilepsy Newfoundland and Labrador to help spread awareness and raise money on  Epilepsy Awareness Night. 
Then Sun., March 12, is Nevaeh's Angel Foundation Night in support of Nevaeh's Angel Foundation. The Growlers encourage fans to wear purple and yellow and visit Nevaeh's Lemonade Stand on the Mary Brown's Centre concourse.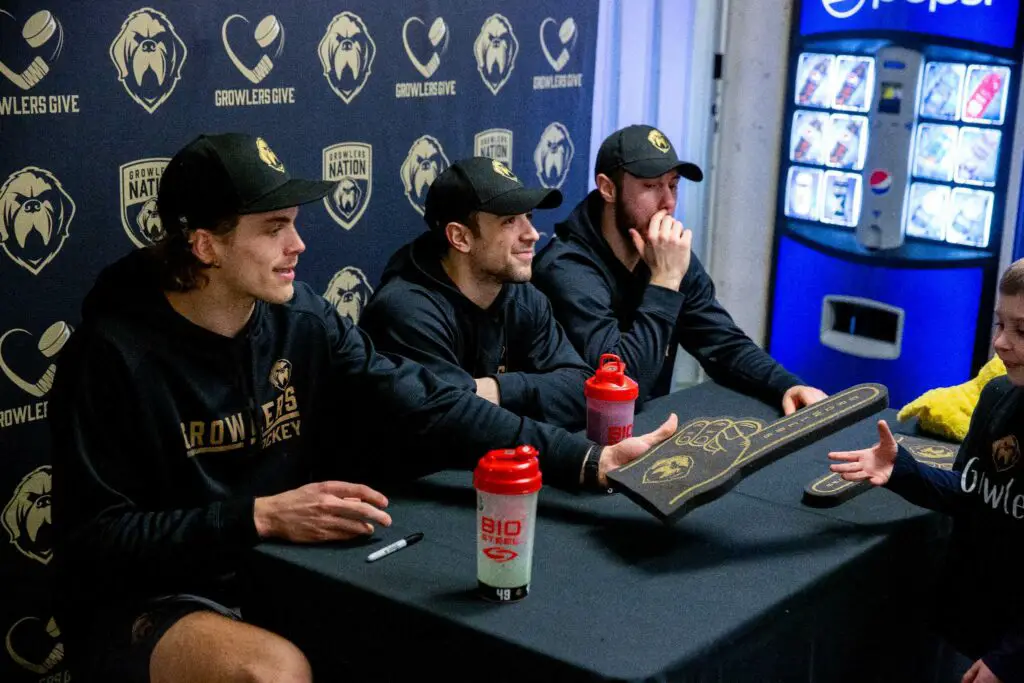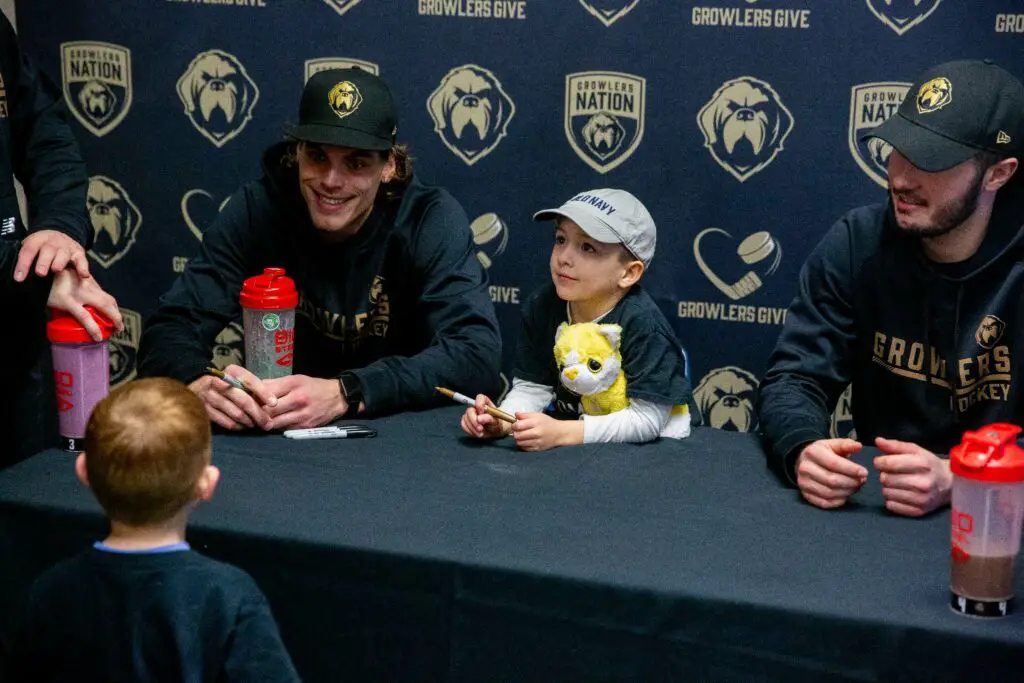 Beyond community support and outreach, there's also a sense that the team is making a real effort to connect with true fans of the game. https://twitter.com/dyke_staci/status/1601784806555410434?s=20 From the team's Bench Warmers Experience, where you get the best seats in the house to watch the pre-game warm-up, to their Post-Game Meet-and-Greets, the NL Growlers have been upping their game (pun intended) to the delight of their fans of all ages. And, if you ask Skirving, connecting with fans is what it's all about.  
"When the weekend comes, we know it's going to be pretty ramped up, which gives us an extra level of competition. The team talked about it in the last couple of weeks. When fans set the noise alarm off in the third period, it sounded like the year we won the (Kelly)Cup. That's the kind of atmosphere we had. So it's huge for us. That gives us a boost and makes it harder for other teams coming in here, and we want to take care of home ice", he said.
He added that the more fans the team has, the better it is. "Getting out there and creating those relationships helps. When you look up in the stands, you personally know a few more of the faces there. That makes playing on 'The Rock' much more fun when playing for people you know who feel like family members."
The boys are back after a long break but have plenty to talk about as the playoffs are in full swing. We go series by series, looking at how teams have fared so far and who will come out on top. Thanks for listening! Please rate and review our show on your favorite listening platform. Check out our partner's website at www.insidetherink.com for all your latest hockey news.