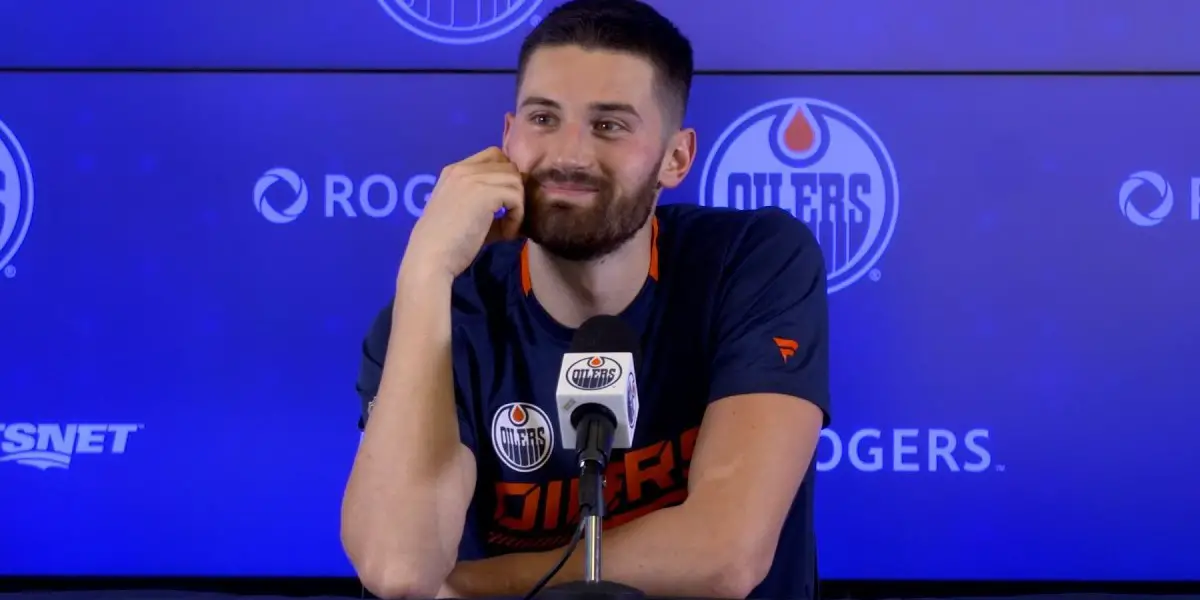 NHL hockey is back; how nice is that to say? Not the 82 game schedule yet. But seeing new faces, familiar faces, and prospects play to either make the team or find chemistry in the lineup heading into a season with higher expectations. With the preseason just getting underway, may we have another scenario where one player/prospect takes us all by surprise? This was the case last September with Brendan Perlini, an NHL journeyman who came over to Edmonton from the Swiss National League and scored goals in every preseason game, earning him a spot as a bottom-six forward on the Oilers.
The biggest memory to take out of Perlini's time with the Oil was shortly after Leon Draisaitl got "pissy" in a press conference midway through the season when it looked like they were playing themselves out of the 2022 playoffs. Perlini had a more optimistic take on the team's troubles, and, in the end, he was right. When Edmonton got out of their funk, made the playoffs, and went straight to the Western Conference Finals, I always looked back at that positive presser Perlini gave and wished he were still on the team because of it. Sadly, his regular season wasn't as productive as his preseason or his time with the Bakersfield Condors, where he put up 11 goals and 18 points in 18 AHL games. He played 23 games as an Oiler and put up just four goals and five points before humorously finding out from his mother on Twitter that he'd been put on waivers and sent back down to Bakersfield. But still, Lamborghini Perlini was a bit of a fan favorite.
It'll be harder for prospects within the organization to make the cut this season. They'd have to at least settle for changes in the lineup when there's a healthy scratch or injury. But who could be the fan favorite coming out of preseason this year? Here are five options for that distinct title.
Tyler Benson: 24 years old, drafted 32nd overall in 2016. A great prospect in the WHL and can get it done in the AHL but hasn't had it translate in the NHL. He played 29 games for the Oilers last season and put up only two points. You'd think a local boy would shine brightly and be a shoo-in to make the team. He'd be the next Fernando Pisani if he stayed in Edmonton and found his NHL touch as a bottom sixer. His skating has noticeably improved in the first two games of the preseason thus far.
Jason Demers: Recently signed to a PTO, he joined Milan Lucic on tour around the newly built Rogers Place in the summer of 2016 but chose a different path than Lucic. When he was younger, he was a good bet for around 25 to 30 points as a RHD. The 34-year-old's last NHL gig was in the 2021 bubble season with the Coyotes, playing 41 games and putting up just four assists. He's not beating out Bouchard, Ceci, or Barrie for a top-six spot on the right side. So flip-flopping the number 7 spot would have to do.
Dmitri Samorukov: A third-round pick in 2017, 84th overall. This prospect defenseman played one NHL game last year against the Blues and saw only two shifts of ice time, resulting in two goals against. He did the skate of shame and was benched after just 2:28 into an entire game. Surely, he'd be looking for redemption after that nightmarish NHL debut.
Marcus Niemelainen: The 63rd overall pick in 2016, picked up one assist in 20 NHL games last season. I loved the physical element he brought to the team in the small sample size he had. Before Ryan Murray was signed, I was rooting for him to win the #7 spot on the Oilers blueline. He even scored a goal in the first preseason game. Should injuries occur, may we find Nemo again in 2023?
Calvin Pikard: The Brendan Perlini of goaltenders. Also, a journeyman, drafted 49th overall by the Avalanche in 2010. He put up respectable numbers during his time in Colorado, but Vezina trophy careers are not for everyone. Credited with a Calder Cup title in 2018, the AHL is where you'll hear the most about him. But again, injuries and scratches are possible. Might he perhaps save the day as a third-string goalie?
The boys are back after a long break but have plenty to talk about as the playoffs are in full swing. We go series by series, looking at how teams have fared so far and who will come out on top. Thanks for listening! Please rate and review our show on your favorite listening platform. Check out our partner's website at www.insidetherink.com for all your latest hockey news.