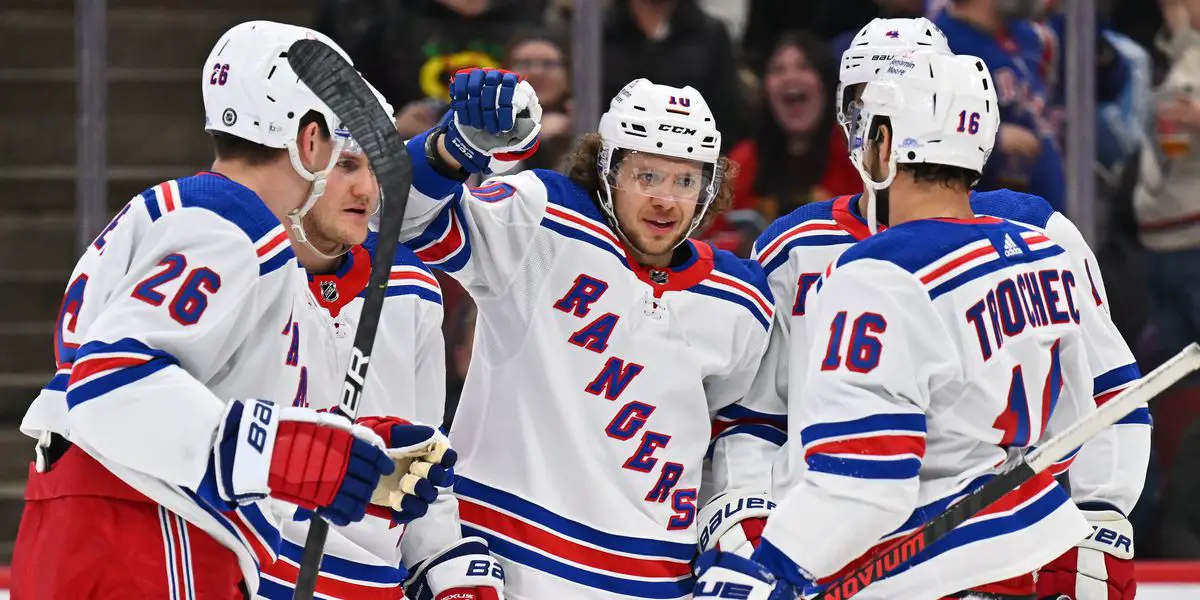 As the season has chugged along, the discussion around the New York Rangers has been about who they are going to add at the trade deadline come March. While many have speculated about Chicago Blackhawks winger Patrick Kane, that discussion has recently shifted to Timo Meier of the San Jose Sharks. Some have even speculated about the possibility of trading for Vladislav Gavrikov from the Columbus Blue Jackets. While those additions seem good on paper, the reality is this: the Rangers should not make a team-altering move at the deadline.
The reasons behind this are pretty simple. For one, the options for team-altering players have many caveats. Kane is 34, and massively past his prime, Gavrikov is good but would likely fetch a return that would be an overpayment, and while adding Meier to the wings makes the Rangers great, his qualifying offer makes it so that other areas of the team will suffer. The Rangers are also struggling to find a consistent groove to get into, despite finding success. Trocheck hasn't worked on the second line, and Lafrenière's struggles have been the biggest story all season. All this considered, adding another piece could potentially screw with the Rangers' chemistry right before the playoffs, something that is not necessarily ideal.
The Rangers are good enough as is
To begin, the Rangers roster has more than enough depth in the top 9 as it is now. When healthy, the team can run three very good scoring lines in Kreider-Zibanejad-Kakko, Panarin-Trocheck-Kravtsov, and Lafrenière-Chytil-Vesey. This lineup has already taken the team this far, good enough for third in a very deep metro division. The emergence of Filip Chytil and Kaapo Kakko as players that the coach can trust night in and night out gives the Rangers a sense of depth going into the latter half of the season.
While yes, Timo Meier could fit in really well next to Panarin; it's hard to argue to give up assets (which would likely consist of a roster player + prospect + more) to trade for AND sign Meier. Even if Meier is a rental, you're giving up a huge package to get a player who will play ~20 games for the team, plus some games in the playoffs. Especially as players become cheaper at different times of the year, if the Rangers really are keen on acquiring Meier, they can do so in the offseason (if he is a rental at the deadline).
The Patrick Kane discussion should be a non-starter. Kane has been nothing short of atrocious for an atrocious Chicago Blackhawks team, and while some will cite the team's poor play as a motivating factor for why Kane hasn't been playing well, it doesn't take away from the fact that he would be too expensive to go after. Considering he's 34 and Artemi Panarin is 31, the argument that those two could 'reunite' and play hockey together is a pipe dream. Both players are moving past their primes, so it would be a mistake to give up the future to have 2-3 years of a declining Kane and Panarin.
If not a big name, who should the Rangers target?
The primary goals of the New York Rangers going into the deadline should be to solidify the bottom six and the bottom LD pairing.
The bottom six has rotated a bunch of players, including Jonny Brodzinski and Jake Leschyshyn, as well as Ryan Carpenter, Jimmy Vesey, Barclay Goodrow, Julien Gauthier, and, of course, Sammy Blais. Brodzinski has been solid when he has played, but the Rangers see him as a top guy in Hartford who can play minutes if needed. Leschyshyn has been, well, eh. Not very noticeable aside from a few key plays, but not the type of guy that will put the Rangers over the top. It seems as though Barclay Goodrow is a staple of this team, and when not in the top 6, he actually performs quite well. It's almost as if playing players in the roles they are accustomed to is a recipe for success (hint hint: Alexis Lafrenière). Aside from this, Goodrow and Vesey make for two very good fourth-liners, leaving a spot for one more.
This is where the deadline additions need to be. Small additions that won't cost more than a first-rounder is what the Rangers need to be looking at, and a player I would consider adding is Edmonton winger Jesse Puljujarvi. As known to all, Puljujarvi's career thus far with the Oilers has been relatively bumpy. He's on an expiring contract and will most likely end up taking less than he is paid right now. However, a place like New York could be perfect for the young Finn. Analytically, he has actually been pretty spectacular over the last couple of years. This could be a steal to make the Rangers deeper along the right side, which is something they definitely need to improve.
This leaves the right-wingers being: Kaapo Kakko, Vitali Kravtsov, Jesse Puljujarvi, and Julien Gauthier. A lot of talent and skill on that right side that, if utilized right, could make this team scary to play, no matter what line they are going against. The left side is similarly deep, with Chris Kreider, Artemi Panarin, Alexis Lafrenière, and Jimmy Vesey. The lineup could look like this:
Kreider-Zibanejad-Kakko
Panarin-Trocheck-Kravtsov
Lafrenière-Chytil-Puljujarvi
Vesey-Goodrow-Gauthier
There could be some debate on where each player slots in. Does NYR want the fourth line to be a checking line? How about the third? I cannot speak for the wishes of the organization, but this is how I would situate the team come April. Guys like Blais can fit in with an injury, but ideally, the move would be to play four good scoring lines.
On the blue line, the pick to me is obvious. While he struggled earlier in the year, Zac Jones could and should make an appearance with the team. He would make the youthful blue line a force to be reckoned with, just like the forward group, and would make this team have very little, if any, faults. This would be the blue line:
Lindgren-Fox
Miller-Trouba
Jones-Schneider
Overall, this team is incredibly young. But they also have a ton of skill, youth, and overall longevity that could keep this team contending for not just this year but years to come.
A couple things to keep in mind
A rental makes the Rangers' cap hell worse
To spend big on a rental at the deadline does not make sense cap-wise. It would make it significantly harder for the Rangers to resign their youth, like Kakko, Chytil, and most importantly, K'Andre Miller, and it would also make the depth on the roster worse. To avoid a catastrophe like what the Toronto Maple Leafs have become, having spent half of their cap on four players in a dead cap era, the Rangers should avoid trying to make any more splashes. This team is good – so let them perform!
The 2023 draft class is really, really good
If the price for a player at the deadline is a first-round pick, the Rangers should do everything in their power not to trade it. It might be tempting, but with two first-round picks, they will get some really good players if they choose to use them or to trade up. To say this draft is generational is an understatement; there is a plethora of players who will likely become strong NHL players one day. This is to say that the Rangers, if they play their cards right, could not only be a contender in this coming playoffs but also hold on to two draft picks in an incredibly deep draft.
The Rangers have talent in their prospect pool, and with two 2023 1st rounders, more will come
Perhaps the most important part of this to keep in mind is that the Rangers still have a good amount of young talent that could make an impact at the NHL level. Between prospects Adam Sykora, Brennan Othmann, Will Cuyle, and more, the Rangers have talent that can replace from within when some names leave or decline in production. Combined with two first-round picks this draft, the Rangers are in a position to be both a good hockey team on the ice and a team that continues to draft well off of it. This is a scary combination that the Rangers should be looking to continue in the future.
The boys are back after a long break but have plenty to talk about as the playoffs are in full swing. We go series by series, looking at how teams have fared so far and who will come out on top. Thanks for listening! Please rate and review our show on your favorite listening platform. Check out our partner's website at www.insidetherink.com for all your latest hockey news.