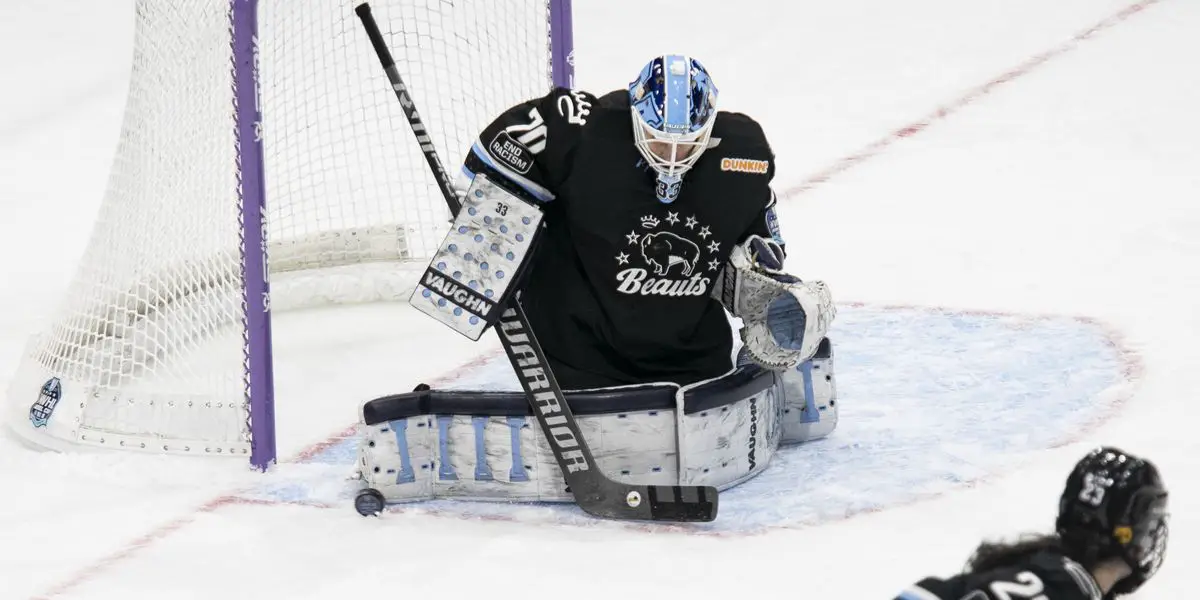 After becoming an icon with the Beauts, Jackson is taking her signature mullet and shut down goaltending style to Toronto. On June 22, one day before Jackson's 25th birthday, The Six announced they had signed the goaltender to a one-year contract. Jackson is their ninth signing of the off-season and second goaltender after Elaine Chuli re-signed back in May. 
She and Chuli could make quite the goalie tandem going into season eight; they are the league's top two goalies. Chuli was the PHF Goaltender of the Year in 2022. Playing with Chuli could help Jackson's game become solid and let her flourish.
One of Jackson's biggest strengths is her glove hand. She played baseball and hockey as a child, helping her build speed, stamina, and a precision catch that even the best scorers have difficulty with. Jackson has always been a stand-out on the ice as an Amherst, Nova Scotia native, and a University of Maine Alumni. In her four years in Maine, she set the university's records in wins, goals-against average, save percentage, and shutouts. Her average save percentage at Maine was a .922. 
2021 was quite the year for Jackson. When she graduated in 2020, she was drafted third by the Buffalo Beauts. She made 43 saves in her PHF debut, a 2-1 shootout loss to the Connecticut Whale in the Beauts' opening game of the 2020-21 season. She was the Beauts representative for the 2021 NWHL Foundation Award, the 2021 NWHL Fans' 3 Stars of the Season (shared with Mikyla Grant-Mentis and Mallory Souliotis), and a finalist for both goaltender of the year and newcomer of the year. Jackson was also named an alternate captain of the Beauts for the 21/22 season, with a 6-11-0 record and a .903 save percentage. 
The news of Jackson singing with The Six was a surprise to a lot of people, including Jackson herself. According to a PHF insider, back in May, it seemed like she would be staying with the Beauts. When it was clear she wouldn't be brought to the Beauts, Jackson's team started talking to several PHF teams to find the best fit. At the beginning of the month, Jackson was unsure about singing with The Six, but they ended up being a great choice. She gets to play for her childhood heroes with Coach Geraldine Heaney and General Manager Angela James. James was a huge part in getting Jackson in Toronto. Her contract conversation with James got her excited to come to Toronto. It became an offer she couldn't say no to. 
The Beauts will always hold a special place in Jackson's heart, but she's excited about what Toronto can offer her. Signing there gives her the chance to be a full-time hockey player, her ultimate goal. 
Everyone signing with The Six this season has described them as exciting and exceptional. With the roster they're putting together, they are living up to that. Hopefully, with all their exceptional talent so excited to play for them, an Isobel Cup could be in their future.