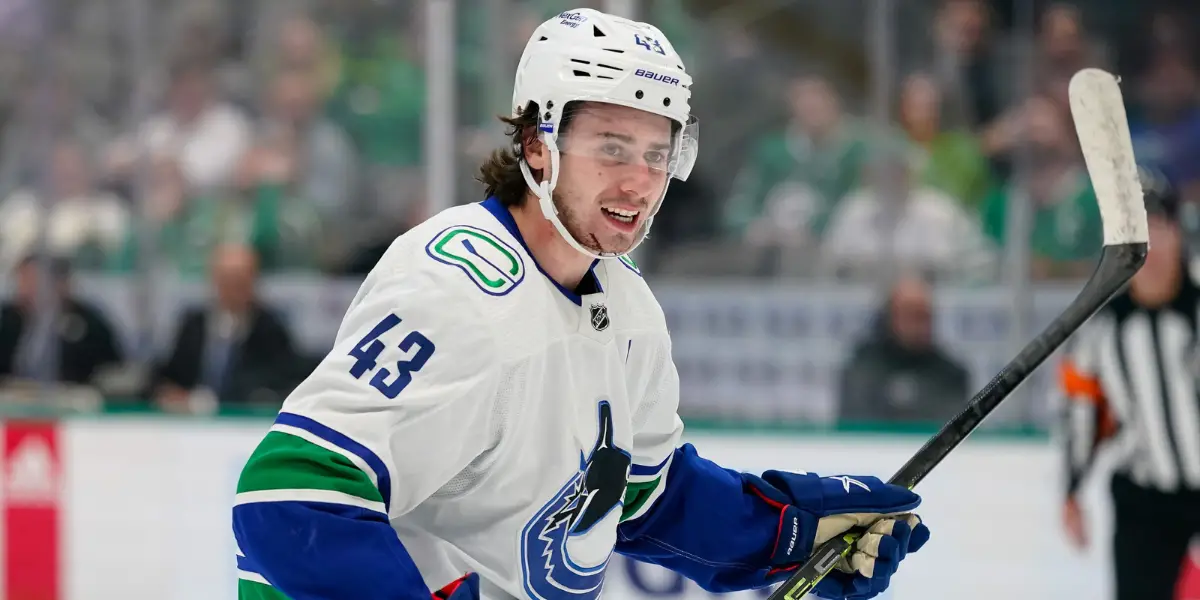 Quinn Hughes, a talented defenseman for the Vancouver Canucks, is no stranger to criticism. Despite being one of the league's top players, Hughes has been the subject of unwarranted snubs by both the league and analysts. The most recent was the NHL Tweet for the Norris Trophy, awarded for the best overall defenseman. This article explores the reasons behind these snubs and argues for Hughes' rightful place among the league's elite.
The Numbers Don't Lie
Quinn Hughes' talent is undeniable. In his rookie season, he finished with 53 points in 68 games, the second-highest point total for a rookie defenseman in the past 26 years. In 2021-22, he finished with 68 points in 76 games. This year Despite these impressive numbers, Hughes has yet to receive the recognition he deserves from the league and analysts. Many of these experts are the first to say he's a defensive liability which is absurd if you watch the 7th overall pick in 2018.
| | | | | | | | |
| --- | --- | --- | --- | --- | --- | --- | --- |
| Season | Team | GP | G | A | Pts | PIM | +/- |
| 2018-19 | Vancouver Canucks | 5 | 0 | 3 | 3 | 2 | 0 |
| 2019-20 | Vancouver Canucks | 68 | 8 | 45 | 53 | 22 | -10 |
| 2020-21 | Vancouver Canucks | 56 | 3 | 38 | 41 | 22 | -24 |
| 2021-22 | Vancouver Canucks | 76 | 8 | 60 | 68 | 28 | 10 |
| 2022-23 | Vancouver Canucks | 78 | 7 | 69 | 76 | 34 | 15 |
Stats provided by hockeydb.com
Some analysts have criticized Hughes for his defensive abilities, claiming that he lacks physicality and struggles in his own zone. However, this criticism is unfounded. Hughes is a dynamic player who excels in all aspects of the game, including defense. His ability to break up plays and create turnovers is a testament to his defensive prowess while usually being one of the smaller players in the league.
A Bright Future
Despite the snubs, Hughes remains a promising player with a bright future. He has already established himself as one of the league's top defensemen and is poised to become a franchise cornerstone for the Vancouver Canucks. As he continues to develop and hone his skills, it's only a matter of time before the league and analysts recognize his talent and give him the credit he deserves.
In conclusion, Quinn Hughes' snubs by the league and analysts are unwarranted and unjustified. His talent and skill on the ice are undeniable, and he has already proven himself to be one of the league's top defensemen. As Hughes continues to develop and improve, it's only a matter of time before he receives the recognition he deserves.
HSP – May 29th 2023 – Canucks Cap Issues, CFL Pre-Season and Arturs Silovs is the man!!!
–
Hughes Sports Podcast- HSP
Introducing the Hughes Sports Podcast, your go-to source for insightful discussions and expert analysis on the hottest topics in the world of sports. Join your hosts, Jake and Kevin Hughes, as they delve deep into the captivating realm of sports.In our latest episode, we spotlight the Vancouver Canucks' cap issues, dissecting the complexities and implications of their financial challenges. Jake and Kevin meticulously analyze the team's salary cap situation, offering invaluable insights into the strategies the Canucks can employ to navigate this obstacle and achieve long-term success.But that's not all! We also dive into the exciting realm of Canadian Football League (CFL) pre-season action. With a keen eye for detail, Jake and Kevin break down the standout performances, highlight emerging talents, and provide a comprehensive overview of what to expect in the upcoming CFL season. Whether you're a die-hard CFL fan or a newcomer to the sport, this episode will keep you well-informed and ready for the gridiron action.And let's not forget our tribute to the incredible goaltending prowess of Arturs Silovs. Recognizing his exceptional skills and immense contributions to the sport, Jake and Kevin pay homage to Silovs' extraordinary talent and discuss how he has become a force to be reckoned with in hockey. From his remarkable saves to his unwavering determination, we delve into why Silovs is the man to watch out for.Tune in to the Hughes Sports Podcast for a captivating blend of SEO-focused copywriting expertise and in-depth sports analysis. Jake and Kevin Hughes bring their passion, knowledge, and wit to the forefront, delivering a podcast that will keep you entertained, informed, and craving more. Don't miss the latest episode—your ultimate sports fix awaits!