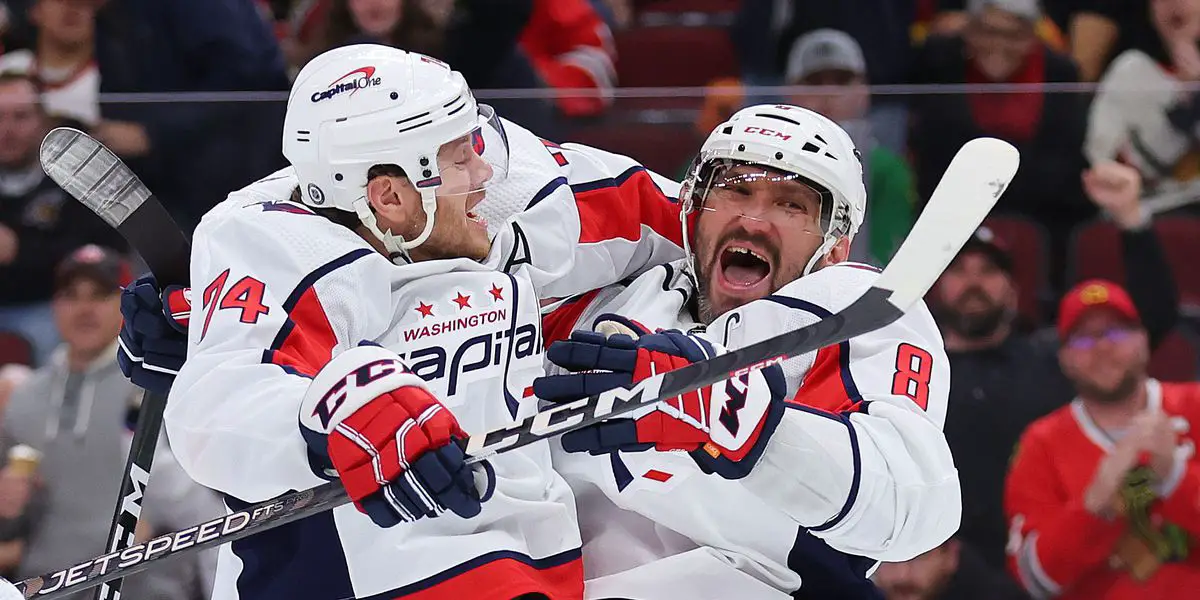 Ever since winning the Stanley Cup in 2018, the Washington Capitals have been a very predictable hockey club.
They would have a solid regular season, get into the playoffs, and they got knocked out in the first or second round. Of course, during these seasons, we would see their captain Alex Ovechkin score a ton of goals and break numerous records.
Fast forward to now, and I believe that the Capitals are in a crucial state in their franchise for a few reasons. They are likely to miss the playoffs for the first time in nine seasons.
As of this writing (Wednesday, February 22), the Capitals currently find themselves out of a playoff spot in what is a very competitive Eastern Conference. The team is 28-25-6 for 62 points, which puts them two points out of the second wild-card spot, which is currently being held by the Florida Panthers, and three points of the first wild-card spot, which is currently being held by the New York Islanders.
The team lost their fifth straight game to the Detroit Red Wings by a score of 3-1 on Tuesday night, February 21. It is certainly not a good thing to lose to a team that you are competing with for a playoff spot and a team that is also playing extremely good hockey.
Another problem that the team has had this season is on offense. Even with the likes of team captain, superstar, and franchise player Alex Ovechkin, who currently leads the team with 32 goals, the Capitals are 18th in the league in goals scored as they have scored 175 goals in 59 games (2.97 goals per game).
After Ovechkin, only five other Capitals have double digits in goals scored. Players like Marcus Johansson (13), Dylan Strome (12), Conor Sheary (12), T.J. Oshie (11), and Nic Dowd (10) have all scored at least ten goals this season.
Even the team's power play, which used to be lethal, has struggled this season. While a lot of that has been due to the long-term absences of players like Nicklas Backstrom and Tom Wilson, the team is 20th in the league with the man advantage as they have converted on 20.4 percent of the opportunities they have been given so far this season.
The Capitals also do not get enough pucks to the net. They are currently 17th in the league in shots per game, averaging 31.4.
According to an article on NHL.com, the Capitals have "11 healthy players eligible to become unrestricted free agents after this season, including defensemen Dmitry Orlov, Nick Jensen, Trevor van Riemsdyk, Erik Gustafsson, Matt Irwin and Dylan McIlrath and forwards Lars Eller, Garnet Hathaway, Sheary, Johansson, and Nicolas Aube-Kubel."
In an article on ESPN.com by the great Greg Wyshynski back in December, Capitals owner Ted Leonsis said that his team would not rebuild with Ovechkin on the roster. Leonsis promised Ovechkin that the club will remain competitive while he chases Wayne Gretzky's all-time NHL goal record.
"I'm not gonna do what I did last time and trade, everybody," said Leonsis, in reference to the total teardown the Capitals endured roughly 20 years ago that resulted in them selecting Ovechkin with the first overall pick in the 2004 draft.
"I'm sure there'll be an influx of some young players, but we are not going to rebuild the team," he said. "To me, a rebuild is when you look the players, the coaches, the fans in the eye and say we're gonna be really, really bad. And if we were really, really bad, I don't think Alex would break the record."
While I understand what Leonsis is trying to say, I am not necessarily sure this is the right move to make. Yes, I understand the importance of having Ovechkin break Gretzky's all-time goal record, but isn't winning a Cup more important?
If this team wants to return to being a Cup contender, which is the only thing that should really matter, changes must be made. The question is whether or not Leonsis and the team's general manager Brian MacLellan, will be willing to do that and risk upsetting their franchise player.
The boys are back after a long break but have plenty to talk about as the playoffs are in full swing. We go series by series, looking at how teams have fared so far and who will come out on top. Thanks for listening! Please rate and review our show on your favorite listening platform. Check out our partner's website at www.insidetherink.com for all your latest hockey news.