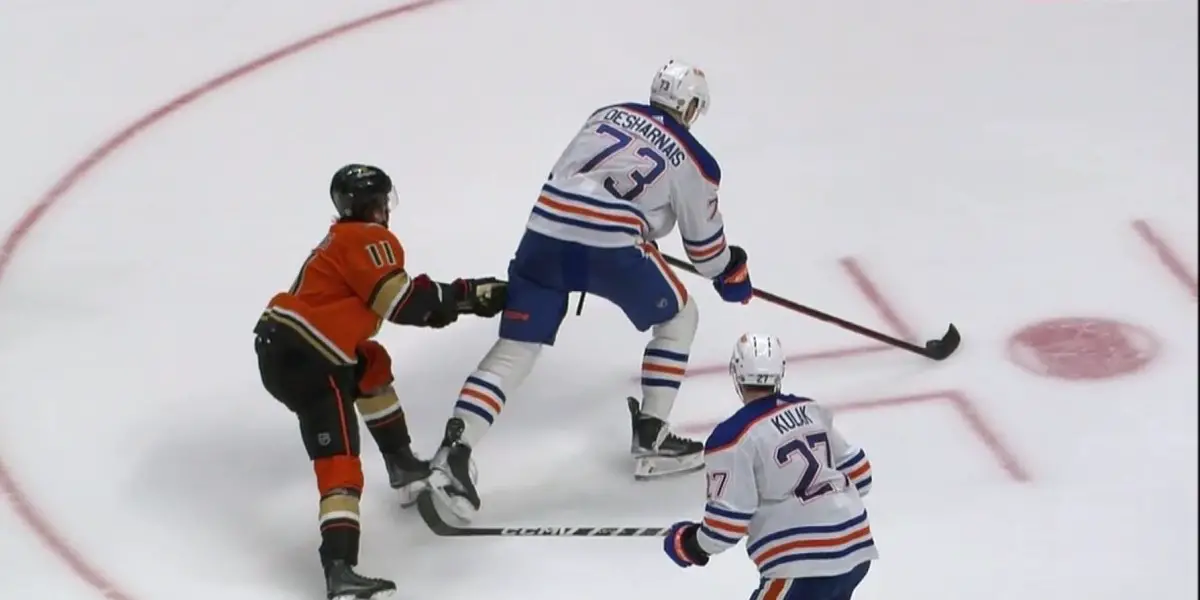 That game against the Lightning was fun, eh? The Oilers only play Tampa Bay twice a year, but you'd think they were long-time rivals with how heated and emotional the players on both sides got. We're halfway through the regular season, and game 47 was a playoff-caliber game against the back-to-back-to-back Eastern Conference Champions. Not only has Edmonton obtained more secondary scoring from not the most usual suspects during their six-game winning streak, but they've also been scoring more garbage goals around the blue paint. It would be best if you learned how to win these types of games leading up to the postseason.
The 26-year-old defenseman Vincent Desharnais made his NHL debut last week and has been an integral part of Edmonton's January success. He has embraced the 7th defenseman role, contributing three assists and making solid, safe defensive plays with his 6'6 frame. It's just too bad he gets penalties for simply being tall.
Congratulations are also in order for Leon Draisaitl and Stuart Skinner, who will join Connor McDavid at the NHL All-Star Weekend. Even Jay Woodcroft needed to ask the media, "When is the last time an Edmonton Oilers goaltender played in the All-Star Game?" Our dreams of a #1 goalie have finally come true after all these years and having Jack Campbell get his game back in order while winning five straight starts, both the Soup and Stu are spicy hot choices on the menu. Connor can keep his plans with Leon that he said he made for Florida before the last few All-Star spots were announced.
Evander Kane returned to the lineup on Tuesday night. He had some excellent scoring chances that would've been goals had he not been coming off that scary wrist injury. He will start capitalizing again when he gets more comfortable, and a good jester by Patrick Maroon during the pre-game with Tampa to check up on him. What's also most impressive about Edmonton's upswing is that their last three wins were them holding the fort and not collapsing against teams that are ahead of them in the standings. They can compete with anyone when they play with the killer instinct and give a *bleep* mentality. They also kept their third-period lead against Vancouver on Saturday night.
As I mentioned in last week's article, the Oilers may still be bending, but they're not breaking like they used to. Teams aren't going to win every game, but the next seven games the Oilers play cannot turn into a slump. They are all against teams well below Edmonton in the standings, including the two coming up before their week off. Playing to the level of their opponents in past seasons and this season is a deficiency they can't afford to let creep in again. They could make a lot of ground with points in the standings and need to take advantage. This week's opponents are…
Wednesday, January 25th at 7:30 pm VS Columbus Blue Jackets
Of course, the biggest game plan against this team is to contain Johnny Gaudreau and Patrik Laine. However, Vladislav Gavrikov has been a rumored trade target for Edmonton for the last little while. If Ken Holland still wants to shop for a defenseman at the trade deadline, Oilers fans will get a good look at examining Gavrikov's game on this night. The shutdown blueliner's size would fit the mold of what the Oilers seem to be putting on during their current string of wins. Should Edmonton win this game, at least don't make it an off night for Gavrikov to see what he can do.
Saturday, January 28th at 8 pm VS Chicago Blackhawks
And if Holland doesn't inquire about a defenseman, I wouldn't mind if he kept tabs on Max Domi. He is a feisty little forward with a modest 30 points through 43 games in his ninth NHL season. He'd be a pretty adequate addition to Edmonton's top nine/middle six forward group and could add to the swagger already shown by Evander Kane and Klim Kostin. I've written about the interest in Patrick Kane or Jonathan Toews before, but it'd not be easy to make the money work. This is the third and final meeting between these teams. The first went back and forth, with both teams trading goals. The second meeting saw the Oilers almost blow a three-goal lead as well as a two-goal lead in the last two minutes of regulation. Please don't make this game a roller coaster, too. Just have it be calm and simple.
The boys are back after a long break but have plenty to talk about as the playoffs are in full swing. We go series by series, looking at how teams have fared so far and who will come out on top. Thanks for listening! Please rate and review our show on your favorite listening platform. Check out our partner's website at www.insidetherink.com for all your latest hockey news.