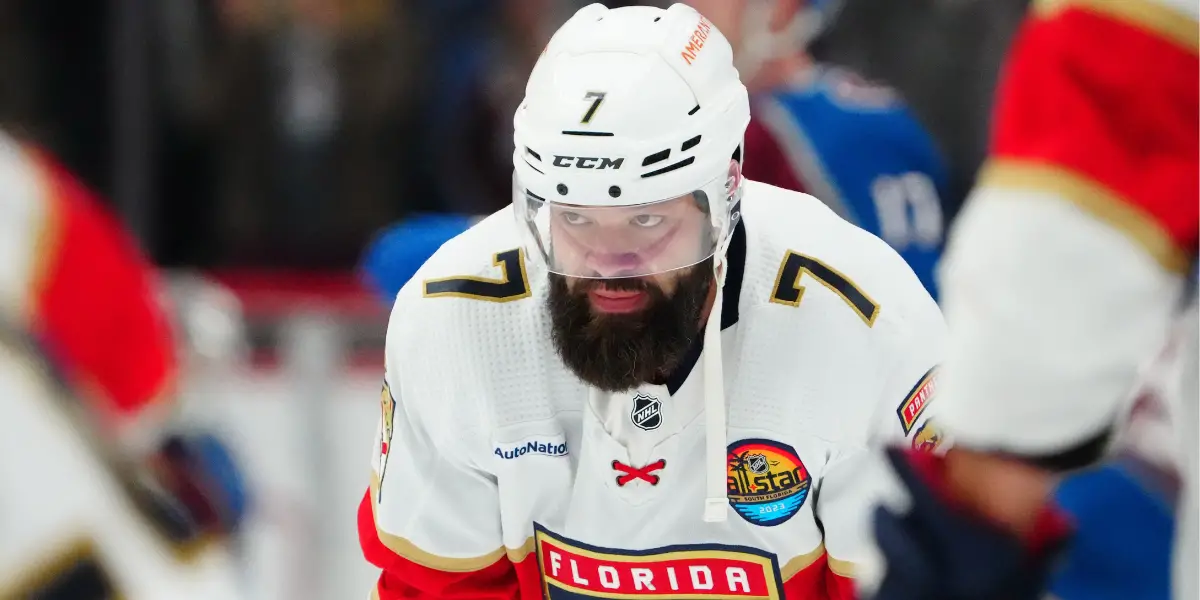 The NHL Playoffs can be as entertaining as any professional sports event—fast-paced, hard-hitting action with loud crowds focused on every second of play. A best-of-seven series can bring the best out of the sport and create rivalries between teams in one playoff round that can last into the next season. The Boston Bruins have a long history of postseason play with an equally long list of playoff enemies. Beginning Monday, a new villain will likely evolve emerge when the Bruins face the Florida Panthers in what will surely be an intense first-round matchup in the NHL Playoffs. The Bruins are the President's Trophy winners with a record amount of regular season wins and points. The Panthers are last season's best regular-season team, who now plays the role of underdog.
But don't tell that to Panthers defenseman Radko Gudas. When asked about playing the underdog in this series with Boston, Gudas seemed very confident in the Panthers' chances. "I think we are a confident group who believes we can play with anyone," Gudkas explained. "The way we played Boston all season, it gave us confidence. They are the team they are for a reason, but we are in the playoffs for a reason as well. I am excited about the challenge. If you want to win it all, you have to get through the biggest hurdle, and that's right from the start for us." Gudas continued with a simple statement. "Hey man, we're in the playoffs. Let's f—ing go". Via George Richards of Florida Hockey Now.
When looking for a villain for Bruins fans to jeer in the playoffs as they did with former Carolina Hurricanes' defenseman Tony D'Angelo last season, look no further than Gudas. The 6-foot, 210-pound blue liner has a reputation for aggressive hits that can cross the line, as evidenced by his four career suspensions. Gudas is not on the ice to provide offense. The rugged defenseman's career high in goals is six in the 2016-17 season, and he has only scored one career postseason goal in 36 career playoff games. Gudas is on the ice to hit and play good, hard stay-at-home defense with a little choppiness added to the mix.
Gudas finished the regular season with 312 hits, good for second in the NHL. The Prague, Czechoslovakia native is first on the team in penalty minutes (79) and blocked shots (124). It is clear what Gudas' role is. He is on the ice to be physical and play defense in front of the goalie with an edge. As far as reputation is concerned, there is another piece to Gudas' scouring report. He will start the scrum but probably won't finish it. Gudas has a history of cheap shots and head hunting but will skate away from the response.
In a January game against Montreal, Canadiens rookie Arber Xhekaj questioned Gudas' motives. It was late in the third period, with the Panthers up 6-2, and Gudas wasn't called for a penalty on a questionable hit on Kirby Dach. Post-game, Arber Xhekaj slammed Gudas for not "answering the bell."
"He never does. I don't know what's up with that guy. He'll be taking runs at guys' knees all game. He does play hard, I'll give it to him. But at some point, you've gotta show that you're going to be able to do that."
Radko Gudas is confident that his Panthers can pull off the upset, and you can bet that the agitator will insert himself early and often in this series. Bruins fans can get ready to hate their newest villain, Radko Gudas.
Season 3 Premiere! Bruins Prospect Challenge recap. Training Camp begins. The Bruins have a new captain. Jake DeBrusk contract negotiations beginning soon. The Bruins Historic 100 and new sweaters!  The Centennial season is here! DraftKings Sportsbook – Boston's hometown Sportsbook is LIVE right here in Massachusetts! Bet local on all your favorite sports from the comfort of your own home with DraftKings. To celebrate, ALL new customers will receive up to TWO HUNDRED DOLLARS in BONUS bets when you sign up for DraftKings Sportsbook using code ITR! You can now bet local on money lines, spreads, props, and more with one of America's top-rated Sportsbooks – DraftKings Sportsbook!  Download the DraftKings Sportsbook app and sign up with code ITR to get up to TWO HUNDRED DOLLARS in BONUS bets to use now that mobile sports betting is live in Massachusetts. That's code ITR only at DraftKings Sportsbook. If you or a loved one is experiencing problems with gambling, call 800 327-5050 or visit helplineMA.org to speak with a trained specialist, free and confidentially, twenty four seven. 21+. Physically present in MA. Eligibility restrictions apply. Subject to regulatory licensing requirements. Eligibility and deposit restrictions apply. Opt in required. Bonus issued as free bets. Terms at draftkings.com/MA.