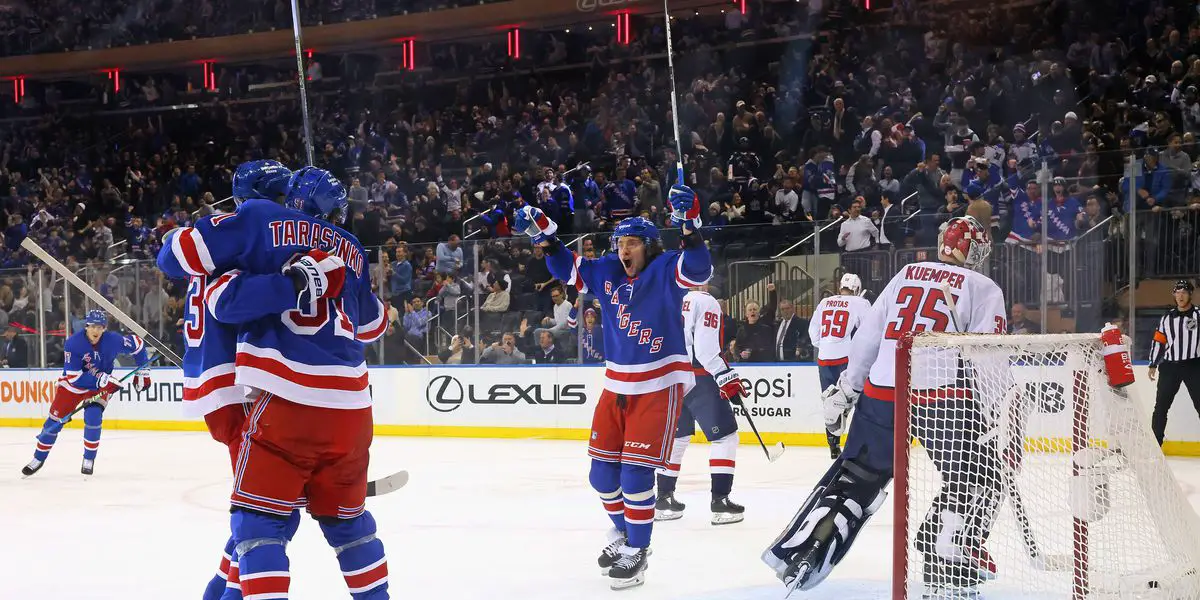 Admittedly, not much intrigue remains for the last five games of this season. Don't get me wrong; this is primarily a great thing. The playoffs will bring all the drama and nerve-wracking intensity one can handle.
Sure, there's still a sliver of a chance the Rangers can catch the Devils, but it's more likely they will be cemented into the 3rd seed in the Metro, which is fine. I'd even argue that if the Devils are the matchup, home-ice advantage takes on less value.
So while that's great for just enjoying the rest of these games as a metaphorical calm before the storm, it doesn't provide much article-worthy content. So, that's all I got. Thanks for reading.
Okay, I was just kidding. The downtime has got us all taking a breath and hypothesizing what the Rangers need to do to make this a deep run into late spring. By all accounts, the roster has been shaped for one, but that does not guarantee even a first-round victory. There are many reasons and specific players you can focus on as keys to success.
For this purpose, I will highlight three aspects of the Rangers' game that need to come through in the postseason if they want the ultimate ending. None of these will be super clinical or stats-driven and may seem obvious, but they all should be familiar to anyone watching the team this year.
A PASSING FANCY
Let me be clear; I am not asking the Rangers to become a firing squad from all angles. However, this team never met a pass it didn't like to try, and I believe it has become a detriment to production.
Players will forgo point-blank shots close to the net several times a game to pass the puck to a teammate at an impossible angle. I realize that this is sometimes needed for a reset, but the other team's defense often clears the puck without us getting a shot off. All I'm asking with the sniping skill on this team, especially with the additions of Kane and Tarasenko, is to take the prime shots when they are presented. Then, at WORST, you're bound to get a juicy rebound or deflection.
With the number of playmakers on this team, expecting any significant change to their mentality is foolish, but a simple adjustment can make all the difference.
CAN I GET A LIFT?
This one is a little trickier, and I know it falls under the category of "easier said than done." However, I truly believe the Rangers would become an unstoppable force of production if more of their players worked on lifting the puck when shooting.
Too often, what is deemed a "good save" by the goalie could have been our goal if we simply elevated the shot over the goalie's pads.
Generally, this team has a frustrating habit of hitting the goalie right in the chest or missing the net entirely.
As mentioned at the start, this sounds like an obvious ask, but it rings true with a team this skilled. The margin of error in these games is predominately minuscule. I'm confident we will get several chances throughout most of our games.
The difference between moving on could come down to the more opportunistic team with their chances. If we lose, so be it. However, I don't want to be haunted by too many memories of "what ifs?" on saves that should have been goals if only we found the high corners of the net instead of lackluster attempts that made the opposing goalie's job easier.
IN THE CLEAR
This last category deals with the defensive zone, and it might be the most underrated difference between success and failure.
But, when this team is playing right, they are decisive with the puck and get it out of their zone with authority.
WAY too many times, though, the Rangers will get hemmed in their own zone due to feeble attempts to clear the puck or just a comedy of errors and turnovers. This CAN'T happen in the playoffs.
Most of our goals against are clear byproducts of these failures, not to mention the energy wasted by players staying on the ice for extended shifts. Reversing this trend will not only help in the defensive end but can lead to quicker breakouts and increased offensive rushes down the ice, which has been lacking for long periods of time.
No one expects perfection for sixty minutes, but improved efficiency in this area can be the foundation of a solid all-around game.
The Rangers have the pieces to thrive and conquer. If those pieces become opportunistic, employ smart strategies and sound execution on the chessboard, they'll do just that.
In this weeks episode former Rangers goalie Dan Blackburn comes on to discuss his time with the Rangers, the draft, and more.Thanks for listening! Please rate and review our show on your favorite listening platform. Check out our partner's website at www.insidetherink.com for all your latest hockey news.