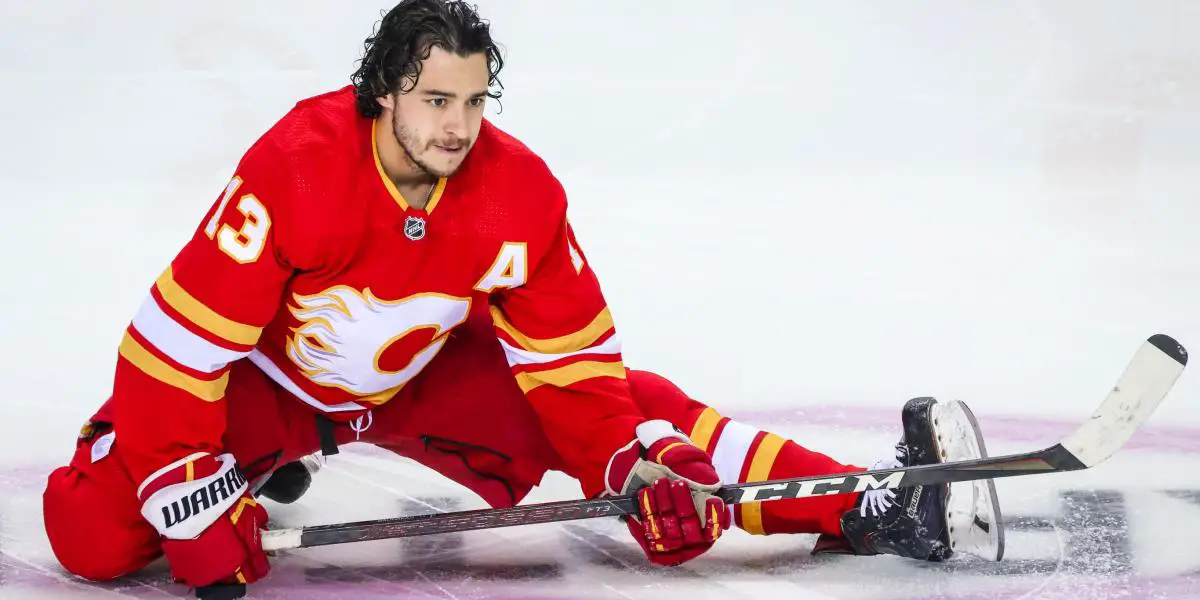 With Free agency opening today, July 13th at noon, all the craziness the NHL has seen to this point with the NHL Entry Draft, and all the trades that have been made should continue as some major names around the league gear up to switch teams. While some teams have plenty of cap space to outbid and overpay players, there are still cap-strapped teams that will look to unload contracts, so keep an eye out on the trade market as well.
Johnny Gaudreau
The biggest name in this year's free agency class, Johnny Hockey, will be getting paid. But the question lies in where he will choose to take his talents. It's been reported that the Calgary Flames have offered him eight years and north of $10 million to stay, but at this point, it seems it's all about location for Gaudreau and his family. Gaudreau is from New Jersey and grew up a Philadelphia Flyers fan, and they have been clearing cap space as they will attempt to make a pitch to bring him home. The New Jersey Devils already have the cap space to fit that kind of deal in, and with the young core they have been building over the last few years, they offer the upside. The Flames also have to offer Matthew Tkachuk, Andrew Mangiapane, and others new contracts, so Gaudreau walking would allow them to spend elsewhere. The 28-year-old Gaudreau finished last year with 40 goals and 75 assists for 115 points and will be an upgrade to whichever team lands his services.
Nazem Kadri
Coming off a career year and winning the Stanley Cup Championship, Kadri will look to cash in this off-season one final time as the 31-year-old will look for term along with a high price tag. Plenty of teams need center help, and having a veteran who can not only score but plays that chippy, hard-nosed hockey will be a plus to a team looking to contend for the cup.
Taking a pay-cut and remaining in Colorado is not out of the question but look for teams like the Boston Bruins if they can clear enough cap space or the Washington Capitals, who just lost Nicklas Backstrom, to make a push at the established veteran.
Kadri finished last season with career highs in points (87) and assists (59) while also scoring 28 goals. In the playoffs, he added another seven goals and eight assists for 15 points across 16 games, increasing his value as he showed he's a proven winner and can produce when it matters most.
Ondrej Palat
The long-time Tampa Bay Lightning will hit the free agency market after appearing in three straight Stanley Cup finals and winning two Stanley Cup Championships. General Manager Julien BriseBois has his hands full this off-season, he's already signed Nick Paul to a multi-year deal and now it's time to sign the man whose been with the team since Day 1 and was apart of the triplet line. Palat has been a vital part to the Lightning winning two championships in three years and seeing him go would not make fans happy.
The winger is a consistent 40-point player with great defensive ability as he's crossed the 40-point threshold the last three seasons. This year during the playoffs, Palat came up clutch, recording five game-winning goals as he now has 79 points in 124 playoff games.
Palat is coming off a deal that paid him $5.3 million a year and will be definitely be getting a raise. The Lightning have already started to clear cap space by trading Ryan McDonagh to the Nashville Predators.
Palat would be a great addition to any contending team, but it seems that the Tampa Bay Lightning are going to do what it takes to keep their 2011 seventh-round pick right where he belongs and make him a lifelong Lightning.
Jack Campbell
The goalie market will be hot this off-season as many teams will look to sure up their goaltending position. Campbell is hitting the market at the perfect time as he will certainly get paid this off-season. With the way, the market will unfold, expect Campbell to receive around $5 million annually, which Toronto will not be able to afford.
Campbell has come into his own since he was traded to the Maple Leafs as he's flourished as the backup before taking over as the starter. The players on the team love him, and he is great in the locker room. Unfortunately, he is going to demand a high price leading to him finding a new team.
Keep an eye on the New Jersey Devils and the Edmonton Oilers as they both need to upgrade their goaltending situation.
John Klingberg
This is an interesting situation as it was expected for the Dallas Stars to trade Klingberg at the trade deadline as extension talks soured between both sides. Klingberg has been frustrated with the whole process as he wants to get paid more than the $4.25 million he was making annually. Even with his production dipping, the 29-year-old is still excellent on offense as he's coming off a season that saw him score six goals and tally 41 assists for 47 points in 74 games.
If there is a comparable on the market, it is Mattias Ekholm of Nashville, who just signed for $6.25 million a season which is pretty team-friendly. If the Dallas Stars wish to keep Klingberg around, it will cost north of $6.25 million, as some reports indicate Klingberg is looking for $8 to $9.5 million annually. The Stars already have Miro Heiskanen, Esa Lindell, and Ryan Suter locked up to long-term deals, so it seems Klingberg is the odd man out, and if some team is willing to pay him, what he wants, then he will sign elsewhere.
Claude Giroux
One of the most sought-after players at the trade deadline, Giroux, now hits the open market as he will once again be a hot name. At 34 years old do not expect Giroux to command over $8 million a year like his younger days. His focus will be signing with a contender so he can finally win a Stanley Cup.
He fit in nicely with the Florida Panthers, who acquired him at the trade deadline. Two teams that Giroux agreed to be traded to at the deadline were the Florida Panthers and Colorado Avalanche. If the Avs can not bring Nazem Kadri back, expect them to push hard for Giroux, who is still a point-per-game player.
Staying in Florida is definitely still on the table as he was a good fit, and general manager Bill Zito gave up a lot to acquire him. Florida will make Giroux a priority as they try to take the next step after winning the President's Trophy before underperforming in the playoffs.
Vincent Trocheck
The 29-year-old came to Carolina in 2019-20. The Hurricanes acquired him at the trade deadline from the Florida Panthers in exchange for four players. Since joining Carolina, he's been a reliable 20-goal and 50-point scorer while providing defense.
While Trocheck hasn't reached the same offensive heights as he did in 2017-18, he has emerged as a reliable top-six center. He has scored 96 points in 135 regular-season games in Carolina. And he added 10 points in 14 playoff games this year.
Two teams that make the most sense as potential landing spots for Trocheck are the Detroit Red Wings and Boston Bruins. Detroit is showing they are willing to mix in some veterans to play with the young core as they are inching closer and closer to competing soon and possibly next year. Bruins have question marks surrounding their top-six center spots, and Trocheck would address that if Marchand and the Prius can get along. It seems his days in Carolina are over, and Trocheck will be signing with a new team once free agency opens.
Andre Burakovsky
The 27-year-old Burakovsky is coming off his best season as a pro, recording career highs in goals (22), assists (39), and points (61). He helped the Avalanche win a Stanley cup by adding three goals and five assists for eight points in 12 playoff games. Burakovsky showed his toughness in the playoffs as he played through a broken ankle and thumb before being held out of the last four finals games due to the injuries.
Avalanche opted to lock up playoff hero Valeri Nichushkin for eight years for $49 million, and with the team needing a second-line center with the possibility of Nazem Kadri on the move in free agency, Burakovsky looks to be the odd man out. He is set for a pay raise after making $4.9 million annually over the last two seasons. He will have plenty of suitors as he's just hitting his prime and is a big body winger at 6'3″ and 201 pounds. Look for a contender or an upcoming team such as the New Jersey Devils, who need to add talent on the wings next to their young stud centers.
Andrew Copp
After forcing his way out of Winnipeg by betting on himself and not signing long-term, he was shipped off to the New York Rangers at the trade deadline. Winnipeg got a haul that included Morgan Barron, two conditional second-round picks, and a fifth-round pick in 2023. One of those second-round picks turned into a first-rounder thanks to the New York Rangers making it all the way to the Eastern Conference Finals.
Bruising and productive, Copp only elevated his game since the deal. The versatile two-way forward cracked the 20-goal and 30-assist marks for the first time in his career. He proved even more valuable in the playoffs, skating more than 20 minutes a night, scoring big goals, and contributing to special teams.
Copp and the Rangers have not been able to agree upon a deal, and he will be hitting the open market where he should be able to receive $4.5 to $5 million annually as he's proving he can be a productive two-way center on a team's second line. At age 27 and being able to play both center and wing, there will be plenty of suitors for Copp when the market opens at noon.
David Perron
The 34-year-old Quebec native has most likely played his last game in a Blues uniform. Coming off a four-year $16 million contract which Perron outperformed, he is due for a major pay raise even with his age. Last season he finished with 27 goals and 30 assists for 57 points as he recorded his third straight season of 50 plus points. He also added nine goals and four assists for 13 points in 12 games in the playoffs. The veteran who is closing in on 1000 career games and 700 career points would be a pivotal addition to a contender looking for scoring on the wing in their top six.
With the St. Louis cap situation and the direction they are going in murky with both Tarasenko and Krug reportedly being shopped, Perron could be a casualty as they look to go younger and free cap space. Unlike the two times, Perron left St. Louis in the past, if he goes this time, he's probably not coming back again. Look for teams to throw a contract with an amount north of $5 million annually at Perron as he'll be sought after.
The boys are back after a long break but have plenty to talk about as the playoffs are in full swing. We go series by series, looking at how teams have fared so far and who will come out on top. Thanks for listening! Please rate and review our show on your favorite listening platform. Check out our partner's website at www.insidetherink.com for all your latest hockey news.