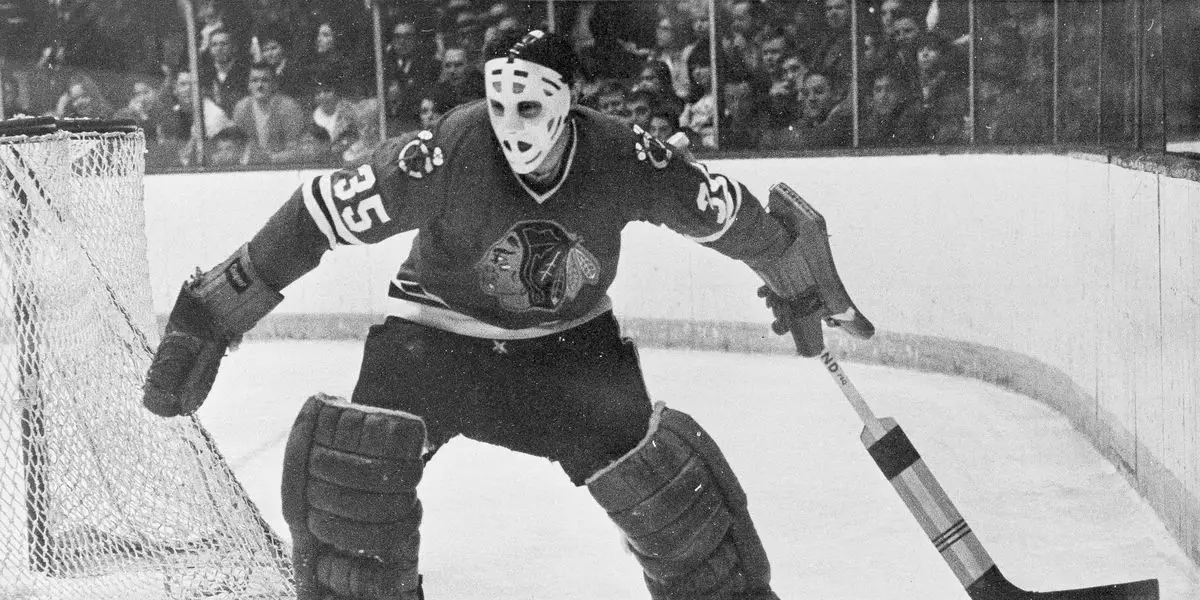 Founded in 1926, the Chicago Blackhawks have had a deep repertoire of goaltenders throughout their history. But who was the best goalie to put the pads on for the Blackhawks? The top 5 goaltenders:
Honorable mentions:
Nikolai Khabibulin:
Khabibulin played only four seasons for the Blackhawks. The Bulin Wall played a total of 206 games with a 2.84 GA and a .902 SV%. Winning 91 games while wearing a Blackhawks sweater. It's a stretch to talk about him as a Blackhawk great, and he was one of the more electric goalies to watch. 
Antti Niemi:
Niemi is a significant reason the Blackhawks ended the 49 year Stanley Cup drought. During that one season, Niemi was just brilliant. His true brilliance that year was in the playoffs. Jeff Carter still loses sleep over Niemi just robbing him in the finals in 2010. Antti Niemi was the starter for one season before leaving to play for the Sharks. That one season ended the drought and will be remembered forever. 
Ray Emery:
Emery will always be a Chicago fan favorite. Emery only played two seasons in Chicago as the backup. Emery was not your average backup. Emery was a significant part of the Blackhawk's historic 2012-2013 season. During this season, the Blackhawks wouldn't lose a game in regulation till the 25th game of the season. Emery would also get to lift the Stanley Cup at the end of this season. Emery was a player and person that would stand up for anyone. In 55 games, Emery won 32 of them. Having a .908 SV% and a 2.47 GA. in his short time in Chicago. R.I.P you'll be forever missed by Blackhawks fans.
Scott Darling: 
I had to bring up the first hometown kid to win the Stanley Cup with the Blackhawks. Plus, without Darling coming in and winning a few games vs. Nashville in the 2014-2015 playoff run, there may only be two Cup wins in the 2010s. Darling played in 5 games during that run, going 3-1 with a 2.28 GA and .936 SV%. That is just unreal… okay, I just wanted to shout out Scott Darling. He was always a fun goalie to watch, and his ability in the net reminded me of Ben Bishop. 
Number 5:
Michael Karakas:
Karakas played for the Blackhawks from 1935-1936 through 1939-1940 before leaving and playing for the Canadiens and multiple AHL teams. Karakas would return to Chicago in the 1943-1944 season for a few more seasons. Karakas was also the first Greek descendent to play in the NHL. Along with the first American-born and American-trained goaltender. Karakas would lead a Blackhawks team with a win % of .411 to the Stanley Cup. Karakas would actually break his toe during this championship run, miss a game, and come back with a steel boot to win the next two games and the Stanley cup. The 1937-1938 Chicago Blackhawks are 1 of 2 teams to win the Cup with a win percentage below 500%. Karakas elevated his play and lowered his GA to 1.71 in the playoffs from 2.80 in the regular season. Karakas would play a total of 331 games with the Blackhawks. 2.09 GA during this time while collecting 114 wins. Karakas also made it into the HOF. 
Number 4:
Ed Belfour:
Eddie, the eagle, is one of the most iconic Blackhawks goaltenders. His red mask with the white eagle is one of the all-time best masks. Belfour would sign with the Chicago Blackhawks after not being drafted. Belfour got his first entire season in the 1990-1991 season. Belfour would set the Blackhawks and NHL record for wins as a rookie with 43 wins. Ed would also win the Calder Trophy as a result. Belfour would also be a finalist for the Hart Trophy that season and become the first rookie goaltender to be a finalist. Over his Blackhawks tenure, Belfour would play 415 games, winning 201 of those games. Belfour would have an SV% of .903 and a GA of 2.65. Ed was also a tough guy in the net and led the Blackhawks all-time in penalty minutes from a goaltender by a mile with 240; the next closest is Glenn Hall with 62. Eddie, the eagle, did lead the Blackhawks to the finals one time but came up short to the Pittsburgh Penguins. The Hockey Hall of Fame would induct Belfour in their 2011 class.
Number 3:
Corey Crawford:
Crawford was drafted 52nd overall by the Blackhawks in 2003. The Chateauguay, Quebec native, would take a few years down in Rockford to develop before making his NHL debut on January 22, 2006, coming in in the third period in relief versus the Wild. Crawford would continue to move between the NHL and AHL before taking over the net in 2010-2011 and not looking back on his way to winning two Stanley Cups. Crawford was a crucial player in the 2013 and 2015 cups. Corey easily could have won the Conn Smyth in 2013 over Patrick Kane. Crawford had a sensational .932 SV%…… That is CRAZY good. He also had a 1.84 GA on that Stanley Cup run. Crawfords play was not far off on the 2015 cup run, posting a .924 SV% and a 2.31 GA. Chicago does not win those cups without Crawford in the net. During the 2015 finales, Crawford just stoned Stamkos on a breakaway with a pad save to keep game 6 0-0 mid-way in the second. Keith would score the Stanley Cup-winning goal just minutes after that save. Crawford is underrated as a goaltender. His career starts in the playoffs consist of having a .918 SV% and a 2.38 GA. His calm, cool, and collected play style kept the Blackhawks calm at all times. Crawford wasn't the most athletic goalie, but he always had the right angle to make the save look easy. And when he needed to make a crazy save as he did in Montreal, where he made a jumping glove save. By the time Crawford's career with the Blackhawks would come to an end, he would play 488 games, winning 260 of those games with a 2.45 GA and .918 SV%. Will Crawford make it into the HOF as Belfour did? Probably not, but Crawford won 2 Stanley Cups more for the city of Chicago, and this is the ultimate reason I have him one spot over Belfour.
Number 2:
Glenn Hall:
Hall is a HOF goaltender that was born on October 3, 1931, in Humbolt, Saskatchewan. Chicago would trade for Hall. A trade that Detroit Fans will still regret. Hall would go on to win 2 Vezina Trophies with the Blackhawks. Glenn Hall would be the Starting goaltender when the Blackhawks ended their Stanley Cup drought in 1962. During his time with the Blackhawks, Hall would play 618 games for the Blackhawks. Two hundred seventy-six victories place Hall 2nd but not even close to Tony O on the Blackhawk's all-time win list. Hall would have a stellar SV% at .916 and a GA of 2.60 while in the windy city. Remember that he played between 1957-1966 with Chicago before leaving him unprotected, and the Blues would select him in the expansion draft. Hall also has an unbeatable record of completing 502 straight games as a goaltender. that is insane! Hall literally started every game for the Blackhawks in a season before. Hall was one of the best goalies in the NHL during his time. 
Number 1:
Tony Esposito:
Tony O is the Blackhawks career leader in wins with 418 wins. Also, the Blackhawks leader in games played as a goaltender with 873. Over those games, Tony O would collect himself 74 shutouts! That is not a typo. Tony Esposito is not only the all-time best Blackhawks goalie, but he is one of the best goalies and overall players ever to play the game of hockey. Esposito loved the game and the fans. After hockey, he would spend his life as an ambassador for the Chicago Blackhawks and would continue to grow the game long after he hung up his skates. His career was excellent at a time where goalies were still wearing a Jason mask. If they even had a mask on at all, Tony would just sacrifice his body, stopping everything and anything shot his way with an SV% of .906 and a GA of 2.93. It really isn't close to who the all-time best goalie for Chicago is. It's Tony Esposito, and that's all there is to that. May he rest in peace.