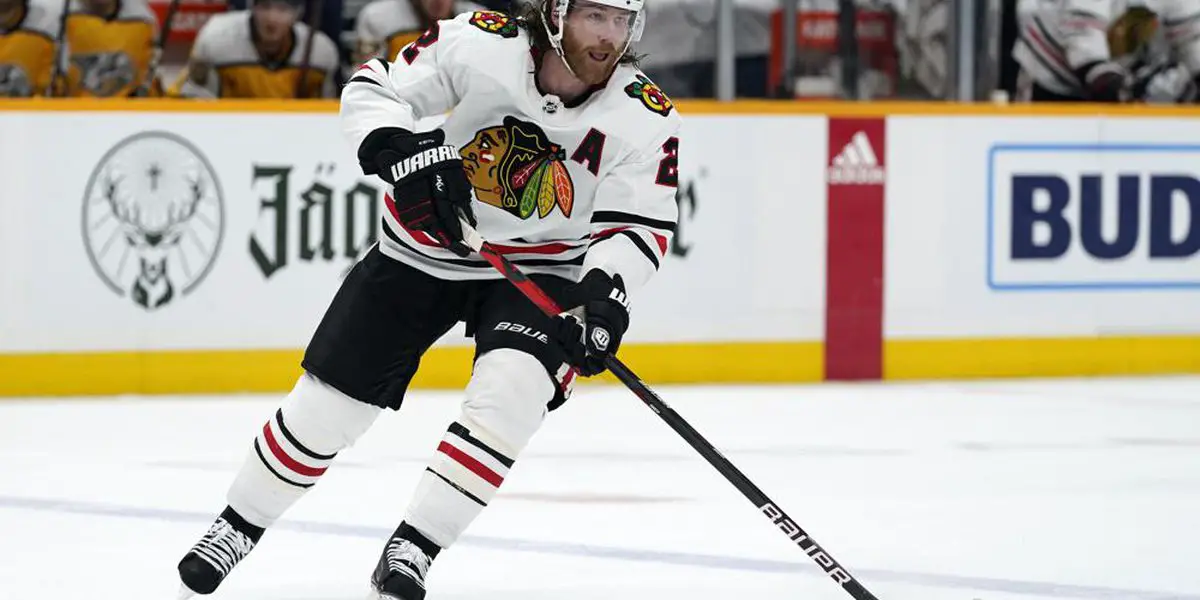 This is pretty much a Hall Of Fame list. The Blackhawks are full of star defensemen. You can go to any era, and there will be a name that stands out. While I was digging into the player's history and moments that these legends were involved in just gave me a nostalgia high. Then there were some names that you just forgot about.
Honorable Mentions:
Keith Magnuson:  Out of all the names left off the list, Magnuson was the hardest to leave off. Magnuson is a true Blackhawks legend. Magnuson played with an edge to him. Magnuson shied away from no one, and he was willing to fight, slash or do anything it took to win. His willingness to do whatever it took regardless of his body would lead him to get the "C" sewn on his sweater. Everyone loves to talk about the mass amount of penalty minutes Magnuson had (1,442 PIMs). Over his career, that was all spent in Chicago. Magnuson would score 14 goals and 125 assists, totaling 139 points.
Niklas Hjalmarsson:  You can't talk about Chicago defenseman and leave out the Hammer. Hjalmarsson was a puck eating machine and was an anchor on the back end for the Blackhawks over their dynasty run in the early 2010s. Who doesn't remember the goal that wasn't allowed versus the Red Wings, how pissed Hjalmarsson was slamming his stick into the boards. Or when he inaugurated Backes in the playoffs. Hjalmarsson would sadly not play his whole career in Chicago. He would total 623 games in Chicago, tallying 23 goals, 120 assists, and 143 total points before being traded by Stan Bowman in a panic move. 
Brian Campbell: Good ole Soupy. Campbell wasn't in Chicago the longest, but his smooth skating and electric passing abilities won't ever be forgotten. His tenure would only last 295 games, but he would muster up 134 points (24 G 110 A) as a member of the Blackhawks. Plus, Campbell assisted on Patrick Kane's 2010 Stanley Cup-winning goal. 
Jack O'Callahan:  Yeah, this is the O'Callahan from the 1980's Lake Placed United States Olympic team. The Blackhawks would draft OC 96th overall in the 1977 NHL draft. He wouldn't go on to have the most illustrious career, but it is awesome to think OC would go on to wear a Blackhawks jersey after such an outstanding accomplishment, winning gold at the Olympic games. Some people say it was a miracle. O'Callahan would play 303 games scoring 79 points (15 G 64 A). He would be a plus 21 and had 393 penalty minutes in Chicago. 
Bobby Orr: Orr should have been a lifelong Bruin. But He was not, and it's nifty as a Blackhawks fan to think at one point Chicago called Bobby Orr their own. Orr was hurt most of the time over his two seasons with Chicago. Playing in only 26 games. Scoring 6 goals and 21 assists for 27 points. Still over a point per game even with the injuries and father time catching up. 
Now to get to the five best defensemen to ever lace their skates in the windy city. Here are your top five defensemen.
Number Five: 
Brent Seabrook: His legacy will always have a little tarnish with how it ended, but don't you dare forget what Seabs brought to the game. He was a true leader. When Toews was just losing his freaking mind in the playoffs, who went to talk to him, Seabrook did. Seabrook was a player who sacrificed anything at all cost. He would deliver some of the most bone-crushing hits, Yeah he also received a few. He had the clutch gean flowing through his body and would score three overtime playoff goals which tie him for 21st all-time. Patrick Kane, even though it was a good idea to try to pick him up following the triple-overtime goal versus the Preds. Bruins fans won't forget his blast from the point in game four of the 2013 finals and ask Red-Wing fans what happened after the previously mentioned disallowed Hjalmarsson goal. Seabrook would play 1114 games all in Chicago before his body couldn't take it anymore, and he was forced to retire, and his contract would eventually be moved to the Tampa Bay Lighting. Seabrook would do more than design a few hats for the Blackhawks store he would go on to finish his career 22nd all-time in points for Chicago with 464 (103 G 361 A). Seabrook was one of the two stallion defensemen the Blackhawks had on the backend on the way to three rings.
Number 4:
Chris Chelios: Now, Before you go hit your keyboards saying he's too low on this list, take a minute and factor in how long he was a Blackhawk. He only played in Chicago for Nine seasons. Chelios is more than a Blackhawks legend but a hockey legend and an idol to many players who are now in the league. The hometown kid would come to Chicago at the beginning of the 1990s and league as the decade ended in 1999. He would go on to win the Norris Trophy twice while in the Windy City and even become the captain of the Blackhawks. If Chelios played his whole career in Chicago, he would be much higher on this list, but sadly he only spends nine years of his Hall of Fame career playing for Chicago. Chelios comes in 20th all-time in points for the Blackhawks with 487 (92 G 395 A) over 664 of his 1651 career games.
Number 3:
Doug Wilson: San Jose Sharks Gm comes in at number three. Before wearing suits and playing with lawyers and contracts, Wilson was a stud NHL defenseman. Wilson was selected sixth overall by Chicago. He would play 938 games for Chicago before being traded to the team he is now General Manager of. Wilson was one of the best defensemen of his era and would make the All-Star team seven times as a Blackhawks, always representing the city of Chicago with great pride. Wilson was easily the best defenseman for the Blackhawks while he was in town. He would win the Norris Trophy in the 1982 season (39 G 46 A 85 P). Wilson has more points than any other defenseman in Chicago's history. He scored 225 goals and 554 assist for a total of 779 points. That's good enough for points for the seventh spot on the Blackhawks leaderboard. 
Number 2:
Pierre Pilote: Another three-time Norris trophy winner has found his way onto the list. When you think of the old-time Chicago Blackhawks, a few names come to mind Hull, Esposito, and of course, number three, Pierre Pilote. Pilote was the man staple of the Blackhawks in the 1960s and wore the "C" on his chest for seven seasons. Pilote was an eight-time NHL all-star. He was also on the 1961 Chicago Blackhawks team that won the Stanley Cup. Pilote's #3 (and also Magnuson) is retired as it should be for Chicago. Pilote would play most of his career for Chicago. He would pull the Blackhawks sweater over his head 821 times, scoring 77 goals and 477 assists, totaling 477 points. Pilote was more than just points though he brought it in his defensive zone as well, finishing at a plus 182 in Chicago before moving one for his final season.
Number 1:
Duncan Keith: Keith is everything you want in a player. He had the speed to cover the whole zone and the ability to stop on a dime and change directions. His stick was like a snake attacking opposing players. Keith had the stamina of a horse. Keith would be the Blackhawk's top defenseman through all three cups, and let's be honest, he was half of the defense on the cup run in 2015. Keith would take home the Conn Smyth as well this postseason. Keith is a lock to go into the HOF and should have his number two sent to the rafters in the United Center. He would truly dominate the early 2010's winning two Norris Trophies. He is second in games played with 1192, over which he would score 105 goals and 520 assist for a total of 625 points. He just had the "it" factor and never wavered on the ice. His poise is unmatched, and he was on full display versus the Preds in 2015, faking the shot, not one time but twice before firing home a blast from the blue line to take the lead late in the third. Keith ultimately comes in higher than the rest because he played more games for the Blackhawks but was more successful than the others. Keith was one of the best defensemen to ever play the game. When he was at his peak, he could completely take over games. "It's better to live one day as a lion than a thousand days as a lamb" – Duncan Keith 2013 Stanley Cup parade
Also please check out my new podcast, Cue The Dagger!