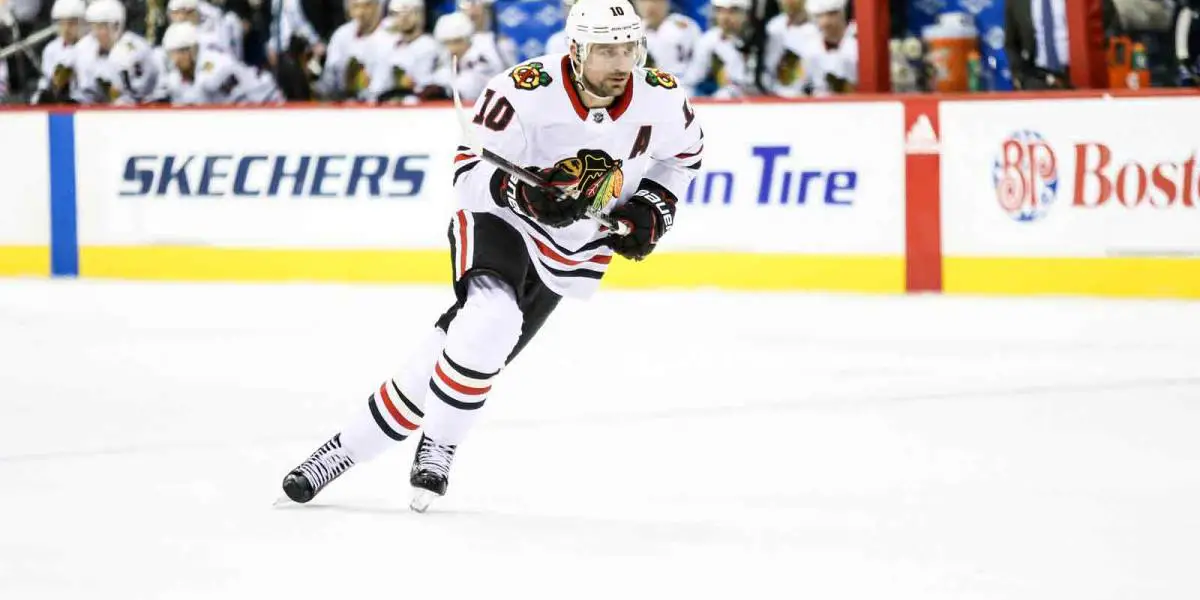 Founded in 1926, Chicago has a deep history of left-wingers pulling on the sweater. From irreplaceable role players to some of the greatest of all time.
Honorable Mentions:
Bryan Bickell: Bickell was Selected 41st by Chicago in 2004 and would go on to score one of the biggest goals in franchise history. Bickell would break out in the 2013 playoff run, was even talked about a little for the Conn Smyth. In 23 games played, Bickell would score nine goals and eight assists for 17 points. The what-ifs will always be there for Bickell because of his health issues. I wish nothing but the best for Bickell, who scored the first of two goals in 17-seconds to win the second of three Stanley Cups.
Viktor Stalberg:
During the 2010 offseason, Chicago would trade Kris Versteeg and others for Salberg and two other prospects. The Gothenburg native brought the beautiful Swedish skating abilities with him. He had a pure stride and could fly up the ice. Stalberg was the one player that had all the intangibles but just struggled to finish for whatever reason. Stalberg would play 203 regular-season games for the Blackhawks, accumulating 43 goals and 47 assists for 90 points. Stalberg would win the Stanley Cup with the Hawks in 2013. After that cup run, Stalberg would leave Chicago in free agency for a four-year deal with the Nashville Predators.
Artemi Panarin:
Maybe the worst move in Chicago history was made by the clown Stan Bowman when he decided to trade the Breadman for Saad. If this were a list just based on talent and not about longevity as well, Panarin would have made the top five. Panarin would only play 162 games for the Blackhawks. Panarin would score 61 goals and 90 assists to come up just shy of a point per game at 151. Panarin and Kane had a connection that only DeBrincat has come close to matching. Panarin is one of the best players in the league. Chicago fans will never forget that horrendous trade.
Brandon Saad:
The Man Child was great for the Blackhawks and came up huge on multiple Stanley cup runs. Saad would consistently score a goal when it was needed if it was him just striding up the boards and firing a wrist shot top shelf as he hits the top of the circle or burring a rebound on Vasilevskiy. Saad would play 428 games over his two stints in Chicago and score 114 goals and 116 assists for 241 goals. Saad played a solid 2-way game that allowed him to play a sizable role in both Stanley cups.
Darryl Sutter:
Yeah, for all you young Blackhawks fans, the old L.A. Kings coach used to play for the Blackhawks. Sutter was a good player for a 406 game stint with the Blackhawks. Over those games, Sutter would go on to score a plethora of goals, including overtime game-winning goals. Sutter would achieve 161 goals and 118 assist for 279 points. Sutter would serve as the Captian for five seasons in Chicago.
Johnny Gottselig:
Gottselig would Captian the Blackhawks to two Stanley Cups in 1934 and 1938. Gottselig's story is an incredible one that started with him leaving the Russian Empire to come over to the United States to play in the NHL. Gottselig should be engraved in Blackhawks history. Playing 591 games, he would score 176 goals and 196 assist for 372 points. His leadership was a significant part of the two Stanley cups he won. (was a part of the team for the third but did not get his name on the Cup)
Top 5:
Number 5:
Al Secord:
The Blackhawks would trade defenseman Mike O'Connell for Al Secord in December of 1980. Secord would go on to play 466 games. Secord would break the 50 goal mark in the 1982-1983 season with 54. Secord is one of the best pure goal scores to play for the Blackhawks. Secord would score 213 goals in a Blackhawks jersey. Secord would be traded away with Eddy Olczyk. Secord would return to Chicago, signing as a free agent a few seasons later.
Number 4:
Dennis Hull:
Dennis is the brother of Bobby Hull. Dennis was always overlooked because of his brother, but he was a stud of a player. Hull would score more than 30 goals on four different occasions, including 40 and 39 goal seasons. The Silver jet would play 904 games for the Blackhawks. Ranking 8th in franchise history with 640 points, 298 which were goals. That places Hull 7th in goals for the Blackhawks right behind Toews. Hull deserves more shine.
Number 3:
Doug Bentley:
Bentley was one of the best players of his era. He was inducted into the Hockey Hall of Fame in 1964. Bentley would score a league-leading 73 points in the 1942-1943 season. Bentley is a four-time NHL all-star. Bentley also had the war take a season away from him. Over his time in Chicago Blackhawks, Bentley would score 217 goals and 314 assists. Bentley played from 1939-1952 in Chicago before playing one season with the Rangers. This was not a crazy high-scoring time in NHL history, and the seasons weren't 82 games long. Bentley and his three brothers would also form the first all brothers line.
Number 2:
Patrick Sharp:
Sharp is 15th all-time in points for the Blackhawks with 532 points. Sharp was a significant piece of Chicago's dynasty in the early 2010s. While in Chicago, Sharp would win three Stanley Cups (2010, 2013, and 2015). During that run, Sharp would score iconic goals, from Kane dancing and dragging three players to him before feeding a wide-open Sharp for a goal versus the wild. There's also the crazy goal where Bishop collided with Headman in the finals allowing sharp to skate to an empty net on the road in the Stanley Cup Finals. Sharp would play his best hockey in the 2010 playoffs, where he would score 11 goals and 11 assists in 22 games. Chicago does not win those three Stanley Cups without Patrick Sharp.
Number 1:
Bobby Hull:
There is not much debate for the number one spot on this list. Bobby Hull is one of the best goal scorers of all time. The Golden Jet had one of the hardest shots ever. Hull would play 1036 games for the Hawks, scoring a franchise leading 604 goals. Hull would also get 549 assist for a total of 1153 points, only behind Mikita. While in Chicago, Hull would win the Hart Trophy two times. Hull's Trophy case is full, and Hull would also add two Art Ross Trophies and a Stanley Cup. Hull Was monumental during the Blackhawk's run to the Cup in the 1961 season. In the 12 games played, Hull would score four goals and ten assists before hoisting the Cup. Hull is easily the best Left-wing to play in Chicago.