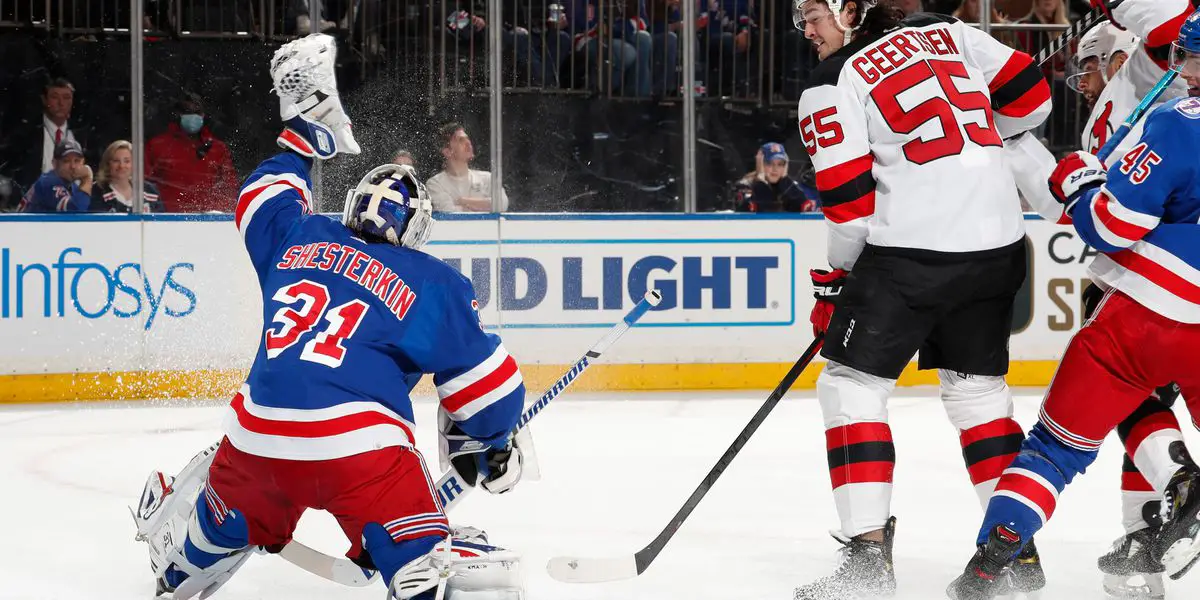 Obviously, the Rangers will not be a wildcard team in this year's iteration of the Stanley Cup Playoffs. The term wildcard is more loosely referring to either a player or group of players who have the ability to take this team to the next level. For the purposes of this list, stars like Panarin, Kreider, Zibanejad, and Fox are exempt. I'm mostly going to be discussing players who haven't reached that perennial All-Star level but whose growth and success in the playoffs can literally advance this team a round or two.
1. Igor Shesterkin:
I know, I said no perennial All-Stars. Well, Igor hasn't made an All-Star game yet, so I didn't lie, and it's my list, so it's my rules. In all seriousness, goalies are the ultimate wildcard heading into the postseason. We've seen past Vezina winners flame out in the postseason and get eliminated in the first round. The Rangers are a more well-balanced team since the trade deadline and aren't relying as heavily on Igor to win them games, but the time will come in May when he needs to bail them out and steal them a few games and maybe even a series. Can he do it?
2. The Entire 3rd line:
Perhaps this is wishful thinking, but I'm going to assume that Gerard Gallant puts Alexis Lafreniere back together with Filip Chytil and Kaapo Kakko after his healthy scratch Wednesday night in Philly. Since the February break, the trio has all been trending up at different points. Since Kakko has returned to the lineup, he's been exponentially more assertive with the puck than ever before. Chytil just put together his best month as a pro. Lafreniere has also played the best hockey of his young pro career since the February break despite the healthy scratch. This third line's collective potential is through the roof, and this team can be very dangerous if even just one of them can consistently produce in the playoffs. I know different iterations of "The Kid's Line" hasn't worked in the past, but these players are not the same as last season or at the beginning of this season. Gallant should leave them together for the next handful of games and see if they can finally gel.
3. K'Andre Miller:
Miller has the potential to be a superstar defenseman in this league, and he's beginning to show it. This kid has done nothing but get better since he made his debut last season, and about midway through this season, he reached another level. He seems more comfortable with the puck and much more assertive when leading rushes. Yes, he's made some mistakes defensively, but show me a 22-year-old defenseman in the NHL that doesn't make occasional mistakes.
4. Andrew Copp:
You're probably rolling your eyes. Obviously, Copp's contribution will be pivotal to this team's success. This is the first time in Copp's career that he has an extended look on the top two lines. He had been relegated to lesser roles in Winnipeg, and it's rumored that he declined a contract extension last summer because he wanted more of an opportunity in the top 6. He now has that opportunity and is months away from Unrestricted Free Agency. Copp has been perfect alongside Panarin and Strome and has a point in all but 1 of his 12 games since being traded on March 21st. During his first dozen games as a Ranger, he has 13 points, but more importantly, he has brought stability to an ever-revolving 2nd line right-wing conundrum. Copp is a gritty player with enough skill to really make some noise in the playoffs; think Alex Killorn scoring 17 points in 19 postseason games last year.
5. Frank Vatrano:
In his 15 games since being traded, Vatrano has six goals and four assists. Playing alongside Mika Zibanejad and 50-goal scorer Chris Kreider can't hurt, but Vatrano adds an extra element of speed to the lineup. Whether it's on the forecheck or cycling in the offensive zone, he's fast enough to keep up with Kreider and wreak havoc all over the ice. Unlike everyone else on this team, he doesn't hesitate to shoot the puck when the opportunity arises. Vatrano can slip under the radar and cause severe damage in May by playing alongside Mika and Kreider.
So, who's your pick to breakout this postseason? I'll post a poll on my Twitter @elbigcalzonelp.
In this week's episode we discuss the new rumors regarding the Rangers coaching situation. Then go on to the fun stuff discussing the impact Tkachuck's play will make on the game, Rangers players and more. Thanks for listening! Please rate and review our show on your favorite listening platform. Check out our partner's website at www.insidetherink.com for all your latest hockey news.