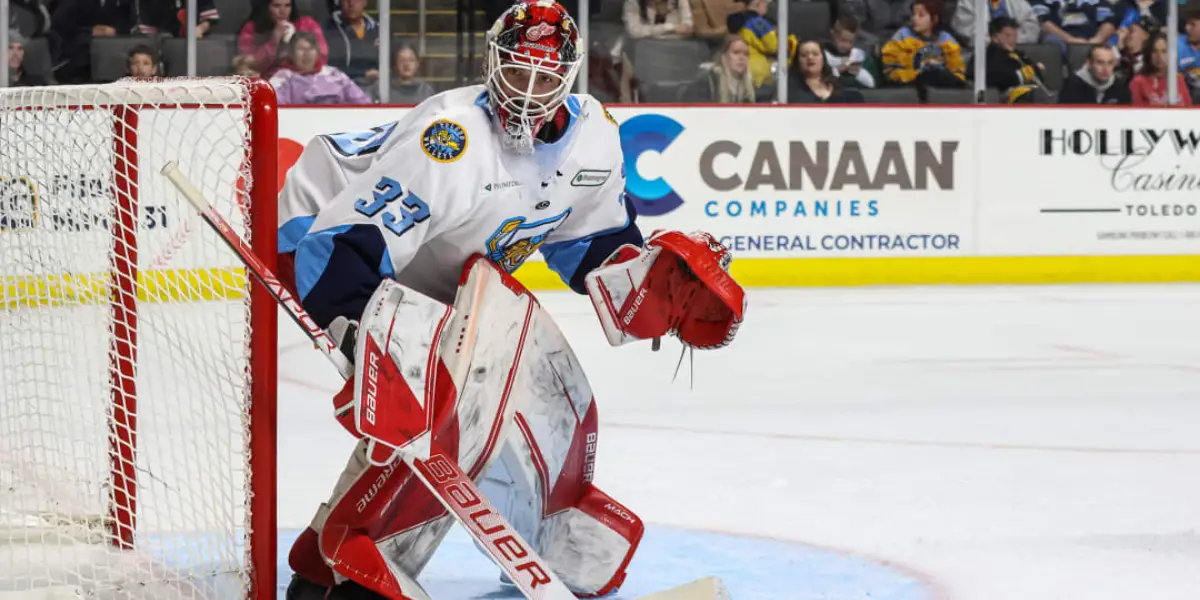 The Toledo Walleye are having an incredible run as they have put together a 16-game winning streak. On top of that, they recently clinched their spot in the Kelly Cup Playoffs. If you're curious about the longest winning streak in NHL history, the answer is the Pittsburgh Penguins 17 game winning streak in the 1992-93 season. The Pens finished with a 56-21-7 record that season. The ECHL is very different competition compared to the NHL, but regardless, what the Walleye have accomplished recently is very impressive. The Detroit Red Wings 1st round draft pick in 2021, Sebastian Cossa, chosen 15th overall, is a big reason the Walleye are where they are right now. Cossa has won 8 straight games and is tied for the ECHL league lead in shutouts.
Cossa has played 36 games this season for Toledo. He has a 2.45 GAA, a .913 save percentage, and a record of 21-13-2. He played for the Grand Rapids Griffins in 3 games this season and did not perform well, giving up 13 goals. The AHL didn't work out for Sebastian Cossa, but thankfully, he has rebounded in the ECHL with the Walleye, and it looks like his development is back on the right track. Before this season, Cossa played three seasons with the Edmonton Oil Kings of the WHL. In 2019-20 Cossa played in 33 games for the Oil Kings. He had a 21-6-3 record, 2.33 GAA, and a .921 save percentage. In 2020-21 he played in just 19 games. I believe that it was because of the COVID-19 pandemic. In net that season Sebastian Cossa nearly went undefeated with a 17-1-1 record. He had a 1.57 GAA and a save percentage of .941. He returned for his final season in the WHL in 2021-22. Cossa played 46 games, had a 33-9-3 record, 2.28 GAA, and a .913 save percentage. Sebastian Cossa is an important piece to the Red Wings puzzle when you look further ahead. Detroit took a chance on him when they traded up to the 15th overall pick to land Cossa. He's showing great potential and has the stats to back that up, but when will he be wearing a Red Wings jersey at the NHL level?
When will we see Sebastian Cossa in the NHL?
A goaltender can be the toughest position to develop a player. I'd compare it to developing a pitcher in baseball. Unlike a forward or defenseman, goalies can take a while to reach the NHL level. Cossa struggled in the AHL this season, but he only had a few games to get comfortable at that level. The Grand Rapids Griffins are usually a player's final destination before reaching the NHL level. You will get your shot in the NHL if you perform at a high level there. Cossa's performance in the ECHL has been very impressive so far, but he will need to start at Grand Rapids next season before we can put a timeline on his arrival and feel confident about it. Ville Husso has been playing really well for the Wings this season. Detroit doesn't have a backup goalie behind him that's solid, though. Magnus Hellberg has had his moments, but he isn't what we need. Husso has had to do a lot of heavy lifting this season. Alex Nedeljkovic has been down in Grand Rapids and hasn't seen hardly any play time in the NHL. Ned played well when he started his Red Wings career after being acquired in a trade but is now struggling at the NHL level. I'd imagine that when Cossa gets to Grand Rapids, hopefully to stay this time, he will take over the starting spot at goaltender for the Griffins, and Nedeljkovic will be an AHL backup. Assuming everything goes well with Cossa at the AHL level, It's possible that if he plays well that he could be late season call-up next season, but if I had to guess, we'll see Cossa with Detroit in the 2024-25 season. Cossa is 20 years old, and if the 2024-25 season is when we see Cossa, hopefully, by then, the Red Wings will be ready to make a playoff run.
The boys are back after a long break but have plenty to talk about as the playoffs are in full swing. We go series by series, looking at how teams have fared so far and who will come out on top. Thanks for listening! Please rate and review our show on your favorite listening platform. Check out our partner's website at www.insidetherink.com for all your latest hockey news.