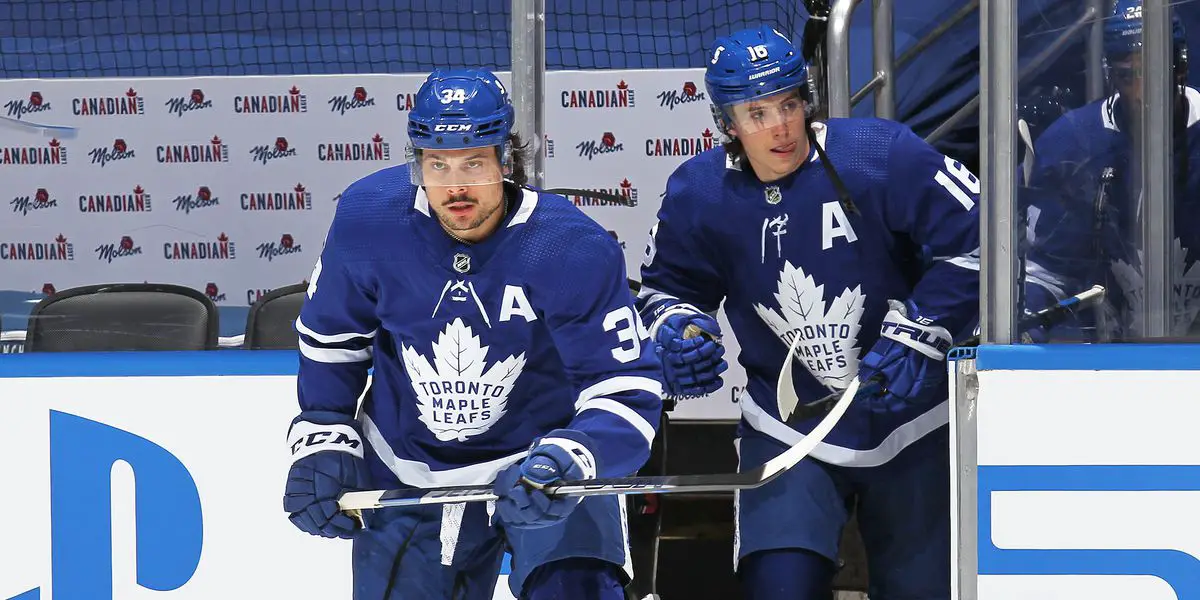 A+:
Auston Matthews: Last year's league leader in goals looked every bit like a player who missed training camp after off-season wrist surgery. He has since returned to his dominant self scoring 13 goals and five assists in his last ten games. He has been using his big body and ability to get lost in traffic more this year, scoring many of his goals from the net-front, which is not something we saw as often in previous years. His defensive metrics have been worthy of Selke buzz as well.
William Nylander: Willy Styles has been a beast so far this year. On pace for career bests in goals and points, sitting top 5 in the league in takeaways, as well as being unstoppable on zone entries. He seems to be more assertive physically in puck battles as while also being more engaged on defense. We've seen several outstanding back checks from Nylander already this year. The Leafs have to be thrilled with his early-season play.
Morgan Rielly: No post-contract extension slump for Mo. The 27-year-old offensive defencemen is outpacing his career-best in points while being a leader on and off the ice.
Jack Campbell: Soup has flat out been the best goalie in the league during the 2021-22 season, nuff said. At a cap hit of $1.65M, what more can you ask for?
John Tavares: After shaking off some early season cobwebs following a scary concussion in last year's playoffs, Tavares is on pace for 37 goals and 90 points. The Leafs' captain comes to the rink day in and day out ready to play and consistently puts in a workman-like performance for his team. After a couple of seasons trending a bit downwards, it's great to see Johnny Toronto back to his old self.
A:
Michael Bunting was a low-risk-high reward signing at $950k coming off a year that saw him throw up ten goals in his first 21 NHL games. Frankly, he has proven to be one of the best bargain contracts in hockey this season. All this guy does is provide value. Whether it's goals, points, or penalties drawn for a powerplay that has been lethal of late, Bunting has more than earned his keep.
Ondrej Kase: Ka$e money baby. If any, there are not many players that play the game harder than Ondrej Kase. If you were to google the phrase "Take a hit to make a play," you'd probably just find clips of Kase putting his body on the line to help his team. The Czech winger has also rediscovered his scoring touch after a few injury-plagued seasons to the tune of 7 goals, 13 points in his last 14 games.

A-:
Rasmus Sandin: The Sandman has come into the league and done nothing but blow expectations out of the water.  Through the end of November, not a single player in the league had a higher impact in terms of expected goals according to Evolving-Hockey's metrics. His defensive metrics have also been well above average. When you watch him play, he oozes poise in all three zones, often inviting pressure to open up lanes and then making plays through that pressure to the now open player. His minutes have been sheltered as you would expect for a rookie Dman, but he has excelled in the role he has been given.

B+
Timothy Liljegren: Seemingly never misses his man on the breakout. In fact, there may not be a better passer in the Leafs' organization. He's made some rookie mistakes in his own end, but overall he's been very, very steady in sheltered minutes and outplayed expectations.

Jason Spezza: Spezza has been fantastic this season relative to expectations for the 38-year-old. Seven goals in 26 games, including a couple of vintage clap bombs from the right half-wall, is nothing to scoff at, especially considering the 4th line minutes he gets. What really cemented him here for me was the heart he has played with. After Neal Pionk put stud rookie Dman Rasmus Sandin out for four weeks with a dirty knee, 38-year-old Spezza was the guy who went out seeking retribution. Granted, he could have gone about it in a better way.

Alex Kerfoot: After a down year that had many Leafs fans screaming for him to be moved, Kerfoot is back to being a solid complimentary piece. He has done all that has been asked of him and done it well.  His versatility to this lineup could prove indispensable if injury struck as he can play up the middle or on the wing and has had success in both the top and bottom 6.

B: 
Mitch Marner: Marner would be much higher on this list if not for a slow start and continued powerplay woes. I don't think it's any coincidence that Toronto's PP surging to 2nd in the league coincided with Marner's injury, just as it's likely no coincidence that their PK has struggled at the same time. At 5v5, Marner has looked consistently dangerous and created a lot since early about early November.

David Kampf: Kampf was billed as a shutdown Centre, and he's been just that. Centering what has thus far been one of the best defensive lines in the entire NHL, opposing teams are unable to generate anything while he's on the ice. He's found a way to chip in a few goals as well. I can't complain about the job he has done.

TJ Brodie: Since arriving in Toronto, Brodie's job has basically been to be an elite rush defender so that his partner, Morgan Reilly, can feel free to take chances offensively. While he doesn't bring much offense, his patented behind-the-back sliding stick check stops the opponent from bringing any as well. He's done a fantastic job of it, and this year has been more of the same.

Wayne Simmonds: Simmer has been real solid in 4th line minutes. He doesn't often make mistakes, makes life difficult for the opponent, and chips in offensively fairly regularly. He didn't look good after coming back from injury last season, so to see him bounce back as he has, has been nice.
C: 
Travis Dermott: Travis Dermott puck retrievals are a work of art. The level of deception with which he sends forecheckers in the wrong direction is enjoyable to watch, and it makes you wonder why he hasn't been able to develop more offense or a more robust transition game. Another player who doesn't really hurt the team but doesn't bring a lot to the table either.
Jake Muzzin: Muzzin looks like he's lost a step. He's also been saddled with Justin Holl all season. Considering that, I can't be too hard on him. He's still a physical presence on the back end, he's been decent in the offensive zone, and he can still make a breakout pass. 

Pierre Engvall: At this point, Pierre Engvall is just a guy. He plays a simple game, doesn't make many mistakes, and doesn't make many impact plays. He's a big body who doesn't use his size at all. He has the speed and skill to be good, but his offensive IQ limits him. There could be a worse player filling his roster spot, but at the price tag he's at, you can't complain about the job he's done.

C-:
Peter Mrazek: Not his fault as he's been bit by the injury bug early; however, he's been uninspiring in the games he's played. I imagine that will change when he gets in a groove, but it's been tough sledding for the former Canes starter early on.

D+:
Nick Ritchie: When an already not very fleet of foot Nick Ritchie came into camp with an added 10 pounds, I had my reservations. He's produced just one goal thus far and hasn't even been able to show off vaunted physicality because, by the time he's in position to throw a hit, the puck is gone, as is the guy he's trying to hit.

D:
Justin Holl: Holl was a revelation last year, putting up decent results in a role that saw him face some of the toughest quality of competition in the entire league on a league-minimum deal. This year could not be any further from that. Numerous times he's been presented with simple breakout passes, opted to hold on to the puck, spin in the corner for no reason and lose it. He's been awful in transition, hasn't contributed offensively, and gotten burned more than a few times in his own end. Long story short, protecting him over Jared McCann wasn't a great look.