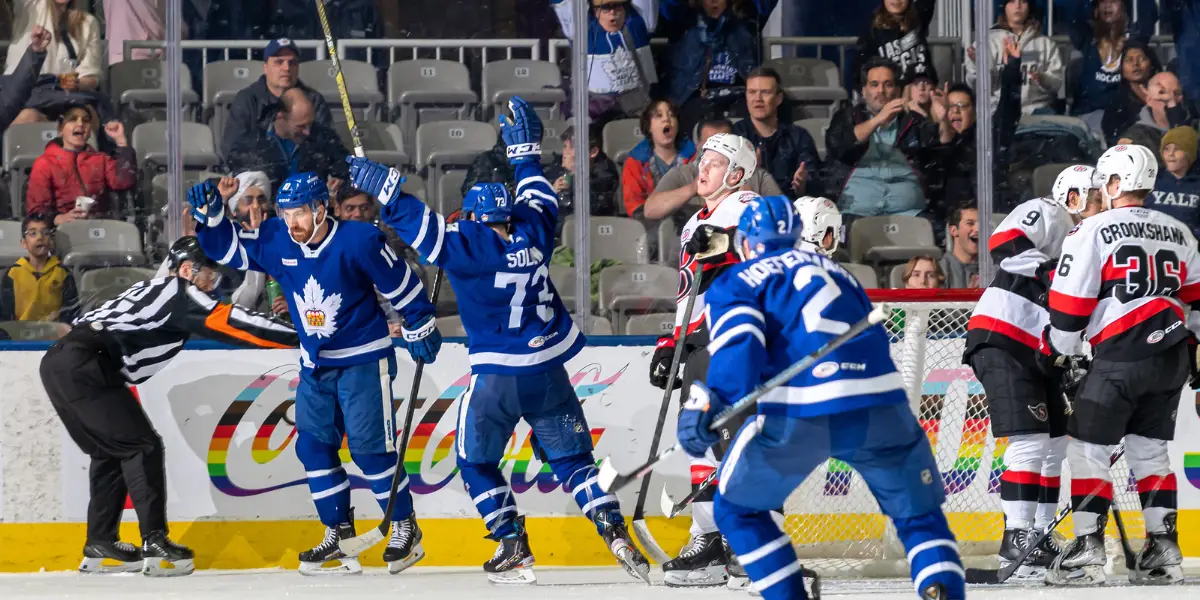 The Toronto Marlies finally put an end to their losing streak. Toronto defeated the Belleville Senators 6-2 on Sunday, April 2nd. They had lost their previous seven games. The Marlies' six goals on Sunday are more than the goal total (5) from all seven games combined during their losing streak. Thanks to the win, the Marlies have clinched the AHL's North Division.
Game Recap
First Period
The first period was relatively quiet. Alex Steeves opened the scoring with his 18th goal of the season at 4:48 in the first period. The assists go to Noel Hoefenmayer and Semyon Der-Arguchintsev. Shots were even at eight per team.
Second Period
Belleville tied the game at 13:27 of the second period with a goal from Matthew Wedman. The Senators took the lead at 17:30 with a short-handed goal by Rourke Chartier. Marlies forward Zach O'Brien tied the game with a power-play goal at 19:48. The assists go to Pontus Holmberg and Noel Hoefenmayer. Belleville outshot Toronto 26-10 in the period. Fans also got to see a fight between Hoefenmayer and Jared Lukosevicius.
Third Period
Der-Arguchintsev scored his 10th goal of the season at 3:17 of the third to give the Marlies the lead. Toronto captain Logan Shaw added to the lead with his 20th goal of the season at 8:53. It was a power-play goal with assists going to Der-Arguchintsev and Topi Niemela. Niemela's assist was the first AHL point of his career. Zach Solow scored his 2nd of the season at 13:51 on the power play. The assists go to Hoefenmayer and Keith Petruzzelli. Holmberg scored an empty net goal at 17:33 for his 9th goal of the season, with assists going to Shaw and Jordie Benn. Toronto outshot Belleville 20-8 in the third period.
Overview
Marlies goaltender Keith Petruzzelli was outstanding. He stopped 40/42 shots. His season record is now 13-7-1 with a 2.81 GAA and a .910 SV%. Toronto's power play went 3/4 on the night and was a big factor in ending the losing streak. Topi Niemela made his North American debut and played his first AHL game.
Three stars of the game
1st Star: Keith Petruzzelli
2nd Star: Semyon Der-Arguchintsev
3rd Star: Noel Hoefenmayer
The Toronto Marlies have five games remaining this season. Their next game will be on Wednesday, April 5th, against the Hartford Wolfpack.
WELCOME BACK TO LEAFS LATE NIGHT! Presented by Inside The RinkRoscoe / Fanalyst / Galaxy Biehn – We've Missed Some Things!- Dubas… Buddy- First Impression of Brad Treliving- Arizoner Doaner- Re-Sign or Resign?MERCH IS AVAILABLE!JOIN OUR DISCORD!Remember to follow us on Twitter @LeafsLateNight & IG @LeafsLateNightCheck out Mike, Josh, and Nathan's articles on the Leafs + many more! insidetherink.com