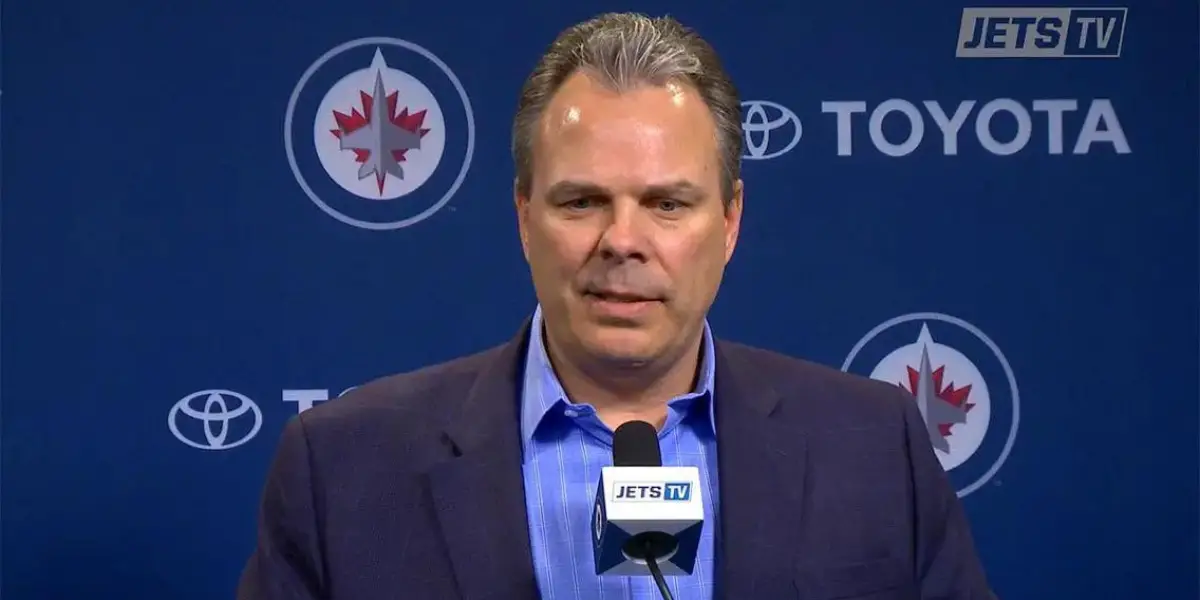 After what should've been an incredible season, the Winnipeg Jets showed their fans that they would rather suffer in mediocrity over competing for a Stanley Cup. The Winnipeg Jets would be eliminated from the first round of the Stanley Cup Playoffs in five games after Saturday's 4-1 loss. The Las Vegas Golden Knights turned their clocks back to 2018 and let the Jets suffer the same fate. After this repeated nightmare scenario, Jets fans, like myself, are questioning whether or not it's time for a complete overhaul of the roster.
Post-Playoff Elimination Comments:
It didn't take long for Rick Bowness to publicly criticize the team, and Bowness didn't hold back. Citing his frustrations when Bowness coached the Jets to be a competitive monster, grabbing first place in the central division. Bowness would directly say that he was "disappointed and disgusted" following the Jet's elimination. Bowness would follow those comments up with the following:
"it was the same crap we saw in February…as soon as we were challenging for first place and teams were coming after us, we had no pushback. This series? No pushback."

Rick Bowness – Addressing the media after game five loss – April 27th, 2023.
Bowness has obviously been holding back frustrations from the media for a while now. The question now looms, were his frustrations falling on deaf ears?
Wheeler Takes Issue with Bowness's Comments:
Winnipeg Jets forward and former captain Blake Wheeler were not fans of Rick Bowness's post-game comments. Wheeler would claim that Bowness could've been honest with the Jets and had those discussions behind closed doors.
"He's a person, too, so we don't expect him him to be perfect all the time, and people make mistakes. – Those conversations are best had face-to-face. There's certainly healing that can happen for sure."

Blake Wheeler – On Rick Bowness's Comments – April 29th, 2023.
Bowness clearly frustrated Wheeler with the comments, and this would start a concerning trend. Most, if not all, of the Winnipeg Jets players spoke in the season-ending media availability to voice their displeasures with Rick Bowness's comments.
When I say that Bowness's concerns may have fallen on deaf ears, the season-ending media availability held on April 29th only fuels my speculation further.
Bowness Backpedals:
Immediately following many of the Winnipeg Jets players season-ending media availability, Rick Bowness showed up unexpectedly to address the media. Bowness was looking to clear the air for his comments after the elimination of his team on Thursday night.
"One of my many faults is that I'm too emotional and that I wear my heart on my sleeve. That being said, I criticize myself for the choice of words. The message, the clear message, is one that I will never accept that kind of an effort in a game like that."

Rick Bowness – Season-ending media availability – April 29th, 2023.
Bowness would also acknowledge that emotions were running high, and the injuries suffered in the regular season and in the playoffs played into his emotions.
Mark Scheifele, Josh Morrissey, Cole Perfetti, and Nikolaj Ehlers were out for some or all of the series against Vegas. All of the players proved to be key contributors for the Winnipeg Jets when healthy.
Key pieces that enjoy the team but cannot accept criticism from their coach when it's needed most. The Jet's roster lacks accountability at face value, and their play reflects their reluctant nature towards criticism.
Lost The Room or Driven Out of Winnipeg?
Remember the clip that surfaced a few weeks ago? Former Jets head coach Paul Maurice absolutely lit his team up on the bench during a game against the Toronto Maple Leafs. The Florida Panthers were playing horrendously, being dominated in every fashion by the Leafs. Maurice hung his entire team out to dry. The next day, Matthew Tkachuk would call his teammates soft.
After the entire situation with Maurice and the Panthers, they would go and face the Boston Bruins in the post-season, taking them to seven games and winning.
This begs a new question, did Paul Maurice lose the room, or was he driven out of Winnipeg?
I would give Paul Maurice the benefit of the doubt for two reasons, he was the coach of the Winnipeg Jets for just under eight total years, serving for seven years and eleven months.
When Maurice announced that he was done with the team, they were already in a state where they were spiraling out of control with no clear direction or focus. Dave Lowry would step into the role as Interim Head Coach, and the Winnipeg Jets would miss the playoffs. Long gone are the days of passionate whiteout street parties with a potential Stanley Cup run in the future. The Winnipeg Jets should have had one Stanley Cup victory run, but Kevin Cheveldayoff refused to make this team better when they needed it. Cheveldayoff relied on drafting a little too heavily, and when trades were needed to make the Jets less of a one-trick pony, Chevy was nowhere to be found come trade deadline day for many years following too. The Jets went on an incredible run in the 2018 Stanley Cup Playoffs, and they ran into a wall in 2019 when they should have capitalized on their momentum and gone for another long playoff battle. Clearly, Paul Maurice's coaching was being figured out by other teams and countered to near perfection.
Paul Maurice coached pretty much the same team from the 2018 season up until his resignation midway through last season. There needed to be significant changes brought in on multiple occasions, and it never came. Paul Maurice was destined to lose the room with no changes being made by Kevin Cheveldayoff.
A coach has their voice that the players use as a way to be successful; the players sometimes need a solid shakeup here and there to keep things fresh. The final nail in the coffin was the abysmal 2021-22 season for the Winnipeg Jets, where Paul Maurice resigned, and Dave Lowry took over temporarily, only for the Jets to miss the playoffs.
This year, Kevin Cheveldayoff made simple and small additions that proved to help us go from a nosedive to a short playoff run that proved all of the above. Paul Maurice left because he lost his voice among the players, and most of the players quit on him. The latter of the two happened to be out of his control.
Cheveldayoff's Upcoming Problem This Off-Season:
To say that Kevin Cheveldayoff has a problem the off-season is a massive understatement, there's a locker room problem, and it's not Rick Bowness.
Former Jets captain Blake Wheeler has stirred the pot for as long as he's been in the NHL, drafted originally to Arizona 5th overall in 2004. Wheeler would later throw his arms up in the air and refuse to sign with the Arizona Coyotes (known as the Phoenix Coyotes in 2004). Wheeler would sign as a free agent in Boston, where he would spend a two-and-a-half season stint with. Boston would later go on to win the Stanley Cup that season, and Blake Wheeler would play in Atlanta's struggling franchise, which would later relocate to Winnipeg. Wheeler has remained a Winnipeg Jet since the team relocated here for the 2011-12 season.
At the start of Rick Bowness's takeover as Winnipeg Jets head coach, Blake Wheeler was stripped of the captaincy. This definitely would put a chip on the shoulder of Wheeler, but this brings me to my next point.
Mark Scheifele, drafted and developed by the Winnipeg Jets and a known close friend of Blake Wheeler, would have quickly chosen Wheeler's side after such a start in Bowness's tenure. Scheifele was never truly known for his two-way play, and at the start of the season, it seemed as if Scheifele would up and quit while backchecking. This would leave his team out to dry and frustrate the coach, who was brought in just recently. This doesn't take away from Scheifele posting a career-high in goals, posting 42 goals this year. It also shouldn't be a distraction from the many years of talented and skilled players leaving the team because of the team's leadership. Scheifele has worn an assistant captain crest since the 2016-17 season, seven seasons, and a team leader has not been reconsidered at some point.
Cheveldayoff's problem doesn't stop at just Blake Wheeler and Mark Scheifele needing to forego any sort of leadership responsibility they still have. The problem is the fact that this team is in a spot where they desperately need a quick retool or a significant rebuild in the future.
24-year-old center Pierre-Luc Dubois is set to be a restricted free agent with arbitration eligibility this off-season. This creates even more problems for current General Manager Kevin Cheveldayoff, who seems reluctant to retool now.
The Jets acquired Pierre-Luc Dubois from Colombus on January 23rd, 2021, for Jack Roslovic and Patrik Laine, two players who should've been key pieces right now. While not confirmed, it was rumored that Mark Scheifele and Blake Wheeler felt that Laine was stepping into a role that outshined theirs. This would lead to Laine eventually being traded out and getting his role in Columbus.
"I don't think Pierre-Luc Dubois wants to be traded or anything like that. I don't think that the Winnipeg Jets are looking to trade Pierre-Luc Dubois or anything like that. But I think, here's a guy, and we talk about this all the time, when you first start the club has the hammer in contract negotiations. If they want to use it, it's a long time till you can become an unrestricted free agent. And eventually that starts tipping over towards the player. Well Pierre-Luc Dubois is finishing his fifth year and he's two years away from unrestricted free agency and if he does not want to sign long-term the power really slips to him."

Elliotte Friedman – 32 Thoughts: The Podcast (40:00) – April 21st, 2023.
Kevin Cheveldayoff should have taken the sign when Dustin Byfuglien quit on us. The Winnipeg Jets had heart and soul players like Byfuglien, who personally decided that it was time to move on.
The problem isn't the coach, and we've continued to undermine our coaches for the previous 12 seasons, it's our locker room culture. Where do we look for the locker room culture? The players, and if you want specifics, look at the leaders of the locker room and the season-ending interviews the other players gave. Most of them bent their knee to the toxicity in the Winnipeg Jets locker room.
Tough love is one thing, but being a coach and expecting the best out of your multimillion-dollar players is another.
Players Say No to Possible Rebuild:
It's inevitable that if Kevin Cheveldayoff refuses to make moves with the Winnipeg Jets roster, we're going to be in a lengthy rebuild. Winnipeg Jets fans need a desperate breath of fresh air, and the local fans are incredibly loyal when the team is competing and playing well. Even with True North Sports & Entertainment's perceived threat through their email campaign to drive more season ticket holders, the fans feel betrayed at the failed attempt from the players and Cheveldayoff.
Connor Hellebuyck, Mark Scheifele, and Kyle Connor are just some of the names that have explicitly mentioned to the media that they would not be signing long-term deals if the Winnipeg Jets plan to rebuild soon. Hellebuyck and Scheifele have one year left on their current contracts. Both players are set to be unrestricted free agents on July 1st, 2024.
"I'm not interested in a rebuild. I just want to compete. My main goal is to win a Stanley Cup… I'm starting to run out of time."

Connor Hellebuyck – To reporters on his future in Winnipeg – April 29th, 2023.
If you're Kevin Cheveldayoff, you need to get a solid idea of where your core players are at and what they are feeling. If they do not want to be here in the long term, trade them away to a team. Cheveldayoff also needs to get a full understanding of the fanbase because the team he builds will affect ticket sales and the viewership of the team. Elliotte Friedman of Sportsnet has reported that both Rick Bowness and Kevin Cheveldayoff will be back in their respective positions next year. It is ultimately in their hands if nothing noteworthy is done or achieved.
"The word I got from somebody in the organization is there's fatigue. Compared it to a marriage going sideways. Felt the fatigue has stretched to the fanbase as well."

Elliotte Friedman – 32 Thoughts: The Podcast (36:20) – April 21st, 2023.
When your Vezina trophy-winning star goaltender is starting to say these things, you might not have a super competitive team right now.
What's Next for Bowness, Cheveldayoff, and the Winnipeg Jets?
We know Rick Bowness is back as the bench boss of the Winnipeg Jets, and Kevin Cheveldayoff is back as GM of the Jets. The only uncertainty is the future of the team, who will be back, and who will be traded before the beginning of the 2023-24 season.
We know, with all of the uncertainty around Pierre-Luc Dubois, that it is likely he will be traded out of Winnipeg. Whoever is next in line for trade purposes is yet to be seen.
The boys are back after a long break but have plenty to talk about as the playoffs are in full swing. We go series by series, looking at how teams have fared so far and who will come out on top. Thanks for listening! Please rate and review our show on your favorite listening platform. Check out our partner's website at www.insidetherink.com for all your latest hockey news.