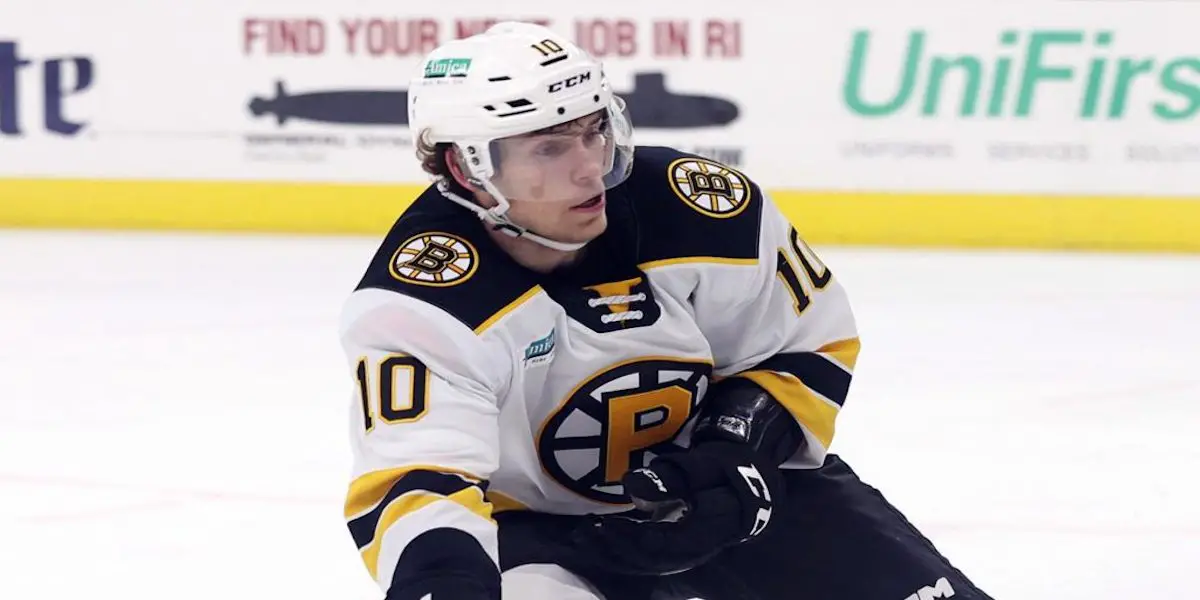 Boston Bruins General Manager Don Sweeney signed two college free agents within ten days of each other last spring that turned out to be steals. Western Michigan University goaltender Brand Bussi signed on March 30, 2022, and Ohio State University center Georgii Merkulov inked a deal with Boston on April 9th. Both prospects quickly climbed the ladder in the Bruins' organizational prospect pool and had very successful first seasons with the Bruins' American Hockey League affiliate Providence Bruins this season.
On Wednesday, Bussi and Merkulov were selected for the AHL All-Rookie Team. Bussi played 31 games with Providence and owns a 21-5-4 record with two games remaining. The 6-foot-4, 215-pound netminder posted a 2.38 goals against average and a .925 save percentage. The 23-year-old Bussi spent the last three seasons at Western Michigan University. The goalie appeared in 77 career NCAA games with the Broncos, posting a 46-25-5 record with a 2.61 goals against average and .910 save percentage.
Merkulov has played 64 games with Providence, and registered 23 goals and 30 assists with a plus-3 rating. The 5-foot-10, 170-pound center is currently tied for 35th in the league in scoring and has been hot of late with eight points in his last ten games. The 21-year-old Merkulov spent the 2021-22 season at Ohio State University. The 5-foot-11, 181-pound forward appeared in 36 games with the Buckeyes, leading the team in scoring with 20 goals and 14 assists for 34 points with a plus-18 rating.
Bussi signed a one-year entry-level deal worth $825,000. The Sound Beach, New York native will be a restricted free agent at the end of the season. Merkulov signed a three-year entry-level contract worth $925,000 annually.
The rest of the AHL All-Rookie Team includes: Ethen Frank, Hershey (WSH)
Tye Kartye, Coachella Valley (SEA)
Ryker Evans, Coachella Valley (SEA)
Jeremie Poirier, Calgary (CGY)
Season 2. Episode 38. Special Guest Terrence Wallin
–
Bruins Benders Podcast
Maine Mariners Coach Terrence Wallin makes a return visit to recap the season. Should the Bruins make room for Tyler Bertuzzi? Will the Bruins move some core pieces? I guess there is more time for golf and more!